November 11, 2016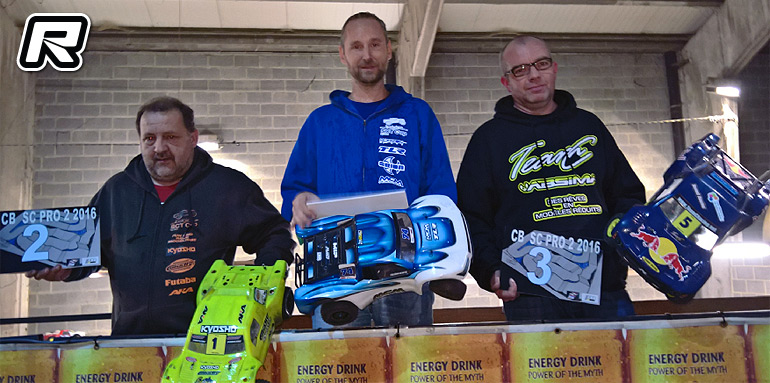 The last race of the 2016 Belgian SCT season was organized at the famous offroad indoor track "Blackcounty Arena", which hosted an EOS race some years ago. The clay track they had last year is now covered with astroturf providing higher grip but keeping the natural elevations and underneath bumps. The layout has been revised as well and is really fun to drive. The Pro4 title was already decided before this race, but the Pro2 was still open with Nicolas Evens (TLR 22SCT) and Géry Ledocq (Kyosho SC6) tied on points in the series ranking.
In the first 2 rounds of Pro2 qualifications, Géry dominates and takes TQ. The TQ point makes him virtual global ranking leader at that point. Nicolas ends up those rounds in a distant second place. Géry drops out of last qualification round and Tom Piérard (TLR 22SCT) takes advantage of if to get the round, closely followed by Stéphane Vanyper (Associated SC5M) and Laurent Halluin (TeamC TM2SC).
Pro2 A Main grid – Top 3
1. Ledocq Géry – Kyosho SC6
2. Evens Nicolas – TLR 22SCT
3. Pierard Tom – TLR 22SCT
In Pro4, Sam Puttevils (TLR Ten-SCTE) takes the first round ahead of Sam Damman (TLR Ten-SCTE) and Fabio Cumps (TeamC TS4TE). In second round Sam Damman gets his revenge and beats Sam Puttevils and Maarten Vander Mierde (Tekno 410SCT). In final round, Sam Puttevils takes the win to secure TQ with Fabio Cumps and Filip De Keersmaecker (Tekno 410SCT).
Pro4 A Main grid – Top 3
1. Puttevils Sam – TLR Ten-SCTE
2. Damman Sam – TLR Ten-SCTE
3. Cumps Fabio – TeamC TS4TE
At this point, Géry and Nicolas could still both win the title by winning the finals. In first A final, everybody starts clean but Nicolas gets it wrong on first double jump and lands on the curb while Géry pulls away and doesn't look back. Nicolas pushes hard from last and recovers to second at the end, with Tom Piérard completing the top 3. In second round, the two pull away from the field. Mid-race Géry has a couple of bubbles allowing Nicolas to pass and take the win. Laurent Halluin, Tom Piérard and Stéphane Vanyper have a close battle, ending in that order. So the title is to be decided in the last round of the last race! Last round starts like the second, both drivers being close until Nicolas makes a mistake on lap 3 giving breathing space to Géry. Pushing very hard Nicolas closes to Géry and they enter the last lap pretty close. On the last jump section, Géry drives too safe and gets it wrong. Nicolas takes the lead with 2 turns to go and keeps it, taking the race win, and the title. What a suspense! Laurent Halluin follows in third.
Pro2 A Main – Top 3
1. Evens Nicolas – TLR 22SCT
2. Ledocq Géry – Kyosho SC6
3. Halluin Laurent – TeamC TM2SC
In Pro4 A finals, Sam Puttevils sweeps all rounds. In A1, Filip De Keersmaecker and Sam Damman battle and finish in that order. In A2, Sam Damman is a clearer second with Maarten Vander Mierde in third. In A3, Fabio Cumps comes into the game and takes a great second place after battling with Sam Damman.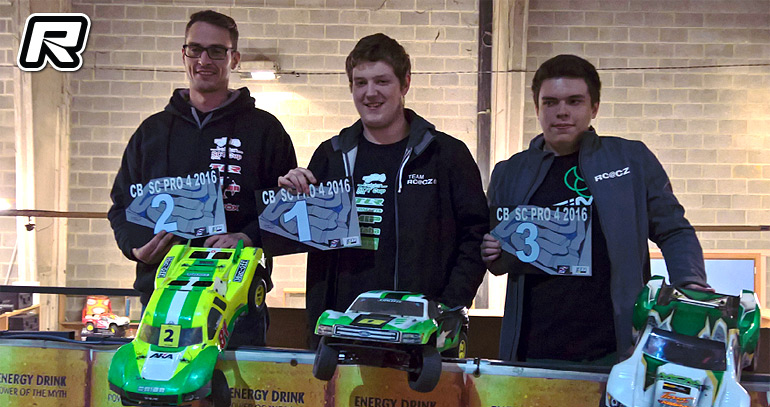 Pro4 A Main – Top 3
1. Puttevils Sam – TLR Ten-SCTE
2. Damman Sam – TLR Ten-SCTE
3. Cumps Fabio – TeamC TS4TE
Here are the final rankings: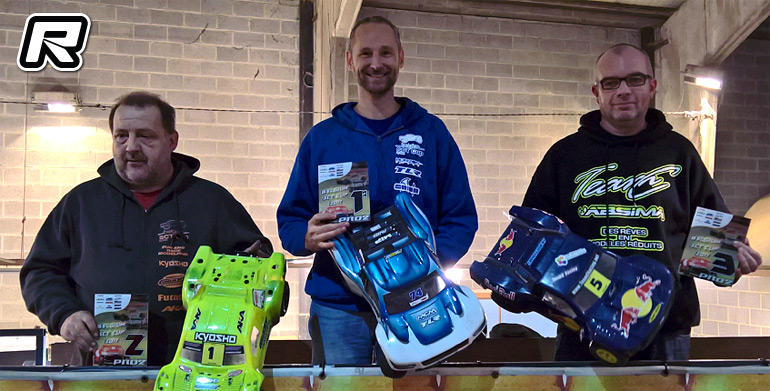 Pro2 Rankings – Top 5
1. Evens Nicolas – 598pts
2. Ledocq Géry – 598pts
3. Halluin Laurent – 587pts
4. Pierard Tom – 576pts
5. Laffut Guillaume – 552pts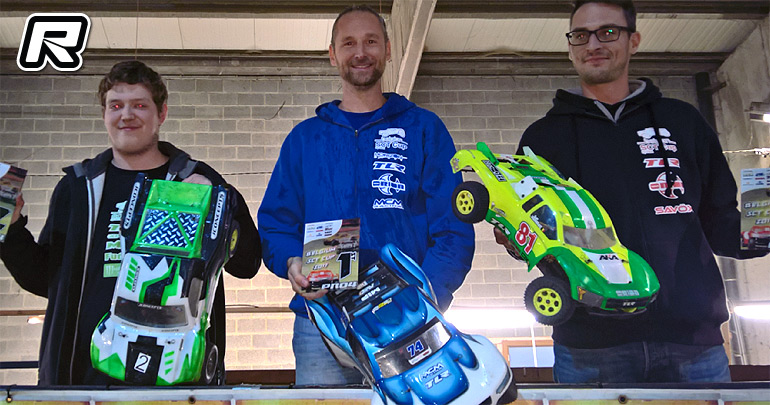 Pro4 Rankings – Top 5
1. Evens Nicolas – 603pts
2. Puttevils Sam – 597pts
3. Damman Sam – 586pts
4. De Keersmaecker Philip – 581pts
5. Cumps Fabio – 571pts
Source:
---