November 25, 2016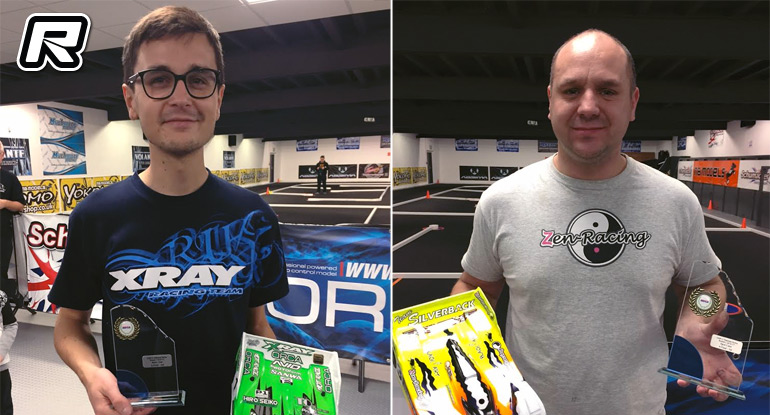 The second round of the British LMP-12 national series took place at the permanent MB Models facility in Leeds. The meeting was held over two days, with Saturday being 13.5 fixed timing for all drivers, and Sunday being split between 6.5 fixed timing modified and 13.5 fixed timing Sports Modified. The quality of the field was credibly high, with past World Champions David Spashett and Alexander Hagberg heading the entry list. Past National Champions Olly Jefferies and Chris Kerswell were also guaranteed front runners, along with the Schumacher team headed by Andy Murray, who had used the track extensively to test their new LMP car, the Eclipse.
Saturday
The qualifying in 13.5 was all about Alexander Hagberg and his Xray, who comfortably won the first three rounds of qualifying, and ended up on pole position from round one winner, David Spashett. These two were half a lap in front of Ollie Paynes's Roche in third. The final turned into a slightly messy affair, with Alexander's Xray looking fast but incredibly hard to drive. After a mistake from Alexander, David's Roche quickly found its way to the front and pulled clear to take its second win of the year from Olly Jefferies Xray, which had a steady race to claim second from Alexander's fast but erratic car in third. After two rounds of the championship we have David in the lead with two wins from two rounds.
Sunday
In 6.5 Turn Modified, Alexander Hagberg was again the man to beat in qualifying and after four rounds he sat on pole position by just over two seconds from Xray team mate Olly Jefferies. Both drivers moved from a carbon to an alloy chassis on their Xray's saying their cars were much improved in the high grip. Third on the grid was Andy Murray whose Eclipse looked well on the pace throughout qualifying. The A final saw a great start for Alexander and carnage for the pack, with Olly and Andy colliding. Alexander used this to storm away to his first victory of the year. Young Ollie Payne steered his Roche through from fourth on the grid to take a comfortable second ahead of Adam Walker-Catchpole in third, also with a Roche. After two rounds of the series a pair of seconds sees OlliePayne leading the championship.
The 13.5 Sports Modified class saw the battle for pole position fought out between the Eclipse of round one winner Aidan Ripley and the Roche of Mark Jewitt. In the end a final round charge saw Aidan take pole from Mark and Craig Nutting in third. The final was another great race with the lead two coming together allowing Craig Nutting's Roche and Luke Burley's Xray into first and second. Mark and Aidan managed to pass Luke, but just ran out of time to challenge Craig for the win. In the end Craig took his first national win with Mark finishing second and Aidan and Luke coming home in third and fourth. In the Sports class its Craig Nutting who leads the championship with a first and second after two rounds.
The next round takes place at Tamworth on the 10th and 11th of December.
---