November 17, 2016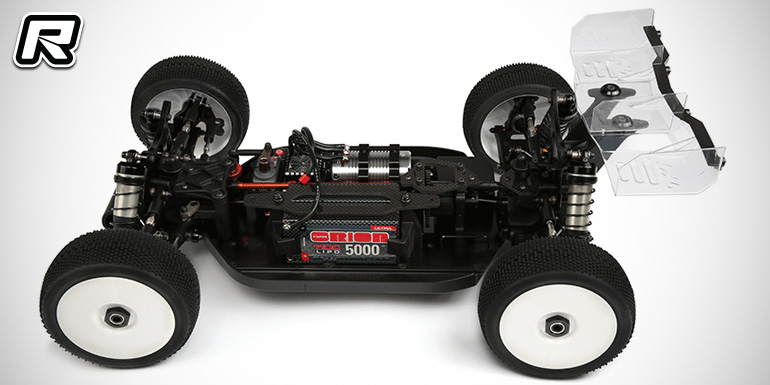 Following numerous teasers, HB Racing have finally revealed all information on their forthcoming E817 1/8th scale electric buggy kit. Based off of the World Championship winning D815 the electric variant, that won the 2016 EFRA 1/8th E-Buggy Euros, utilises a range of purpose-designed features such as a low-centre of gravity battery mount that allows the use of brick-type 4S, 2S standard and 2S shorty LiPo packs with the drivetrain utilising an optimised 43T/10T gearbox. The motor mount is of a unique clamp-type design and the updated hinge pins offer easier front and rear differential access. The covered receiver box and the electronics mounts are removable for easy of cleaning and the buggy is usable without a special "E"-body as most nitro bodies fit – included with the kit will come a Pro-Line Predator and a genuine Pro-Line lightweight wing. Other features included are updated rear hubs that are now compatible with universals and CVA-type drive shafts while optional D arm mounts allow the fine-tuning of the rear toe adjustments. On top of this the E817 will be compatible with almost all of the available D815 tuning items.
Features:
– Proven D815 style drivetrain with 43/10 gearbox ratio optimized for electric power
– Accepts 4s 'brick' packs, 2 x 2s 'long' batteries, and 2 x 2s 'shorty' batteries
– When using shorty batteries the fore/aft position can be adjusted for weight bias adjustment
– The batteries sit directly on the chassis for the lowest possible CG
– Dual clamp motor mount allows the motor to be replaced with no change to the gear mesh
– Compatible with most nitro bodies – no need for special bulky/tall e-buggy bodies
– Pro-Line Predator body and Pro-Line wing included
– Covered receiver box, and the electronics mounts are removable for ease of cleaning the car
– D815 steering components which include aluminum servo saver arm and clamping servo saver adjustment nut
– HB monocoque suspension arms for stiffness, adjustability, and less dirt build-up
– Updated rear hubs are now compatible with universals and CVA type drive shafts. (reverse compatible to D815)
– Updated hinge pins for easier access to front and rear diffs. (reverse compatible to D815)
– High efficiency universal joint shafts. (reverse compatible to D815)
– Optional 'D' arm mounts with fine rear toe adjustment: 2.75°, 3.00°, 3.25°, & 3.50°. (3.00° is standard in kit)
– Carbon graphite rear hub carrier arms
– Protective boots on central drivetrain
– One-piece lightweight wing mount with Pro-Line wing
– Aluminum steering blocks with carbon graphite steering arms
– Stand-up servo mounting and heavy duty servo saver
– Steel turnbuckles for easy adjustability of suspension geometry
– Big bore threaded coilover shocks
– Lightweight aluminum shock towers
– Threaded outer hinge pins
– Adjustable sway bars front and rear
More images can be found on HB Racing's official product page by clicking the link below.
Source: HB Racing [hbracing.com]
---