November 2, 2016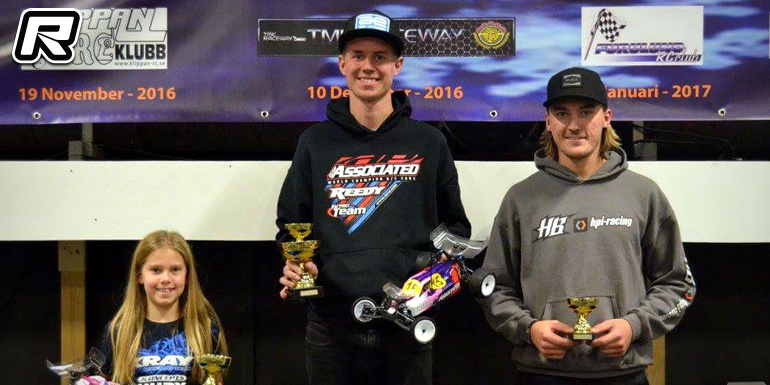 The opening round of the Winter Cup series was held at the David Ronnefalk owned HB Orion Racetrack. Jesper Rasmussen got off to a good start already in practice in which he came out fastest from David Ronnefalk and Malin Karlsen. In the qualifiers the battle was on between newly crowned 1/8th Nitro Buggy World Champion, David Ronnefalk and Jesper Rasmussen. The opening qualifier saw mistakes of both drivers with David still being able to take the top spot from Jesper in second and Frederik in third. Q2 then had Jesper laying down a flawless run to take the TQ from Malin and David and Jesper was also unstoppable in Q3, taking the round TQ from Jessica and Frederik. The final qualifier again saw Jesper excel, this time in front of David and Niclas.
2WD qualifying top 8:
– Jesper Rasmussen
– David Ronnefalk
– Malin Karlsen
– Fredrik Mathiesen
– Jessica Pålsson
– Niclas Brunsberg
– Wilhelm Skjöldebrand
– Hampus Berg
The opening A-main saw Jesper jumping into the lead with David close behind. David then tried to make a move on the leader but Jesper closed the door, retaining positions as there were. In the following close battle David flipped his buggy, allowing Jesper to open a gap on the field while David and Malin were in a battle for the second spot. In the end David made a mistake, allowing Malin to take the runner-up spot from Frederik. A2 then again saw Jesper opening a gap on his competitors while Malin and David fought for the second spot. The two would be joined by Frederik and at the end Malin would hold the upper hand to take another second place behind Jesper while Frederik earned the third place. With Jesper having already scored the overall win the fight for the runner-up spot was on between David and Malin. At first David obtained the top spot but some minutes into the race it was Malin to take the lead and she would keep it until the checkered flag while David and Wilhelm made up the top 3. Overall and behind Jesper, Malin would bring home the second place from David in third.
2WD final results:
1. Jesper Rasmussen – Team Associated
2. Malin Karlsen – Xray
3. David Ronnefalk – HB Racing
4. Fredrik Mathiesen – Team Associated
5. Jesicca Pålsson – Kyosho
6. Wilhelm Skjöldbrand – Team Associated
7. Niclas Brunsberg – Team Associated
8. Hampus Berg – HB Racing
Thanks to Jesper Rasmussen for the report. Image: Catharina Karlsson
---