November 29, 2016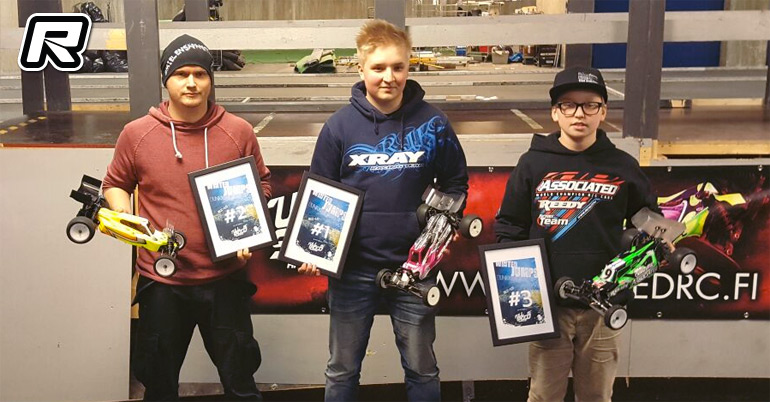 Winter Jumps Round 2 was held by Fullspeed RC at capital of Finland, Helsinki. Race was held from Saturday to Sunday. Track surface was familiar EOS carpet. In 2wd level was pretty high with many top drivers from Finland and over 60 entries. Samppa Orhanen was TQ after three rounds of qualifying, Joel Valander was starting second and Joona Haatanen third. In first A.final Samppa got stop and go penalty for early start as he moved little bit on the grid. Joel and Joona had a nice battle but Joel won A1 0.5s front of Joona Haatanen. Samppa dominated A2 as Joel and Joona crashed out. Last final came and Samppa crashed early, Joel went to the lead and never looked back and Joona wasn't able to catch.
2wd Overall
1. Joel Valander – Xray
2. Samppa Orhanen – Associated
3. Joona Haatanen – Associated
4. August Poutiainen – Team Durango
5. Juha Aromaa – Team Losi Racing
6. Jarno Siltanen – Schumacher
7. Konsta Saarinen – Xray
8. Joonas Hyvärinen – Xray
9. Markku Honkanen – Team Durango
10. Toni Niinivirta – Xray
Then it was time for 4wd on Sunday and Joel Valander showed great pace in practice. He also TQed first two rounds of qualifying and secured TQ as he was only who was able to 20 Lap run. Joel won all three finals with comfortable gap as guys behind him were battling.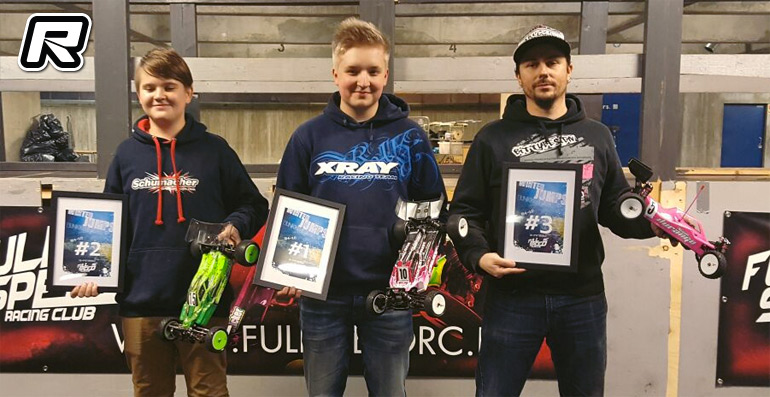 4wd Overall
1. Joel Valander – Xray
2. Pekko Iivonen – Schumacher
3. Markku Honkanen – Team Durango
4. Ari Heinonen – Team Durango
5. Konsta Saarinen – Xray
6. Joonas Hyvärinen – Xray
7. Toni Niinivirta – Xray
8. Jarno Siltanen – Schumacher
9. Lauri Siltanen – Team Durango
10. Ari Koski – Team Durango
Source: Euro RC [eurorc.com]
---