November 30, 2016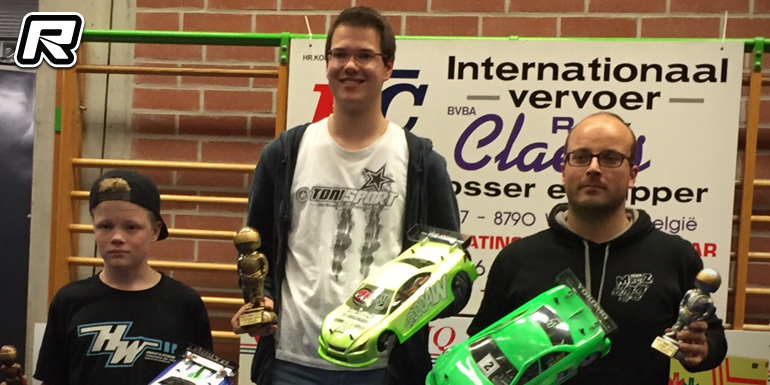 The fourth edition of the MRCZ International Race was held in Zwevegem, Belgium. Organised by the MRCZ club the race has quickly become a classic in the country with the 2016 edition attracting about 90 drivers in the classes of Touring Modified, Touring 10.5, Touring 17.5. and also Formula 21.5 and 1/12th 10.5. Also run were two fun classes in the form of a mechanics and a Ladies Cup race for occasional racers. The Modified/EFRA and 10.5 Touring classes were run using the Voltante 28 control tyre whereas the other classes were run using free tyres. The race format was five round of qualifying with the best two to count and triple mains. As for the track, the carpet used started with pretty low grip but things got better during the race but nevertheless the organisers will revert to the proven ETS-type carpet from next year on.

In the Touring Modified class, qualifying as a very tense affair between Mitchell Van Es (VBC Racing) and local hero and multi-time national champion, Thomas Stockmann (Yokomo). Ultimately Mitchell took the pole position in front of Thomas, the Tamiya of Florian Joos, Rico Claeys' Xray and young Liam Van de Wouwer's Yokomo. The opening final was a freight train led by Mitchell. Thomas, Florian and Rico followed within the one second. On lap 13, a small error from Mitchell held up Thomas and allowed Florian to take the lead. The latter then set his personal best times and managed to pull a gap while Mitchell and Thomas followed in second and third. A2 was a very exciting battle between Mitchell and Thomas. For 27 laps they were in each other's slipstream, improving lap times time after time. In the end Mitchell finished first, with Thomas 0.6 of a second adrift with Florian in third. In the third A-main Mitchell took another victory to take the overall win from Thomas, Florian, Rico and Liam.
Touring Superstock was run with 10.5 motors, a blinky ESC and an FDR of 5.8. The biggest name in this class was Giovanni Verbrugghe, the reigning 1/5th scale European Champion. Qualifying proved to be a walk in the park for Giovanni (Xray) as he took all five qualifiers with ease. The battle for P2 was on between young Spec-R driver Vincent Van Gansen and last year's champion Mitchell Van Es, driving an Awesomatix. Ultimately Vincent took the second position thanks to better results. Mitchell on the other hand had some very fast runs but also two DNFs, which ultimately cost him P2. Florian Joos had a P2 in the first qualifier but a series of DNFs. He thus had to take it easy in Q5, otherwise he would be demoted to the B-final. At the end a P3 in Q5 earned him a fourth spot on the grid in front of the Yokomo of Werner Broeckx.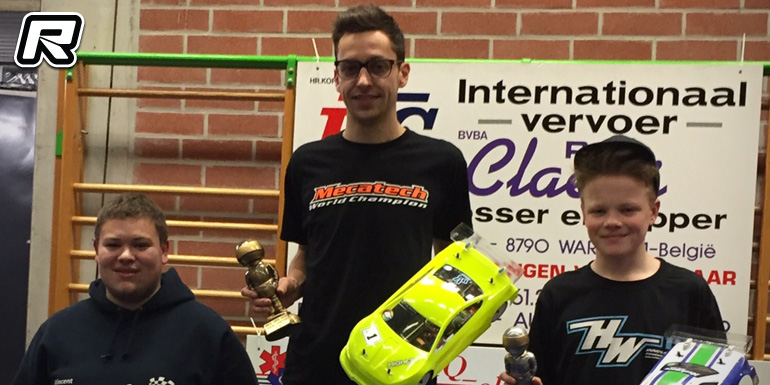 The opening final was a disaster for Vincent. Because of a transmitter problem, he asked for a delay but had to start from the back of the grid. Up front Florian had a good start and overtook Mitchell for P2 while he started to chase Giovanni. He later reeled in on Giovanni, but was too eager to pass him and they collided. While Florian waited for Giovanni to recover, Mitchell saw his opportunity to take P1. A small mistake by Giovanni let Florian by, but Mitchell kept the door shut and they finished 0.2 seconds adrift. In A2 Vincent was determined to get a good result. He took a good start but as Giovanni had the hole shot, he started to edge away. Florian was on Mitchell's tail and a small error from Mitchell in lap four let Florian by. Florian started to reel in on Vincent and he put some serious pressure on the Spec-R driver. In lap 9, Vincent made an error in the chicane which promoted Florian's Tamiya to P2. Florian caught Giovanni but the latter showed his great talent by keeping the door shut. In the end, Giovanni took the win by 0.2 seconds in front of Florian and Vincent. Mitchell unfortunately finished in eighth place with a tweaked car. A3 would thus decide the overall winner. Giovanni took a great start and eventually started to build up a gap between him and Vincent while Mitchell was running in P3. Florian got T-boned at the start and didn't prove a threat at that point. In lap 19 however, Vincent made an error in the chicane and while the marshall tried to recover him, he collected poor Mitchell''s car which then was out of the race. Florian sped through and tried to close the gap, but Giovanni took A3 and the overall victory in front of Florian and Vincent. An unfortunate Mitchell finished in 5th overall behind the Team Magic of Pasquinel Neys.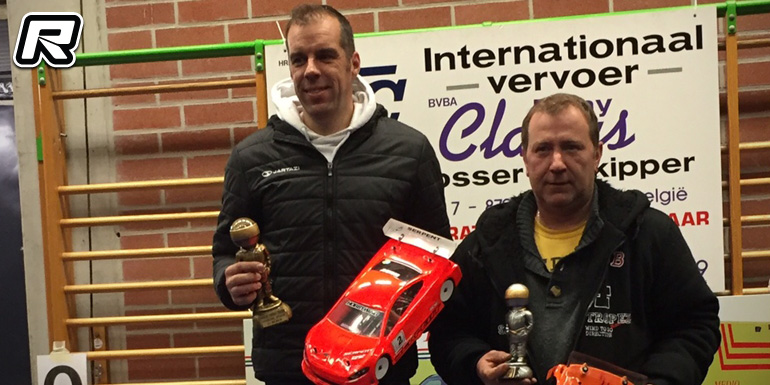 The Touring Stock class was run with 17.5T motors, open tyres and an FDR of 5.0. Peter Roeygens put his Xray on pole position by winning Q1 and Q5 while Tokke Adams took three TQs with his Serpent, but had to settle for second on the grid. Third place went to French driver Jonathan Carton. Youngster Roel Jongenelis put his Serpent on a nice fifth position on the grid. In the finals Tokke and Peter were tie on points, but with a better third result Tokke took the overall victory in front of Peter and Jonathan in third. Roel would stick to his fifth position, just one place behind the Team Magic of Christophe Libeer.
The Formula class qualifying proved to be very exciting as four drivers driving three different brands of cars won a qualifying heat each. In the end, Steve Deblaere took the pole position in front of the WRC F-One of Kristof Dehert. Kristof was the only driver to run this chassis, so it was a very good achievement. P3 went to the Serpent of Dutch driver Patrick Jongenelis in front of the French Mini-Z World Champion Carlos Gurreiro, using an Xray car.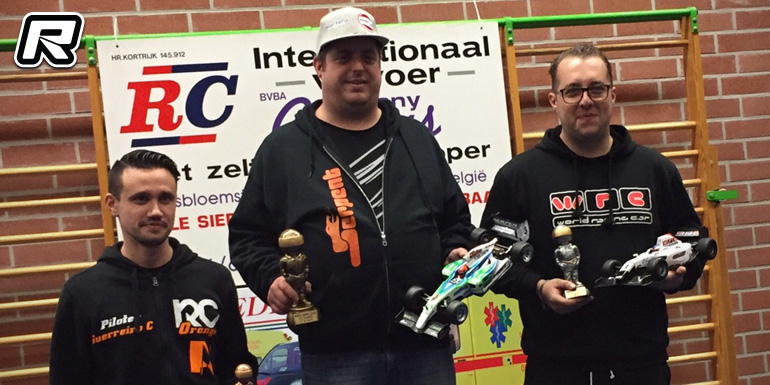 In the opening final, Steve was forced into retirement and his fellow Serpent driver, Patrick Jongenelis took the win in front of Kristof and Carlos. During A2, Steve again had some misfortune while Carlos took the win in front of Patrick Jongenelis and Willy Voisangrin. A3 would thus decide on who would become the overall winner. As the grip levels were at their optimum, Steve took the win, three seconds in front of Kristof and Patrick a further two seconds back. Unfortunately this wasn't enough for Steve to seal a podium finish. Patrick Jongenelis took the overall victory in front of Kristof Dehert and Carlos Gurreiro.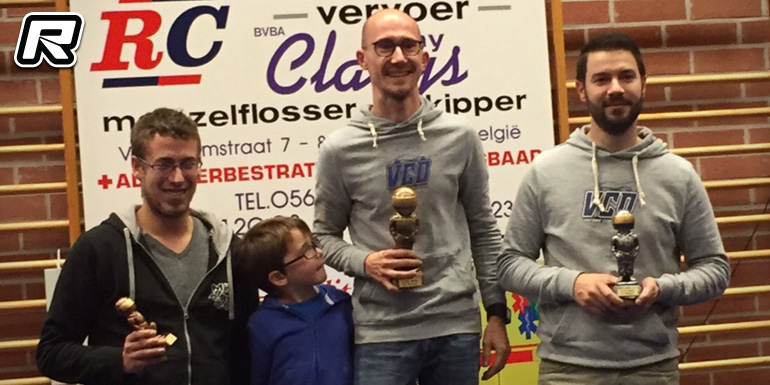 The 1/12th scale Spec class was dominated by Benedict Vantomme, the designer of the VCD 1/12th car. Kenny Almey's laptimes were almost as fast and he managed to win Q2. Xavier Debroye put his Roche on the third place on the grid. During Q4 and Q5 Xavier found some extra speed and managed to get almost the same lap times as Benedict. The finals proved to be exciting for the remaining podium spots while Benedict won the opening two mains to grab the overall win early. Kenny cemented P2 with a win in A3. Angelino Deneef, the fourth place qualifier took P3 from Xavier by finishing second in one of the finals.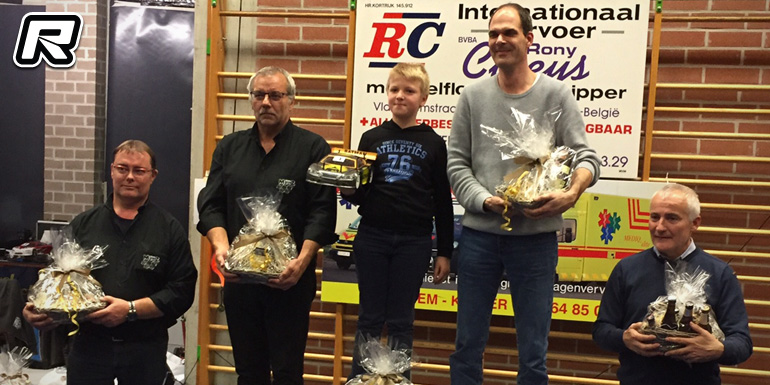 In the MRCZ Gentlemen race, the youngest of the Gentlemen, Vic Dejaegere took a popular win in front of Mitchell's dad Jörgen, while Thomas' dad Dirk Stockman took a nice third place overall.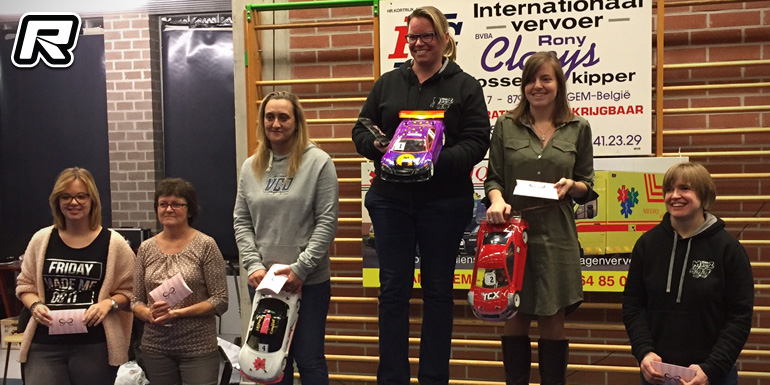 In the MRCZ Ladies Cup it was Lies Azou that came out fastest from Romina Claeys and Severine Mispreuve.
Source: T2M [t2m-rc.fr]
---