November 2, 2016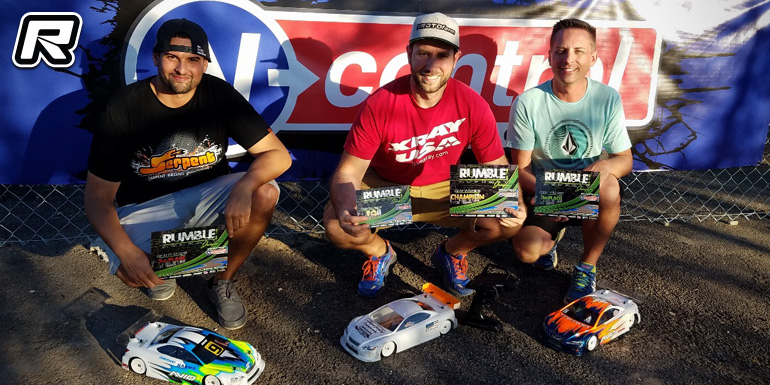 The newly established N-Control RC Racing Circuit in Dale, Texas held its grand opening race this past weekend hosting 68 entries from across the state of Texas. Texas's newest permanent on-road facility, and site of the 2017 Roar Electric On Road Paved Nationals, saw close racing across 10 different classes. The event took place over two days with Saturday holding three rounds of rocket qualifying, and Sunday offering a final round of qualifying followed by mains. Triple A-mains were held for the electric classes, and single 20-minute mains were run for all nitro races. The track was fast and flowing with consistently high traction offering up for some exciting racing all weekend.

In Modified Touring car, national champion Chris Adams would secure the TQ position, and go on to cruise to victory in each of the three A-main races. Brandon McNally, who set the fastest single lap in the class, finished in second followed by John Hodges.
Touring Modified Top 5 results:
1. Chris Adams
2. Brandon McNally
3. John Hodges
4. Larry Myers
5. Jose Moreno
The 17.5 Stock Touring class was the biggest class of the event with 20 racers, and saw some of the tightest racing of the weekend. Taking TQ honors was Chris Kemper who would go on to score two 1st place A-main finishes, which locked up the overall top spot on the podium. A close battle was fought between eventual 2nd place finisher Ron Atomic and third place finisher Michael "Toastie" Toth with the final placement decided by a tiebreaker.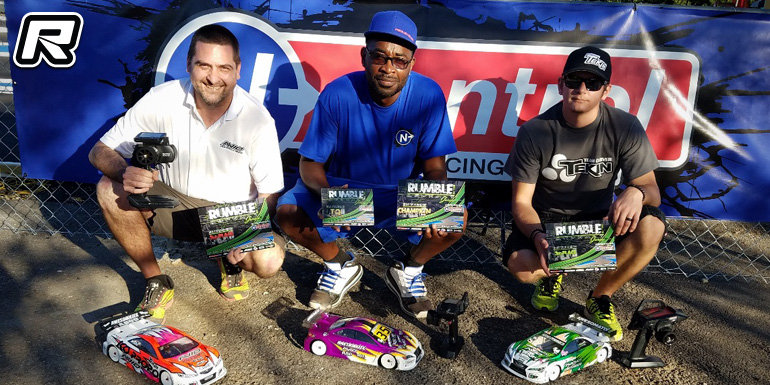 17.5 Touring Top 5: results:
1. Chris Kemper
2. Ron Atomic
3. Michael "Toastie" Toth
4. Johnee Fenimore
5. Larry Myers
In the 25.5 Touring class, Joe Maxey would take the TQ along with two 1st place A-main finishes to lock in the top podium position. Following closely behind Maxey was Race Director, Paul Gaertner, who took a break from calling the races to get in on some of the action. Rounding out the podium in 3rd place was Aaron Grant.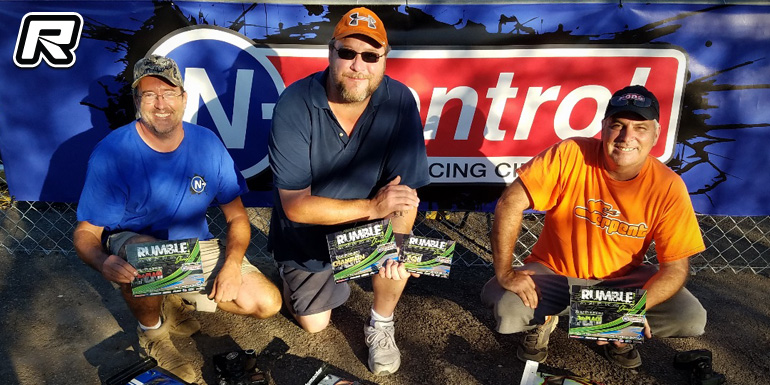 25.5 Stock Touring Top 5 results:
1. Joe Maxey
2. Paul Gaertner
3. Aaron Grant
4. Leo Moreno
5. Wayne Stuntz
In USGT, Billy Land set the early TQ pace, and would retain that advantage with a strong 1st place finish in each of the triple A-mains. Jose Isales and Robert Ferrell would battle out for the remaining podium positions. Tied in points going into the final race, Isales out paced Ferrel which rounded out the 2nd and 3rd place podium position respectively.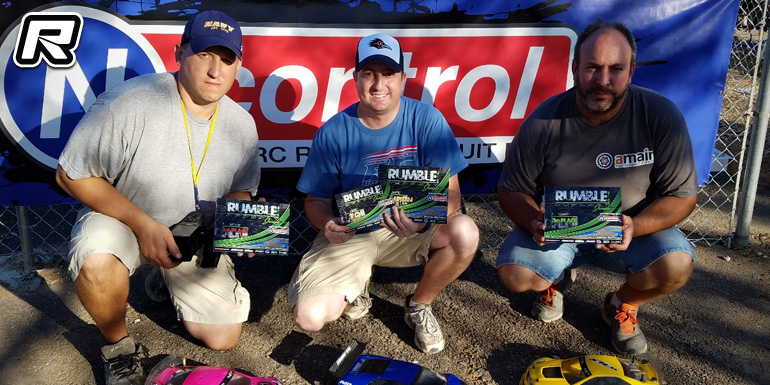 USGT Top 5 results:
1. Billy Land
2. Jose Isales
3. Robert Ferrell
4. Nick Sibigtroth
5. Jacob Aguirre
In the 13.5 1/12th scale class, Jim Harnett would set the fastest lap time in the main and top the TQ pace setter Doug Bryson for 1st place. A close battle between Bryson and Nick Sibigtroth would emerge with Sibigtroth barely edging out Bryson by less than a second for 2nd place. 3rd place went to Bryson.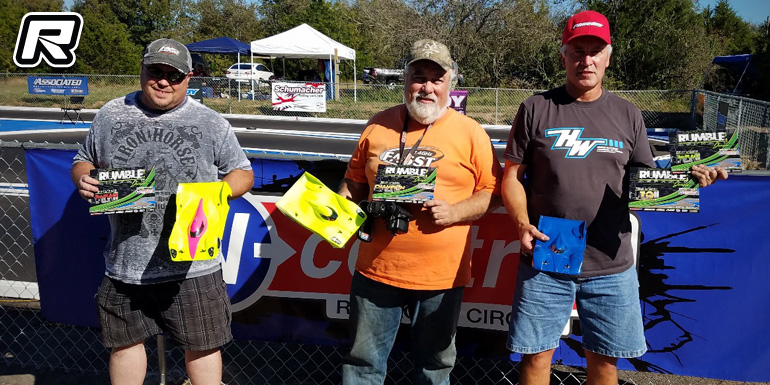 13.5 1/12th Scale Top 3 results:
1. Jim Hartnett
2. Nick Sibigtroth
3. Doug Bryson
In Formula, TQ setter Larry Myers would experience a mechanical failure at the start of the A-main race opening the way for Doug Byrson to take 1st followed by Nick Sibigtroth in 2nd.
Formula Top 3 results:
1. Doug Bryson
2. Nick Sibigtroth
3. Larry Myers
The Nitro Touring class saw a dominant performance in the main by TQ setter Loran Whiting. Running clean and consistent laps, Whiting would go on to win by 2 laps over the second place finisher during the 20-minute main with a total of 83 laps. In second place, Ethan Lefebvre lead third place finisher Nick Lefebvre by 3 laps with 81 to 77 laps respectively.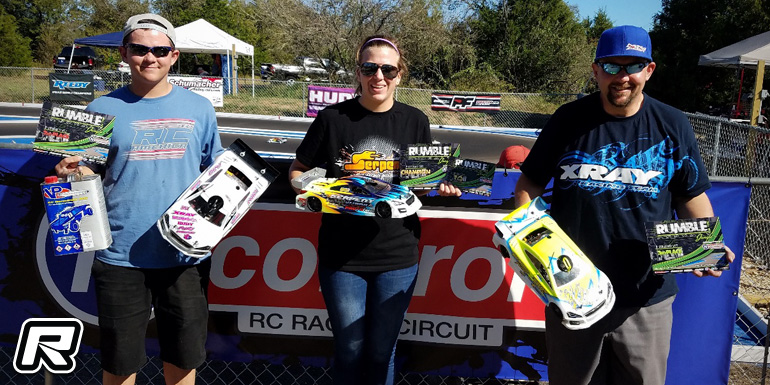 Nitro Touring Top 5 results:
1. Loran Whiting
2. Ethan Lefebvre
3. Nick Lefebvre
4. John Hodges
5. Dane
The fastest class of the day was the 1/8th Open class. Foster Whiting set the TQ, but would see his day end early due to mechanical troubles during the first part of the Amain. Taking advantage of the opening, Bob Ingersoll would stroll to a dominant win with 83 laps over the course of 20 minutes compared to the 72 laps turned in by the second place finisher Nick Lefebvre and third place finisher Steve McLauglin.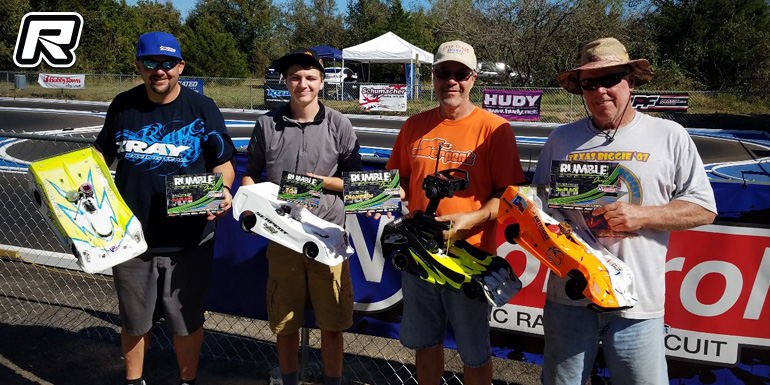 1/8th Open Top 5 results:
1. Bob Ingersoll
2. Nick Lefebvre
3. Steve McLaughlin
4. Foster Whiting
5. Anthony Johnson
Both the GT8 electric and nitro classes were ran simultaneously. In the electric field, Aaron Grant would top the TQ setter Wayne Stuntz with three convincing 1st place finishes. Tied in points after 3 mains, the second place tie breaker went to Tucker Strickroth followed closely by Wayne Stuntz. The lone nitro GT8 racer and 1st place finisher went to Pit Racer.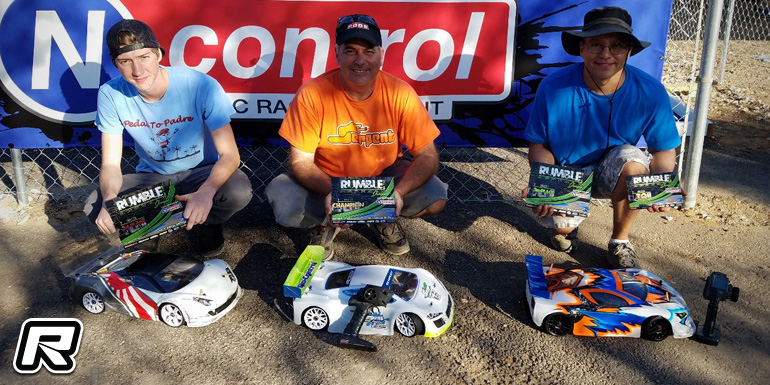 GT8 Electric Top 3 results:
1. Aaron Grant
2. Tucker Strickroth
3. Wayne Stuntz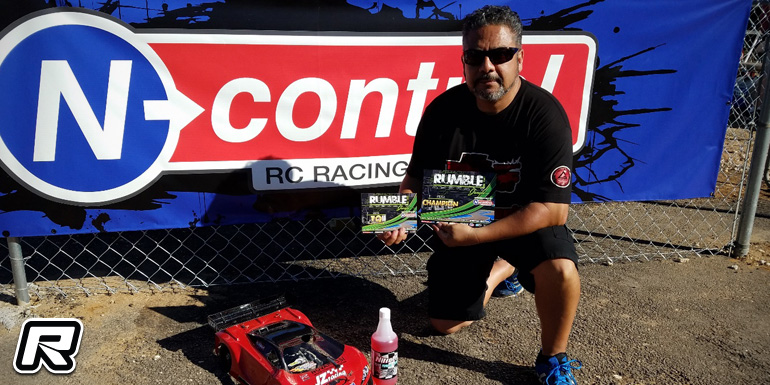 Thanks to William Land for the report.
---