November 4, 2016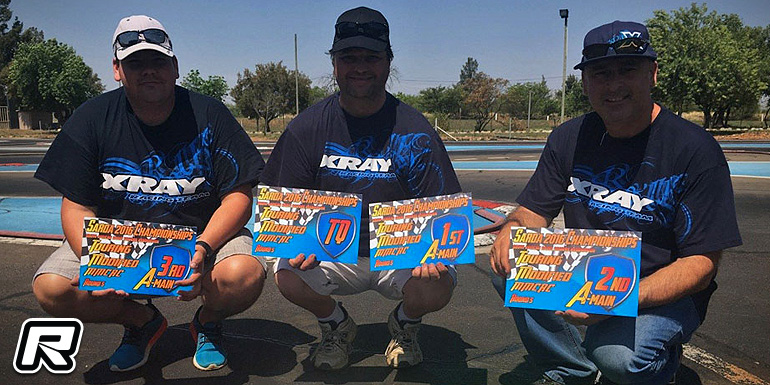 The fifth and final round of the 2016 South-African ORE national championship returned to the TRAP RC Venue in Pretoria after round two was rained out at the same venue. Free practise was held on Thursday and Friday with a heat wave hitting the Gauteng province. The air temperature peaked at 38 Degree Celsius and the track temperature went up to 64 Degree. The heat put tremendous pressure on the batteries, tyres and electronics and the drivers had to choose their setups carefully and also manage the tyres during the race. The Touring Modified class is still growing stronger and all the drivers need to be at their best to qualify for the A-mains. All the top drivers pushed hard during the practice rounds and during qualifying but it was Shaun Schutte who dominated the class with his Xray during practise and qualifying to take TQ. There was a great battle between current champion Jason Hillcoat, Anderton Smith, Antonio Caroli and Ashley Hurley for the remaining grid positions. Anderton managed to take second after a good Q3 and Q4 with Antonio starting third in the A Mains.

During A1 and A2 final Shaun Schutte continued his event domination and took wins in both the finals. The battle for the podium was really hot with great runs from Anderton Smith, Antonio Caroli, Hein Kotze, Jason Hillcoat, Ashley Hurley and Alex Ribeiro. It was Antonio Caroli who eventually achieved a second place with Hein Kotze completing the podium.
Modified Touring final results:
1. Shaun Schutte – Xray
2. Antonio Caroli – Xray
3. Hein Kotze – Xray
4. Jason Hillcoat – Xray
5. Anderton Smith – Xray
6. Alex Ribeiro – Team Magic
7. Juan Landman – Xray
8. Ashley Hurley – Xray
9. Willem Janse van Rensburg – VBC Racing
10.Pedro de Gouveia – Xray
The Pro-Stock class was a competitive affair with Xray drivers Shaun Schutte and Deon Gove tie on points for the national championship. Shaun Schutte continued his great form and achieved TQ in the class with his rival and team mate Deon Gove starting second on the grid. In A1 Shaun took an early lead and was commanding the race until an unfortunate incident with a back marker dropped him to third. Deon Gove and Jonathan Wilken had a great battle and Johnathan managed the win in A1. In A2 and A3 Shaun made no mistakes and took great wins to ensure the overall win and championship.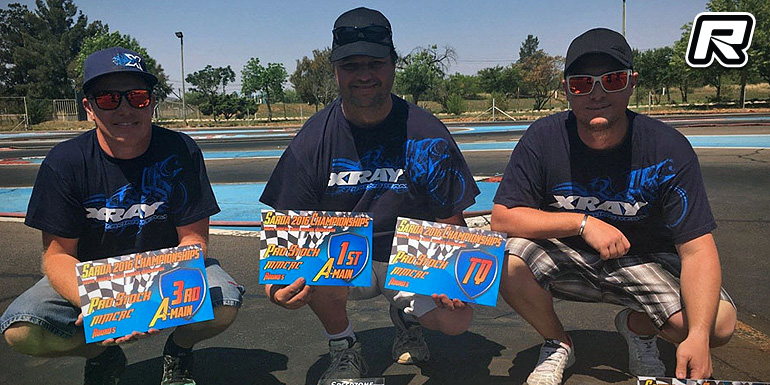 Pro-Stock final results:
1. Shaun Schutte – Xray
2. Deon Gove – Xray
3. Jonathan Wilken – Xray
4. Hennie Viljoen – VBC Racing
5. Sean Vollmer – VBC Racing
6. John Steyn – n/a
7. John Fitzimmons – Xray
8. Juan Wessels – Team Associated
9. Paul van der Westhuizen – Team Magic
In Formula 21.5T it were Jonathan Wilken, Pedro de Gouveia and Tyronne Wilken who showed great pace from the start to dominated the event. There was also some great runs from newcomers Pieter de Villiers and Hannes Kruger and the father-and-son due of Michael and Jared Rabe. Jonathan managed to take TQ and eventually won A1 and A2 with his brother Tyronne winning A3. Hannes Kruger stayed consistent with a second, third and fourth place.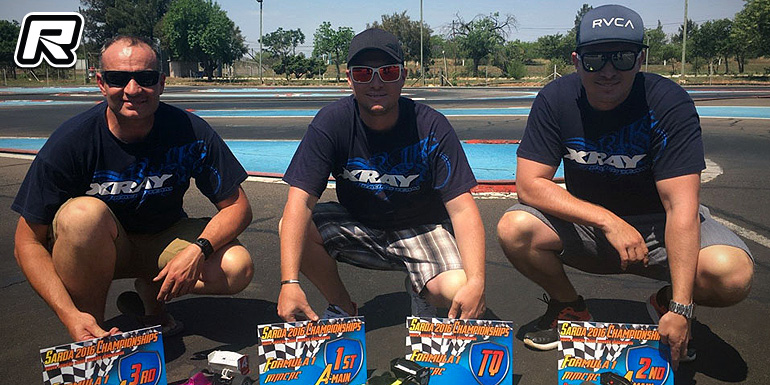 Formula final results:
1. Jonathan Wilken – Xray
2. Tyronne Wilken – Xray
3. Riaan Truscott – Xray
4. Michael Rabe – Xray
5. Pieter de Villiers – Xray
6. Jared Rabe – Xray
In the FWD class it was Hennie Viljoen who showed a good early pace and consistency and managed to take the TQ from Paul van der Westhuizen. It was Christopher Dolphin who won A1 but Hennie bounced back with great drives to win both A2 and A3. There was a great battle for second and third between Christopher Dolphin, Ben Kriegler and Paul van der Westhuizen.
FWD 13.5 Touring final results:
1. Hennie Viljoen – VBC Racing
2. Paul van der Westhuizen – VBC Racing
3. Christopher Dolphin – TOP Racing
4. Ben Kriegler – Team Powers
5. Fanie Viljoen Sr – VBC Racing
6. Adrian Botha – Team Powers
Source: Xray [teamxray.com]
---