November 12, 2016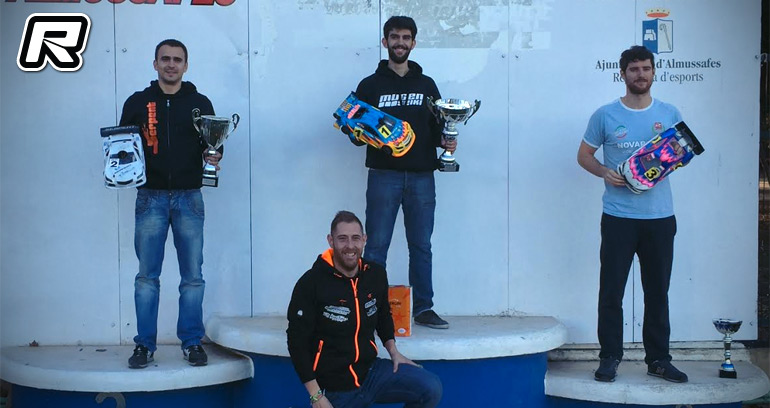 The annual RC World Cup race, hosted by Johnny Pastor shop (RC World), was held at the Almussafes track in Valencia, Spain. This race is famous for the attendance of the best national drivers, as well as the amount of prizes given away in the draw at the end of the race. After Saturday night rain, the track was very tricky in qualifying, where in 1/10th scale Sergi Franch came out fastest topping 2 of the 3 rounds in front of Victor Pelaez, qualifying both drivers directly into the main final.
The main final started with Sergi, Victor and Juan Hidalgo opening a huge gap to the rest of the drivers. In the first part of the race, Sergi rolled due to the high diameter of his tyres losing 5 seconds, while a few laps after Juan flamed out when he was leading the race. After that, Victor took the lead of the race with Sergi in the 2nd place, both having the same pace. With 12 minutes to finish the race, Victor made a mistake and rolled into the grass, allowing Sergi to recover the lead where he won with a gap of 12 seconds in front of Victor while Juan Hidalgo rounded out the podium. With this win, Sergi claimed his 2nd win in a row and his 2nd win at this event.
1. Sergi Franch (Mugen/Novarossi/Merlin fuel)
2. Victor Pelaez (Serpent/Tesla/Runner time)
3. Juan Hidalgo (Mugen/Novarossi/Nitrolux)
Thanks to Josep Franch for the report.
---