December 2, 2016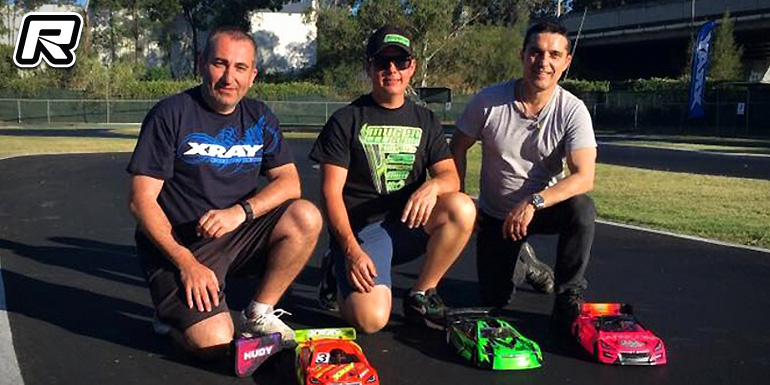 The inaugural Xray Race Series Australia race was held at Sydney's Moorebank raceway. 57 entries were received over the three classes, 1/8th, GT and Nitro Tourer. The Saturday was open practise with three rounds of qualifying and bump-up finals on Sunday. Good weather and a well organised meet allowed all the races to be completed with everyone enjoying some close racing and friendly atmosphere. There were even some interstate competitors that flew in from across the country to join in. With the track hosting next year's nationals it was a good opportunity to get some track time for the non-locals.

There were 27 entries in the Nitro Tourer class, Alex Koussas taking the closest of TQs by less than a tenth of a second from Jeff Hamon. With an A, B and C final there was plenty of action. There were some big names in the B-final and some close racing. David Chen took the win from Andrew Bardetta and Darren Neave with all three bumping up to the A-final. In the final, Jeff Hamon (Mugen) took the win, leading all but three laps. Andrew Bardetta (Xray) took second after bumping up from the B-final and a late race battle with Alex Koussas (Capricorn) ending up third.
In the 1/8th class 15 entries battled it out with Aaron Lee taking TQ. In the B-final Nathan Hallard took the win from Ben Dunn and Scotty Elliot. The TQ curse struck again with Aaron Lee (Shepard) and Jeff Hamon (Mugen) having a race long battle, Aaron suffered with some slow pitstops and a couple of offs, Jeff Hamon taking his second win of the event with Aaron Lee second, veteran Stewart Grant (ARC) rounded off the podium in third.
GT again saw 15 entries. Tim Moylan (Mugen) took the TQ by 9 seconds. In the B-final David Chen took the win from Bruce Berg second and Daine Parsons third. All three were bumping up to the 30-minute A-final. In the main a close battle between Tim Moylan and Rick Seymonsbergen ended when both struck issues during the race. This allowed up and coming young racer Aaron Horsnell, who drove a very consistent race, to come through with 10 laps to go to take the lead and win. Rob Parrington in second and Rob Russell in third.
Source: Xray [teamxray.com]
---