December 13, 2016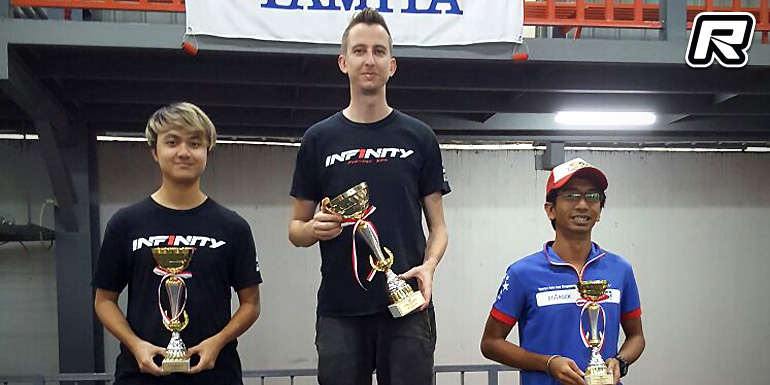 The newly opened indoor asphalt track of Graha Tamiya, located in Gading Serpong, just outside of Jakarta City, Indonesia, played host to the Tamiya Invitational Race 2016. The first official race since its opening in April the event attracted about 50 entries in the three classes of Super GT, Stock and M-Chassis. The race attracted some international top drivers such as UK's Andy Moore, as well as Thailands Charvit and Trin and also some guests from Singapore as well. With the top guns in the Super GT class all running the Tamiya TRF 419X, it provided the crowd with the maximum entertainment as results from two out of the four rounds of qualifying would count. At the End, it was Charvit (Thailand) who took the top spot, winning two rounds with Andy Moore (UK) lining up on P2 and Alvin Koh (Singapore) on P3 both TQing a round each.

The starts of the triple A-mains in the Super GT class would see Andy Moore put pressure on Charvit from the get go. At the end this would pay out as Andy took the championship title with the race behind him being on for the remaining podium spots. It was a 4-horse race between Alvin Koh (Singapore), Esmail Apandi (Singapore), Trin (Thailand) and Izzah (Indonesia) with Esmail Apandi piping out the rest to take the final spot on the podium.
Super GT A-main results:
1. Andy Moore
2. Charvit
3. Apandi
4. Alvin Koh
5. Izzah
6. Trin
7. Ryan
8. Alan Cher
9. Chandra
10.Peter Anthonijsz
In the M-Chassis class, it was a perfect weekend for Leonard Sim (Singapore) as he took the win in all four qualifying rounds to claim the top sSpot in front of a very fast local driver, Hide and Leonard also went on to take the overall win after crossing the line first in all three finals. With Hide finishing on the runner-up spot, the race was on the for the final podium spot between up and coming young local driver Ridhwan (Indonesia), Izzah (Indonesia) and Alan Cher (Singapore) with Izzah coming out strong to take the third place overall.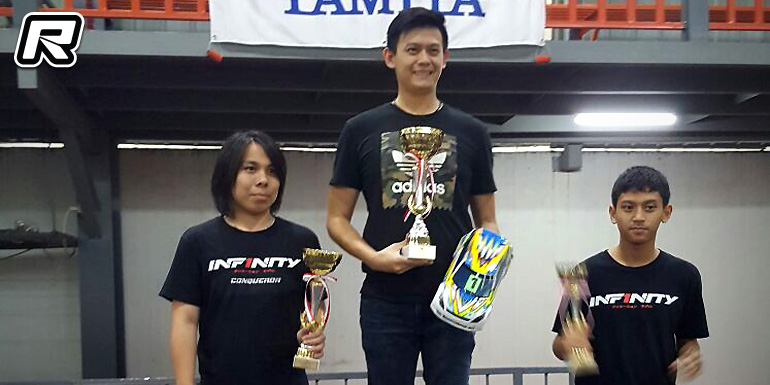 M-Chassis A-main results:
1. Leonard Sim
2. Hide
3. Izzah
4. Alan Cher
5. Ridhwan
6. Kurniadi
7. Deni
8. Dimas
9. Ryan
10.Robby
In the Stock class, it was more of a 2-way affair between local drivers Fredy and Ridhwan in the main finals. With each winning a leg, it was down to the final race to determine the champion. Young Driver Ridhwan did not disappoint, starting from the 3 spot, as he went on to take the win in the last final and thus the overall victory.
Stock A-main results:
1.  Ridhwan
2. Fredy
3. Daniel
Source: Stargek [stargek.com]
---