December 30, 2016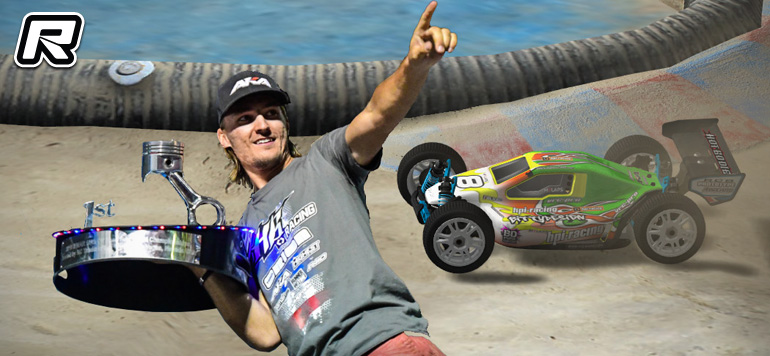 The recent VRC World Championship saw 2016 IFMAR 1/8th Gas Buggy World Champion, David Ronnefalk, walking away with the win in the 15-minute long 1/8th E-Buggy final. The race was held at RC Tracks of Las Vegas, the very same track the Swede took his real life Worlds title about three month ago. 2014 VRC World Champion, Marcin Maliński from Poland, took second some 9 seconds back on Ronnefalk, while pole-sitter Warren Jones from the US snatched the final podium spot from Swede Robert Hillman in the last corner of the final lap.

For David Ronnefalk it was a "take off and never look back" final without too many troubles. Warren Jones had the speed but got himself in trouble just too often, clearly lacking the consistency that David demonstrated with his commanding lead. Just three laps before the end Jones was back in fifth but managed to clinch the third place right on the finish line.
1/8th E-Buggy final results:
1. David Ronnefalk – SE – 26L 15:10.155
2. Marcin Maliński – PL – 26L 15:19.483
3. Warren Jones – US – 26L 15:29.731
4. Robert Hillman – SE – 26L 15:30.683
5. Michael Lightfoot – GB – 25L 15:04.595
6. Thomas Nuzzaci – FR – 25L 15:08.837
7. Jonas Larsson – SE – 25L 15:10.731
8. Matthew Stacey – CA – 25L 15:12.940
9. Thomas Anger – FR – 25L 15:13.243
10.James Le Pavoux – GB – 25L 15:27.965
A total of 354 Racers competed in the 2016 VRC Electric Buggy Worlds. Sweden was the strongest performing nation, with France second and the United Kingdom third.
Nations Cup top 3 results:
1. Sweden – 952 – Ronnefalk (1) | Hillman (4) | Larsson (7) | Isaksson (19) | Dalensjö (39)
2. France – 854 – Nuzzaci (6) | Anger (9) | Loriot (13) | Lachat (32) | Carandi (38)
3. United Kingdom – 849 – Lightfoot (5) | Le Pavoux (10) | Knight (11) | Boon (31) | Hatton (69)
[youtube width="700″ height="385″]https://www.youtube.com/watch?v=HtxDFMqpM_o[/youtube]
Source: VRC [vrcworld.com]
---