January 9, 2017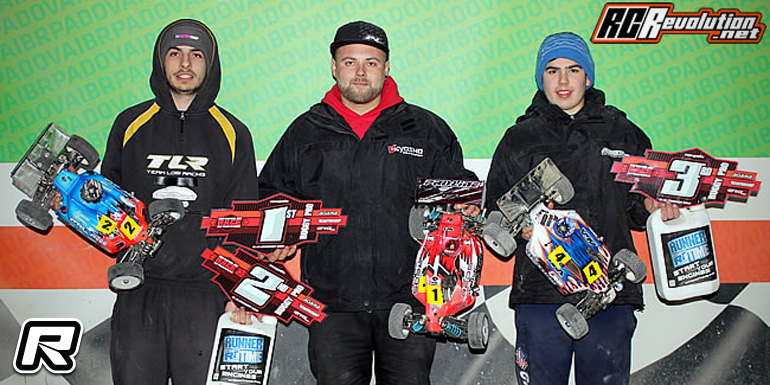 The 2017 edition of the annual The Italian Job Race was held at the IBR Padova track this past weekend. In the premier Pro Nitro Buggy class it was newly-signed Tekno driver, Alex Zanchettin who took the TQ from the TLR duo of Marco Baruffolo and Renaud Savoya. Elliott Boots and Riccardo Berton (both Kyosho) would complete the top five with Martin Wollanka (Xray), Robert Batlle (Mugen) and Lee Martin (Infinity) coming in sixth to eighth place. The 60 minute main final was then run without top qualifier Zanchettin who ran into issues before his semifinals and so the race for the win was on between Ongaro and Boots. Davide looked to hold the upper hand in the opening stages but fading shock absorbers would lead to several mistakes by Ongaro, allowing Boots to take the lead while Marco Baruffolo was able to take profit of Ongaro's issues and so the TLR driver was able to take the second spot some 20 minutes from the end. Up front, Elliott Boots brought home the win with Marco Baruffolo in second and Davide Ongaro in third.
Pro Nitro Buggy final results:
1. Elliott Boots – Kyosho/Reds Racing Pro-Line
2. Marco Baruffolo – TLR/Picco/Hot Race
3. Davide Ongaro – Team Associated/LRP/AKA
4. Renaud Savoya – TLR/RC Concept/JConcepts
5. Robert Batlle – Mugen/Picco/AKA
6. Martin Wollanka – Xray/FX/Hot Race
7. Joao Figueiredo – Kyosho/Team Orion/Hot Race
8. Burak Kilic – Agama/Bullitt/Beta
9. Thomas Musso – TLR/Team Orion/6mik
10.Lee Martin – Infinity/RC Concept/Pro-Line
11.Riccardo Berton – Kyosho/Team Orion/Pro-Line
12. Alessandro Stocco – TLR/Reds Racing/Hot Race
13. Rayan Medjoubi – Kyosho/Reds Racing/AKA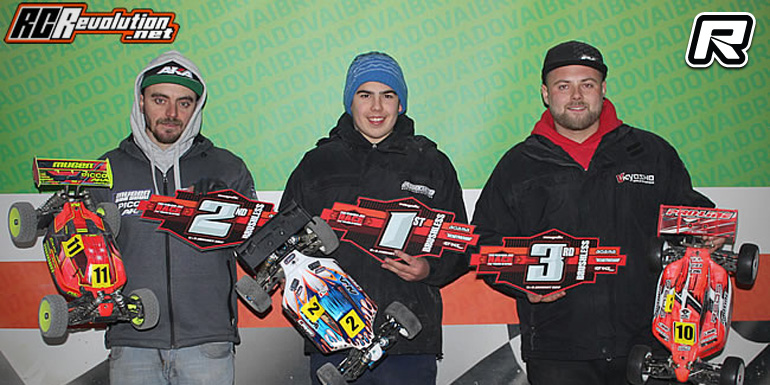 In the 1/8th E-Buggy class the event was won by newly-signed Team Associated driver, Davide Ongaro (Team Associated/LRP/AKA) from Robert Batlle (Mugen/Corally/AKA) in second and Elliott Boots (Kyosho/Reds Racing/Pro-Line) in third.
Source: RC Revolution [rcrevolution.net]
---