January 16, 2017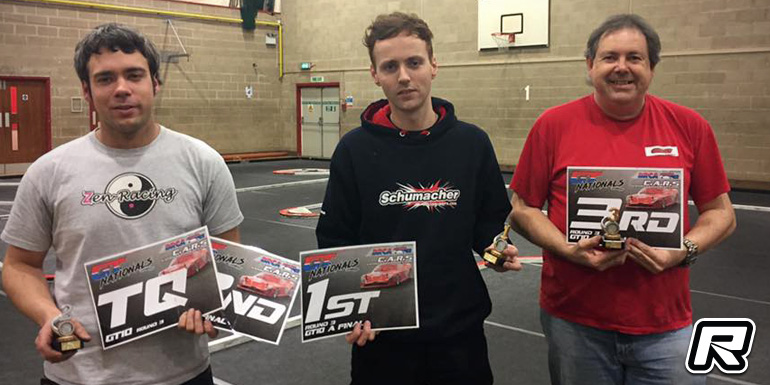 After the Christmas and New Year break the GT Nationals continued last weekend for round 3 at the C.A.R.S club just outside Chesterfield. The club had chosen to change the track from Saturday to Sunday, giving the GT10 and Formula drivers a more open and flowing track and a tighter and more technical track for GT12 on Sunday. GT10 was a masterclass from Adam Catchpole, dominating qualifying. His closest competition came from his Zen Racing team mate Craig Nutting who was closely followed by Andy Murray for Schumacher.

The final was a dramatic affair with Adam getting caught up with back markers very early on, Andy Murray made his way to the front, but with Adam chasing hard he quickly caught up, an attempt by Adam to get past would again leave him on the barriers and needing marshalled. It looked like it was over for Adam but in the closing seconds he made it back onto Andy's bumper, for a last lap shootout, crossing the line Andy just managed to hold the lead with the pair being separated by two tenths of a second. Andy Sawyer made his way into third, with Craig Nutting slipping to 4th and Mark Barford completing the top 5.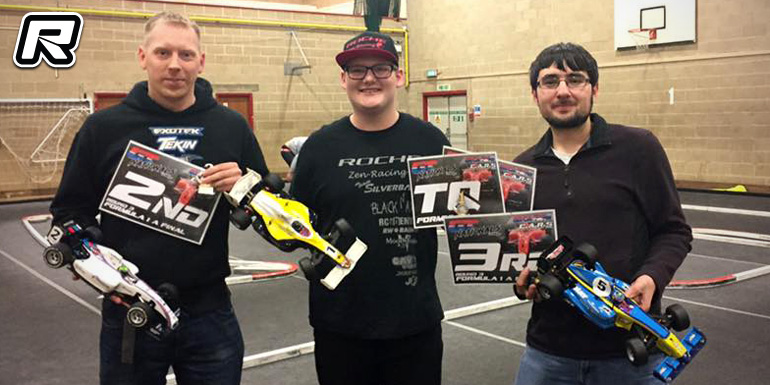 In Formula the pace was initially set by Niall Cochran, by the smallest of margins to James Greener, with Luke Lee in third. As the qualifying continued it was newcomer to this class, Ollie Payne who would rise to the top, Setting the TQ pace in round four, followed by James and Damian Giddins, previous podium finishers Stephen Lander, Niall and Luke would line up sixth, seventh and eighth. The final was less dramatic than GT10 with a few mid pack movers, but it would be Ollie Payne to cross the line in first followed by James and Michael Lee moving up into third, James Wright would maintain fourth and Damian slipping to fifth to complete the top 5.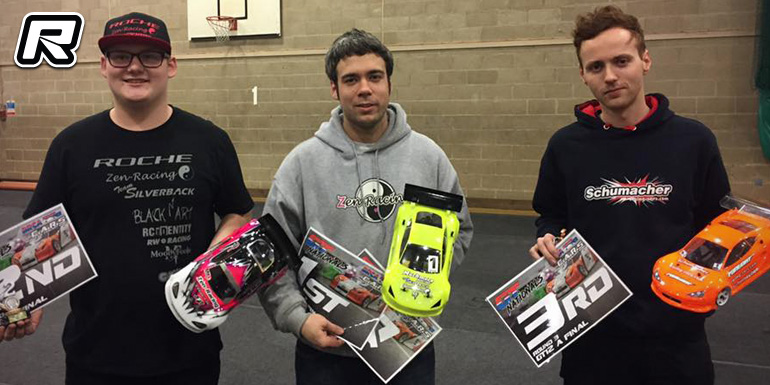 GT12 started early Sunday morning to a maximum entry of 100 drivers. Craig Mawson initially set the pace in round one followed by Kieran Manders and Andy Murray in third, As the qualifying continued and the grip started to even out on track it was Adam Catchpole who would rise to the top, Adam improved every round to stay on top closely followed by Ollie Payne and Ben Vincent in third. Only four drivers would get into 29 laps with Niall Cochran completing the group, the rest of the A-final on a very tight 28 laps separated by less than three seconds. The final got of to a very good start, with all drivers getting away clean, early issues for Ben and Niall would see them drop to the back of the pack, Adam and Ollie would break away from the rest with Andy Murray making his way into 3rd. A few taps of the barriers by Ollie would see him drop back from Adam but maintain the gap to Andy. Ollie chased hard and with only a few laps left was very close to Adam, crossing the line they would be separated by only half a second. Andy held onto third, Mark Stiles made up a couple of places to finish fourth and Ben Vincent completed the top 5.
Source: BRCA [brca.org]
---