January 3, 2017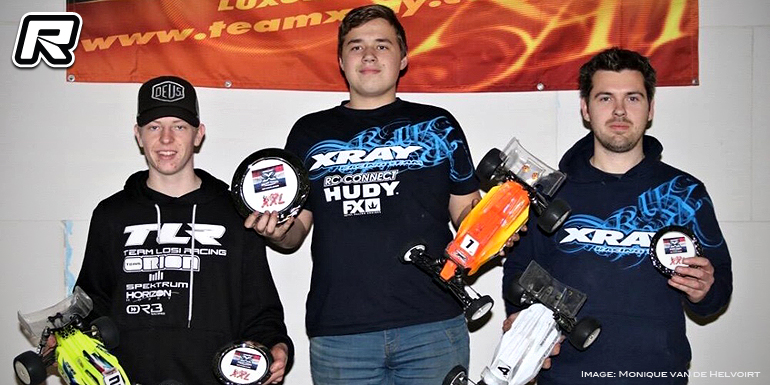 Indoor Model Racing Oss played host to the opening round of the Dutch Xray Racing Series with 45 drivers attending in the three classes of 2WD Buggy, 4WD Buggy and Rookie. In 2WD it was Jarno Pijpers who TQ'd three out of the four qualifiers to take the overall TQ from Wesley van Helmond followed by Bart Mullink and Bart Wubben.

In the opening A-main Jarno took off and never looked back while behind him Bart and Wesley were in a battle for second. In the end it was Jarno who took the win in front of Bart and Wesley in second and third respectively. At the start of A2 Jarno opened a little gap on Wesley, but after a mistake of Jarno it would be Wesley who took the win followed by Jarno while Bart had a DNF that would give the third place to Bart Mullink. The third and final A-main would bring the decision for the overall win. Jarno had a good start and was followed closely by Wesley and after a small mistake of the latter, Jarno had a bit more room to breathe and would eventually cruise to the win. Rajco would finish third in front of Bart Wubben who was taken out on the first lap and fought his way back to fourth.
2WD final results:
1. Jarno Pijpers
2. Wesley van Helmond
3. Bart Wubben
4. Rajco van de Sluis
5. Bart Mullink
6. Stephane Roufosse
7. Rick van den Akker
8. Sander van Genechten
9. Mark van Dreumel
10.Mark van Waayenburg
In 4WD Bart Wubben took the overall TQ by winning three out of the four rounds. He was followed by young and talented Nigel van Katwijk in second while Arie Vos would start the finals from third. A1 began with a disaster for the TQ holder as Bart suffered a servo link failure on the opening lap. Arie Vos made maximum use of the situation and despite being hardly chased by Nigel, Arie brought home the win in A1. The second A-main saw the top 3 fighting for the top spot for the first couple of minutes until Bart and Nigel collided which send Bart's buggy into the wall before the big double. Up front Nigel took the win from Arie in second while Nigel had to settle for fourth. A3 would then bring the decision between Arie and Nigel for the overall win. Both already scored a win and a second place and ultimately Bart brought home the win with the fastest time of the day but with a DNF in the leg before it was only good for third overall while Nigel and Arie ended tie on points with the tiebreaker handing Nigel the overall win.
4WD final results:
1. Nigel van Katwijk
2. Arie Vos
3. Bart Wubben
4. Rajco van der Sluijs
5. Pieter Beekman
6. Leon van der Heijden
7. Dominique Helmond
8. Kevin van de Laar
9. Jarno Pijpers
Source: Xray [teamxray.com]
---