January 2, 2017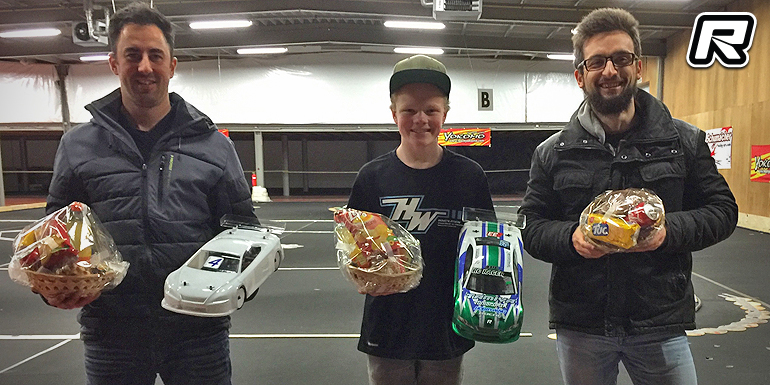 The E.Z. racing club held an opening race on their new track in Wilrijk, in the South of Antwerp. The combination of a challenging layout, laid out on ETS carpet, and the fact that this was the the very last indoor carpet race of 2016, attracted a massive 64 racers to compete in the four classes of Touring Modified, 10.5T, 17.5T and Formula. The schedule saw two qualifiers followed by triple finals for everyone. In the Modified class, Olivier Buyltinck again put his Awesomatix on pole, in front of the Tamiya of Florian Joos and the Xrays of Steve Lambrechts and Nik Weyers while Nicolas Delisé put another Awesomatix in fifth.

In A1 Olivier took the lead from Florian and Steve Lambrechts. Suddenly Ollie started to slow down, allowing Florian to catch up. It seemed that Ollie had a dumped battery but he kept the door shut so Florian couldn't pass him. This however allowed Steve and Nicolas to close up and all were running in close formation. Suddenly everything changed as Steve tried to pass Florian when they collided. Nicolas pipped through while Ollie had to retire with a shredded tyre. Florian tried to put pressure on Nicolas but he was keeping his pace. With one lap to go however, Nicolas made a small mistake with let the Tamiya through. Steve and Nik followed in P3 and P4. In A2 Olivier took a convincing victory from Florian and Nik. In A3 Ollie took off again with no problems. The battle for P2 was on between Florian and Nik but this suddenly became a battle for the lead as Olivier had to retire with another tyre issue. This allowed Florian to take the overall victory in front of Nik Weyers and Nicolas Delise. The unfortunate Olivier Buyltinck came in fourth in front of Steve Lambrechts.
Touring 10.5 attracted the most entries and probably all of them were eager to match themselves to ETS frontrunner Olivier Bultynck. When qualifying was finished, Ollie put his Awesomatix on pole, one lap in front of Vincent Van Gansen, who masterfully avoided traffic to put his Spec-R in second. Florian Joos was followed by the Xray of Thomas Stockman and the Team Magic of Pasquinel Neys. At the start of A1, Ollie took the holeshot while Florian put his Tamiya in second in front of Vincent, who had a traction problem, caused by different tyre prepping. Thomas started to put pressure on Florian and he tried to find a way past. When both of them touched, Giovanni Moguez put his Xray in third place in front of Thomas. A2 was almost a blueprint of A1. Ollie took off and Vincent held off the pressure from Florian and Thomas. Unfortunately Vincent traction rolled coming off the straight which allowed the Tamiya and Xray through. Thomas started to put pressure on Florian again, but lost five seconds in lap 18. This allowed Vincent and Rico to take P3 and P4 respectively. For the third and final main Ollie decided not to start which allowed Vincent to take the lead. In the battle behind them, Thomas touched Florian and while Thomas waited in good sportsmanship, the others drove by and so he had to fight his way back. While Florian had to retire with a shredded tyre Vincent made a small error which let Rico through. At the end Rico was under pressure from Thomas and Vincent, but he was able hang on to his lead. In the overall ranking it was Olivier Buyltinck (Awesomatix) who took the win from Florian Joos (Tamiya), Rico Claeys (Xray), Thomas Stockman (Xray) and Vincent Van Gansen (Spec-R).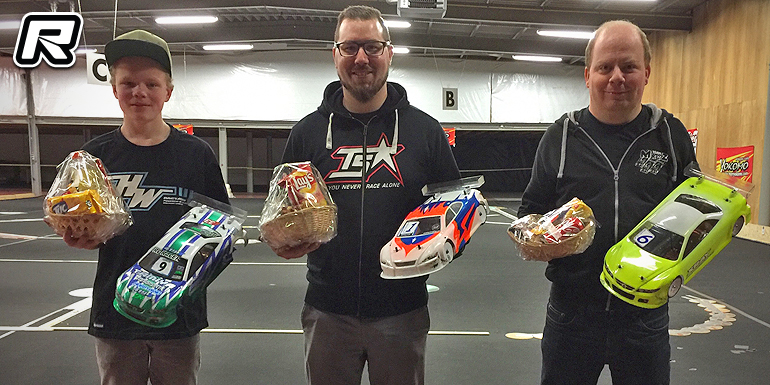 The battle for FTD in Touring 17.5 was between the Xrays of Joeri D'Eer and Peter Roeygens. Ultimately Joeri took the TQ with half a second in front of Peter. Herman Van Gansen put his Yokomo in third in front of the Team Magic of Christophe Libeer and the Yokomo of Yari Van de Wal. The battle for the overall win would then be between Joeri and Peter. Peter managed to win A1 in front of Joeri and Christophe. A2 was won by Yari, who came from the 5 spot on the grid while Christophe took the runner-up spot in front of Joeri a further four seconds back. As A3 would decide the overall victory, Joeri kept his cool and cruised to the overall win in front of Peter and Yari. Chrisophe finished in fourth in front of Rony Claeys, who came from ninth on the grid.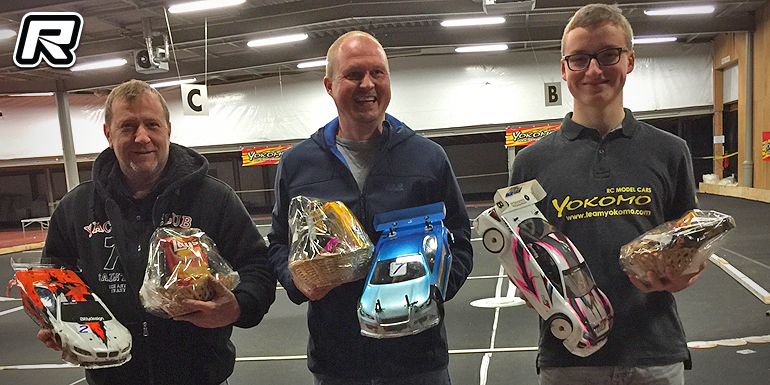 In the Formula class Nicolas Delisé put his Roche Rapide on pole position with Steve Deblaere a second adrift in second position. Kristof Dehert's WRC came in third in front of Belgian's Mini-Z top driver Bjorn Frederickx and Nic Desmet. In an effort to get everyone home before midnight, the qualifiers started at 7 p.m., the Formula finals were run with 13 drivers. In the opening final, Nicolas Delisé took a commanding win in front of Steve's Serpent who managed to put in the fastest laptime. Nic Desmet took a nice third place with his VBC, but this proved only the start of a successful evening for him. Despite dominating the race, both Nicolas and Steve had to withdraw from A2. Nic took P1 in front of the Roche of Olivier Swinnen and Jurgen Sintobin who came from P12. Nic went on to win A3 as well in front of the Xray of Bjorn and the Serpent of Patrick Jongenelis. This meant Nic Desmet won his first Formula race with Olivier Swinnen (Roche) coming in second place with his Roche in front of driver Bjorn Frederickx (Xray).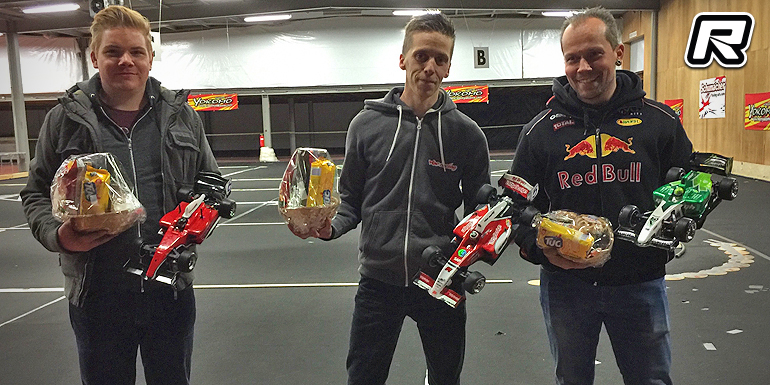 Source: T2M [t2m-rc.fr]
---