January 24, 2017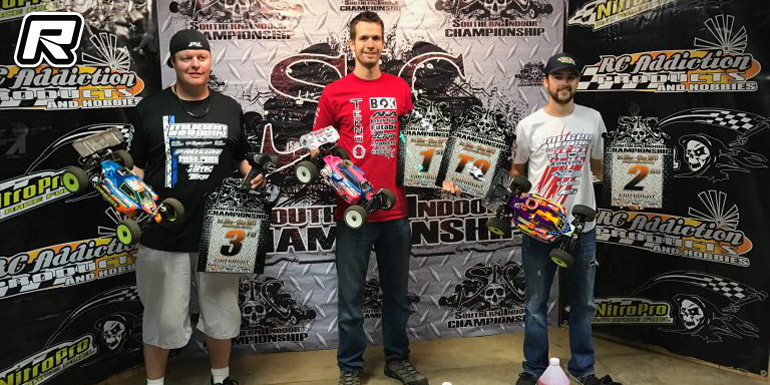 The 2017 Southern Indoor Championships were held in Alabama. The weekend started off a bit crazy with a tornado hitting the area on Saturday which caused a 4-hour delay but with running the electric program with available sunlight and after the power was restored qualifying was finished up around 1am Sunday morning. The layout for this year's SIC offered some big air and some fast air sections and the surface was a little on the looser side. In Nitro Buggy Tekno RC's Ryan Lutz would take the TQ after a battle with Tekno teammate Joe Bornhorst who would start second into the main. Nitro Truggy also saw the Lutz-Bornhorst duo up front while E-Buggy was TQ'd by Mugen's Adam Drake from Lutz and Bornhorst.

In the Nitro Buggy Ryan Lutz was going well until the end of the straight when he just got caught up with others and knocked to around 10th. Ogden, Drake, and Joe were all top 3 and Lutz had his work cut out for him. He quickly picked off the field and into 4th. He caught up to Joe and put an inside pass on him through the whoops and set his sights on the leaders. A few minutes later it was a 3-way battle for the lead and then the three started swapping positions during the pit stops. Eventually Ogden and Lutz were out front and extending the lead. He made a couple mistakes despite being faster than Lutz and with about 5 minutes to go Ryan had a 7 second lead. He knew Cole would be pushing hard and he wasn't on point and a bit nervous and thus a bit cautious. As the two slithered through traffic Cole inched closer and closer until he was only 1.5 back with a lap to go. Lutz calculated he just needed a clean lap and regardless of how close Ogden got he wouldn't have enough to make a move if Lutz just ran his line. At the end he went for a Hail Mary jump and stuffed it and flamed himself out. So Ryan was able to come away with the victory in the hard fought race from Cole Ogden (Mugen) second and Adam Drake third.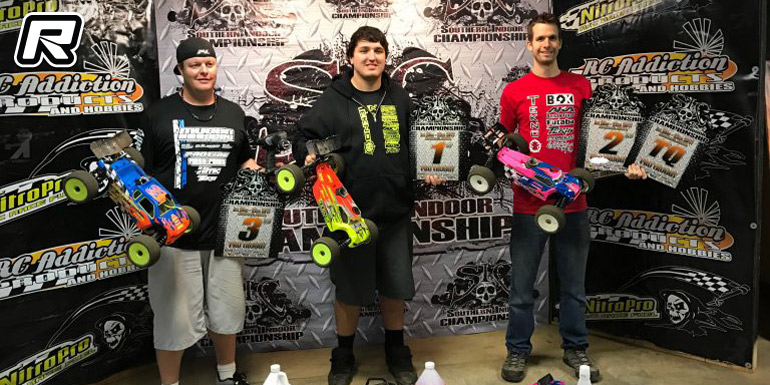 For the Nitro Truggy main Lutz was hoping for a great battle with Joe but it never materialized. At the start Joe got a killer holeshot with a little help from his pit guy and he was gone. Lutz took a bit to get through some traffic and then made a 5 second crash on his own. He was quickly 9 seconds back and just had to put in some clean laps. Lutz knew he was doing one less pit stop than Joe in this 30-minute final but Bornhorst was on a mission. Lutz just made to many errors, stuffing the pipe after the straight twice and a couple other incidents with crashed traffic and so he ended up putting in a slight late race charge but came up 4 seconds short with Joe taking a solid victory while Adam Drake came in third.
In E-Buggy A1 it was Drake who got out front and Joe and Ryan followed. Halfway through Joe made a killer pass to take the lead as Lutz still languished in 3rd. But with 1 minute to go Joe dumped while leading handing Drake back the lead as I settled for 2nd. In A2 Joe and Ryan found their way to the front of the pack and ended to battle for most of the race remaining within 3 seconds of one another. In the end Joe edged Ryan out by a second. A3 would determine the final order and at the start Drake got out front again while Joe was way back in the pack. This left it up to Lutz to bring it home. He started to reel in Adam and was able to put in a pass and take the lead. Ryan extended out a 3 second lead with just two laps to go when he came to the bowl where 4 cars were crashed or bouncing off one another. This was a blind jump face to him from his position on the drivers stand and he seemed to have hit one of them and got lost in the bowl not able to see his car. This cost him 10 seconds and thus the win and having to settle for 2nd overall with Joe in 3rd while Adam Drake brought home the overall title.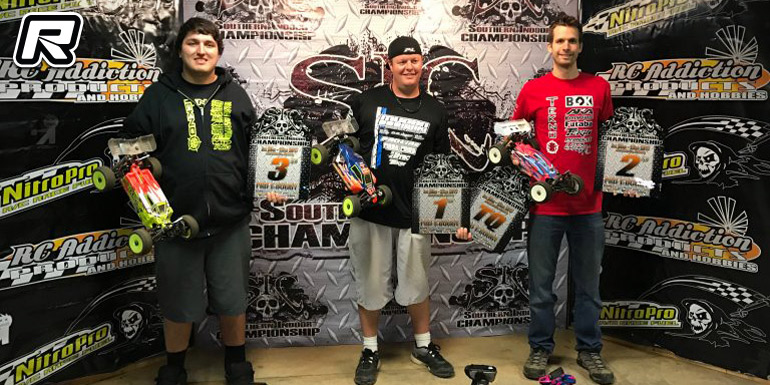 Source: Ryan Lutz [lutzinator.com]
---