January 2, 2017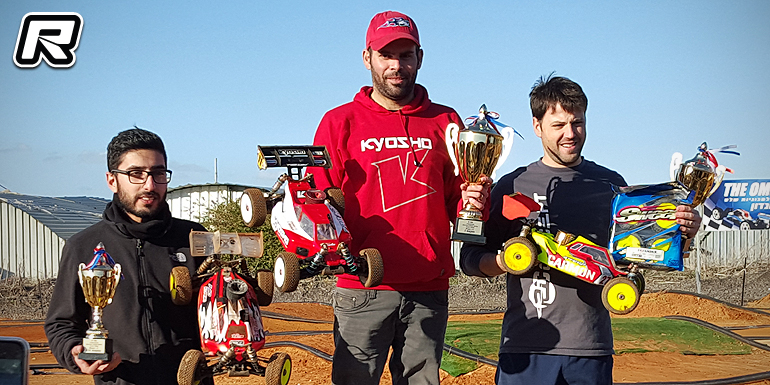 Round four of the Israeli League 1/8th nitro buggy racing series took place at the Omer Ring racing track. After a rainy week the track was a little wet and muddy but the sun was shining, making for fantastic weather conditions. After four rounds of qualifications, Yaniv Sivan took the TQ and in the opening stages of the 40-minute A-main event, Yaniv Sivan, Ido Carmon and Ofir Avitan swapped position for the lead. Meanwhile the battle for fourth was on between Tal Siles, Aviv Maymon and Gil Harush but later Aviv had to pull out due to engine issues. At the end it was Yaniv Sivan who took the win followed by Ido Carmon and Ofir Avitan in second and third respectively. Tal Siles and Gil Harush completed the top 5 result.
Final results:
1. Yaniv Sivan – Kyosho/Reds Racing
2. Ido Carmon – Kyosho/RC Concept
3. Ofir Avitan – TLR/Bullitt
4. Tal Siles – TLR/Maxima
5. Gil Harush – Kyosho/Reds Racing
6. Or Balulu – Agama/Bullitt
7. Asi Bitton – Xray/FX
8. Rami Kastantini – Kyosho/Reds Racing
9. Aviv Maymon – Kyosho/Reds Racing
Thanks to Yaniv Sivan for the report.
---