February 21, 2017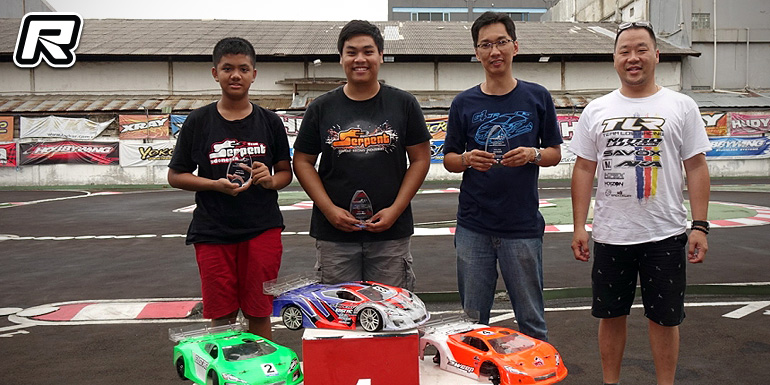 Sunter International Speedway played host to round two of the Indonesian 1/8th GT National Championship over the weekend. A cloudy sky and a wet track made for special conditions at first but the track would dry up after the second round of qualifiers and it would stay dry throughout the event. Fayakhun Andriadi would take the overall TQ, about a second in front of Christian Mamesah and Chopin Yusuf who took the front row at the start of the 30-minute main final. On the tone Bowie Ginting jumped into 2nd place, coming from the 8 spot after a disastrous qualifying and Chopin would lead the way until Bowie got past him in lap five. The humid weather made engine setup crucial and several drivers suffered flameouts and in the end Bowie would hold the upper hand, taking the win from Christian and Rusman.
Final results:
1. Bowie Ginting – Serpent/O.S.
2. Christian Mamesah – Serpent/O.S.
3. Rusman Kusnowo – Serpent/O.S.
4. Vavan – Mugen/Reds Racing
5. Fayakhun Andriadi – Kyosho/O.S.
6. Onni Widiaksono – HongNor/O.S.
7. Chopin Yusuf – HongNor/O.S.
8. Rusdian Utama – Kyosho/O.S.
9. Walid – Serpent/O.S.
10.Grosa – Kyosho/O.S.
Source: Serpent [serpent.com]
---