February 7, 2017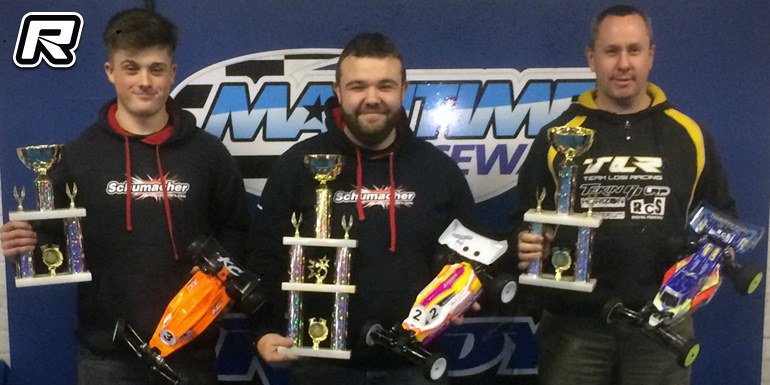 This past weekend saw the annual British Winter Open event, a type of indoor national – this year hosted by the Maritime Raceway in Kent and run by the BRCA. The track was extremely fast but had a nice flow to it and average laps of 18s for 4WD and 19s for 2WD. The surface was very short pile blue Astro which had previously been surface utilised by the Silverstone club. The Saturday saw the 2WD class and odds on favourite for the event was TLR's Ellis Stafford, former European champion and a regular at the Maritime venue. Qualifying was fast and furious with the TQ position to be decided in the fourth and final round – on the tight indoor track, passing places were limited so pole was highly sought. Coming down to the final few laps of the final qualifier, Ellis would put his local experience to use and just edge out Tom by a second to take TQ, with Schumacher's Tom Yardy 2nd and Jack Neal in 3rd from Richard Barton and Charlie Ware who lined up 4th and 5th.

The first final produced a great head to head battle between Tom and Ellis but with a slight bobble from Ellis off the table top jump, Tom hit the front where he would stay to the end. Ellis had a late error which let Charlie in for 2nd and Ellis 3rd. Leg 2 saw a front 3 break away as Jack held on in p3 waiting to pick up any pieces which duely came – after a few laps of pressure, Ellis got his 22 up on 2 wheels but as Tom tried to sneak inside he caught the track marker and became beached allowing Jack to sneak past the pair and into the lead. Tom made it back into 2nd and chased down Jack to try and sew up the title but he couldn't find a way by and Jack held on to take it to leg 3. Tom's 2nd in leg 2 put him in prime position for the win but he would need to keep Jack behind in leg 3 to be sure. Again a 3-car breakaway was the theme for leg 3 but after the first minute Jack made an error coming into the straight and which  gave Tom the opportunity to hunt down Ellis knowing the title was his – a daring last corner move didn't pay off and Ellis took the leg win giving him 2nd overall behind Tom – the new 2WD BWOC champion. Jack came home 3rd with Charlie and Richard rounding out the top 5.
The Maritime crew made minor changes to the layout for Sunday and right from practice Jack Neal and Tom Yardy traded fastest laps. In qualifying Jack showed he was the man to beat – despite being close on the times, Jack's consistency saw him take pole with three round wins. Richard Barton had a storming final qualifier to leap frog Tom to go 2nd on the grid with Tom 3rd. Stage set for a great team mate battle in the final. Leg 1 saw a clean start from Jack but at the end of lap 1 his car came to a halt with a loose pinion. Rich hit the front with Tom in hot pursuit until he crashed at the end of lap 2. Ed Kerry (Xray) came through to 2nd but would also profit from a later error from Rich giving him a lead he'd hold to the end while Rich got 2nd. Leg 2 would be a little more straight forward, the front three gapped the field until Richard made a mistake and Tom was through to 2nd. He pushed hard for a way past Jack which really entertained the crowd but he couldn't get through and Jack held on for a deserved leg win. Tom came 2nd with both now back in contention for the title. All to play for in leg 3 but Tom's chances of the double were virtually over as he clipped the 2nd corner allowing Jack and Rich to race out front. Rich got by momentarily but immediately gave Jack the lead and as he looked like doing from early on, Jack powered home to become 4WD BWOC champion. Rich had a bobble towards the end of the leg which let a recovering Tom by for 2nd which gave him 2nd overall with Rich 3rd for an all-Schumacher podium.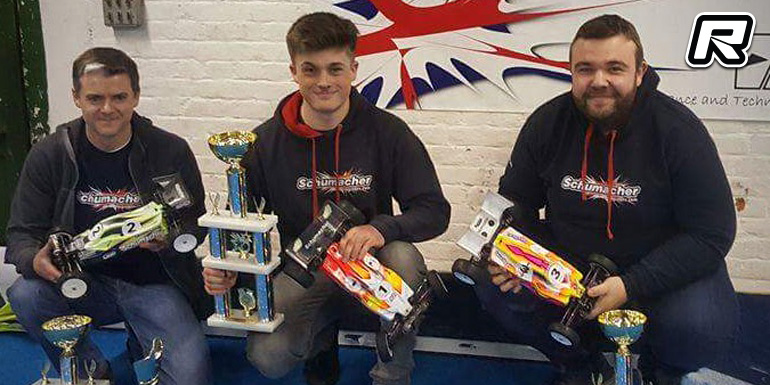 Source: Schumacher [racing-cars.com]
---