February 8, 2017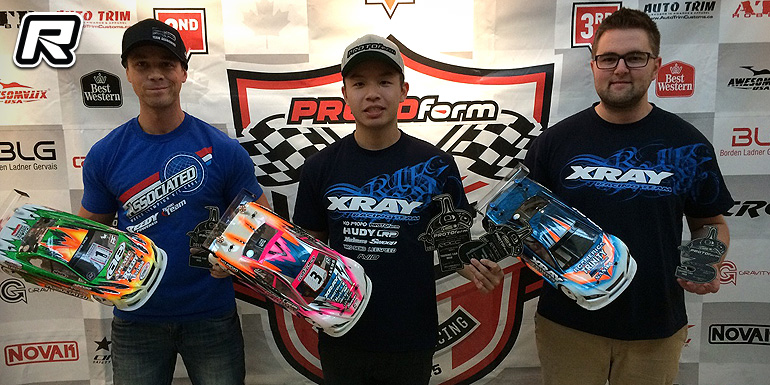 The Protoform Western Canadian Indoor Championship Series round 5 flew into the Pacific island town of Victoria, British Columbia. With a huge turnout, and racers flying in from Quebec, New Mexico, North Dakota, California and Washington, this was an all-star affair. The Touring Modified class offered  some of the best racing WCICS has ever seen, with some of the world's top racers battling it out, and a different winner of each AAA main. Xray's JJ Wang would set a fast TQ over a top field, and would hold off Team Associated's Keven Hebert and Xray's Max Kuenning for the win in leg one.

But in A2, Max would come from 4th and take the win, just 0.2s ahead of JJ, with one of the top Western Canadian Racers, Awesomatix's Wayne Mah putting in an amazing performance for 3rd. In the final round, Keven would take top spot after almost three minutes of nose to tail racing, again just 0.2s ahead of JJ, whose C-Hub screw had come out, talk about active suspension, and Max just a second behind waiting to pounce. JJ Wang's consistency and perseverance put him on top of the podium, and Keven Hebert's last round win put him 2nd, with Max Kuenning taking 3rd.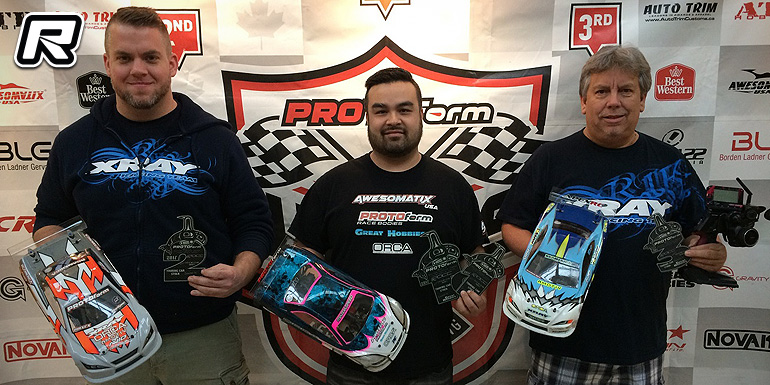 Just like in the last round in Edmonton, Awesomatix's Wayne Mah would dominate the Touring Stock class, TQ and double wins would put him on top. But this time Xray's Luke Pittman would make him work hard for it, pushing Wayne to the end every round. Tim Copp and Doug Smith traded 3rd's in A1 and A2. With Wayne watching A3, Luke took a solid win, followed by Tim and Ryan Berry, giving the final standings of Wayne, Luke and Tim.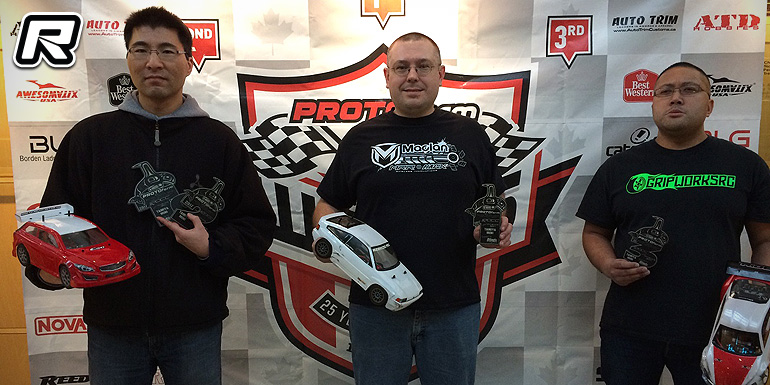 BC Driver John Ha would set the TQ, and A1 win in Tamiya Mini, but unfortunately couldn't convert to an overall win as Justin Gilkison would beat him to the line in A2, and then in A3 after an amazing race, out of the last corner a drag race to the finish line with Justin taking the win by just 0.004s, the closest finish in WCICS history. Chuck de Belen would take 3rd, after finishing 3rd in all three rounds.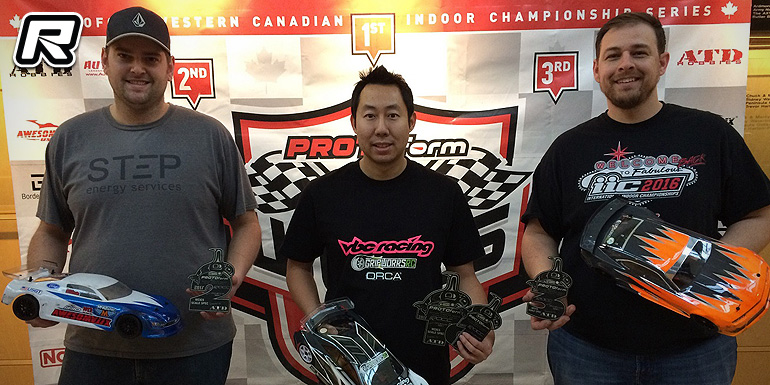 Scale Spec had a great turnout for this fun class, Vancouver's John Tsang would dominate the show, TQ and winning the first two A-mains just ahead of Doug Smith and Richard Reece both times. Doug would take the A3 win, with Chris Morrison sneaking into 2nd and Richard taking 3rd. John walked to the top podium spot, with Doug and Richard in 2nd and 3rd respectively.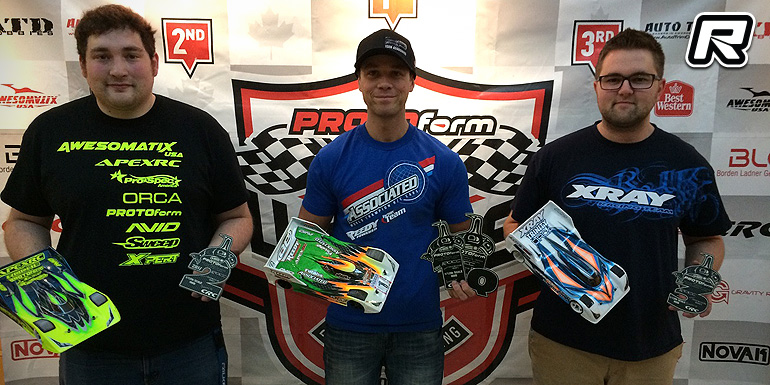 In the fastest class of the weekend, 1/12th scale Modified, Quebec's Team Associated driver Keven Hebert, a long-time supporter of WCICS, would put on an amazing show against Washington's Roche driver Korey Harbke and New Mexico's Xray driver Max Kuenning, finishing 1-2-3 in A1. Again Keven would take A2, this time over Max and former Canadian National Champions, CRC's Blake Bell. Watching the action for A3, Keven saw Korey finish less than a second ahead of Max, with BC's Korgae Scales finishing just ahead of Blake. Final podium spots then had Keven on top, Korey in 2nd, and Max 3rd.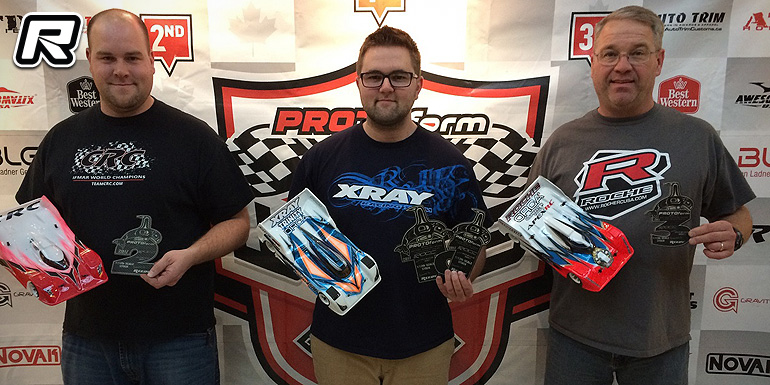 In the biggest class of the weekend, 1/12th Stock, Max Kuenning would take TQ and the first two wins, with Tim Copp's XRay and Adam Balk's CRC just a few seconds back in A1, and Team CRC driver Brian Bodine and Xray's Luke Pittman in A2. Adam would dial his car in and take A3 by just 0.5s over Doug Smith's CRC, with Brian taking 3rd just a few seconds back. On the podium, Max, Adam and Brian stood proud of some amazing racing.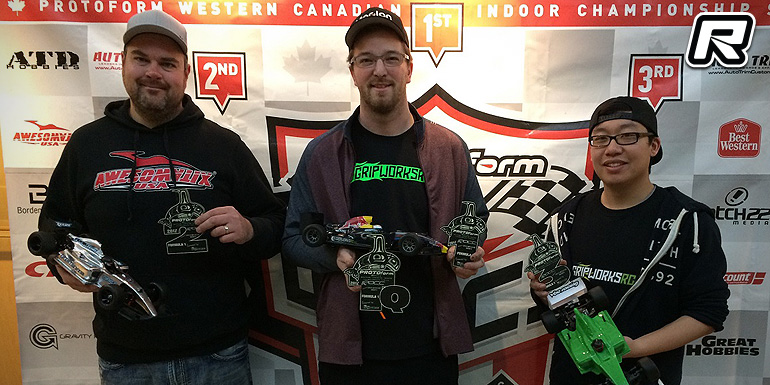 Hot off of two back-to-back wins, Korgae Scales would fight an epic AAA main battle in Formula with Team Gripworks driver Alex Pate who took TQ. What a close class, total combined times between 1st and 2nd across all three mains was just 0.11s. Korgae would fight hard for the R1 win just 0.04s ahead of Alex, and Lee Edmond following just a few seconds behind. A2 would see the exact reverse, with Alex winning by just 0.04s ahead of Korgae, Lee again just a few seconds behind. A3 was set for an epic finish, but both Alex and Korgae would suffer some bad luck, allowing Ed Mardones to take the win by and even closer margin, just 0.03s over Alex, with Chris Lim 3s behind.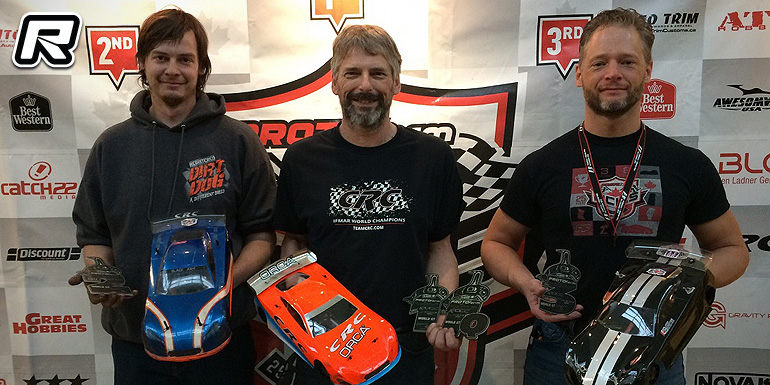 In World GT Craig Roberts drove his CRC to a perfect weekend, TQ and double win. He was challenged by Jarrod Heap's CRC in both rounds though, with Josh Carter's CRC in third. In the final round, Jarrod would toy with Josh, ending in a drag race to the finish that Jarrod really should have taken, lol. Rob McQuarrie would watch the action from 3rd right to the end. Final standings would be Craig, Jarrod, Josh.
Source: WCICS [wcics.ca]
---