February 6, 2017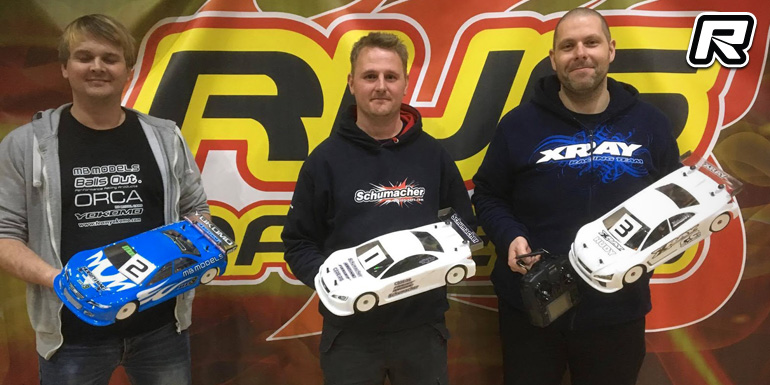 The penultimate round of the UK RugRacers series was about to get underway on a freezing cold morning. Controlled practice was the first order of the day then straight into the qualifying format of four rounds of FTD. In 13.5 Open, Marcus Askell set the early pace for Dean Gibbs to improve then Ashley Wiffen to stretch out an extra second to take pole ahead of the finals. Leg one went to Dean Gibbs after putting the pressure on and managing to get past Ashley to take the win. Leg two went to Marcus, up from 3rd on the grid, with a clean drive to the flag. Overall Ashley Wiffen took the day's win from Dean Gibbs in second and Marcus Askell third.
13.5T Open final results:
1. Ashley Wiffen
2. Dean Gibbs
3. Marcus Askell
4. Damian Giddins
5. Douglas Campbell
6. Jamie Vassallo
7. Jon Seals
8. Dominic Baker
In 17.5 Blinky, Matt Worton would post FTQ for each round taking pole. The top 5 cars being so close that Aaron Rose was 2/10th behind after round two and three, with cars being within 0.5s of each other in round four. Leg one would ultimately go to Colin Jackson after a race long battle for the lead with Matt Worton who crashed on the final lap to tumble down from 1st to 4th. For leg two, Matt held his nerves and the lead to take a tone to tone win ahead of Ricky and Jakub who finished within one second of each other giving Ricky the overall win from Matt Worton and Aaron Rose.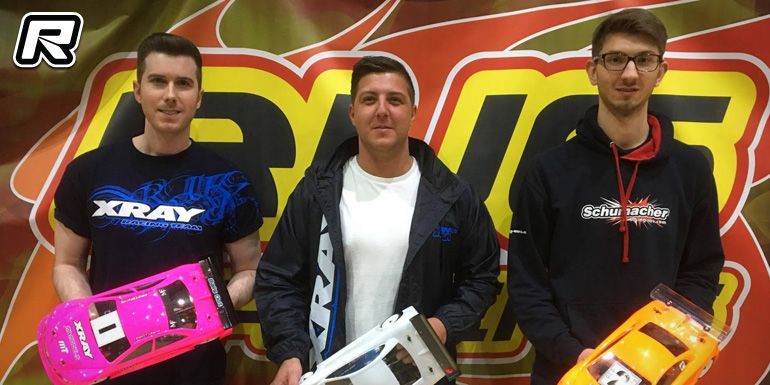 17.5T Blinky final results:
1. Ricky Copsey
2. Matthew Worton
3. Aaron Rose
4. Colin Jackson
5. Jakub Plechac
6. Leyton Foster
7. Tom Hampson
8. Malc Hall
9. Thomas Garnham
10.Shaun Batt
Formula saw Olli Payne and Shaun Batt joining the class for this round and some extra competition. Luke Lee with the title now in the bag was enjoying the close challenge of Ollie with Luke setting the early pace only to be pegged back by Ollie who would take pole. Leg one would be taken by Ollie with a controlled drive to the flag while leg two was a battle at the top again with Luke taking the win from Ollie. Remo would make it up to 3rd from 6th on the grid
Formula final results:
1. Ollie Payne
2. Luke Lee
3. Remo Casadei
4. Chris Mucklow
5. Tom Hampson
6. Lee Owen
7. Michael Cook
8. Shaun Batt
9. Martin Southall
GT12 and champion elect Tim Hancock was out fastest improving his FTQ time each run leaving Neil Mottram, Owen Smith and Stuart Dye fighting over 2nd place ahead of the 2-leg finals. Leg 1 saw Tim take full advantage of his earned pole position with a faultless drive to the flag, aided by lots of fighting happening immediately behind him allowed him to lap the whole field. Leg 2 was a closer affair with Owen pushing Tim hard, a small mistake dropped him down the order but he was able to charge back through the field to 2nd leaving Tim with another win but a smaller margin.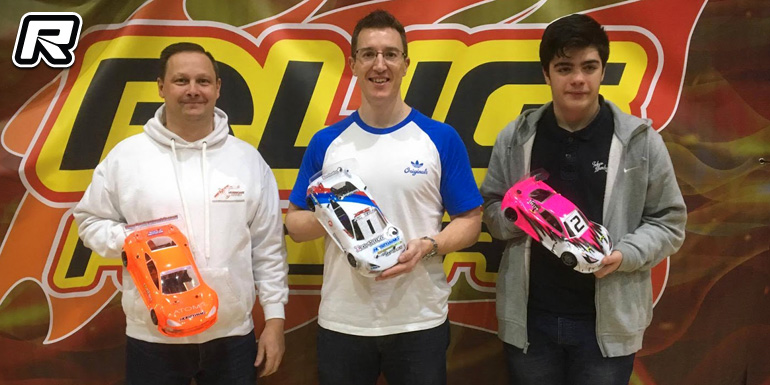 GT12 final results:
1. Tim Hancock
2. Owen Smith
3. Neil Mottram
4. Stuart Dye
5. Mark Deacon
6. Carl Beecroft
7. Stewart Wilcox
8. Matthew Gammons
9. Alan Chipolina
10.Chris Graco
11.Alex Carter
Source: The RC Racer [thercracer.com]
---