February 1, 2017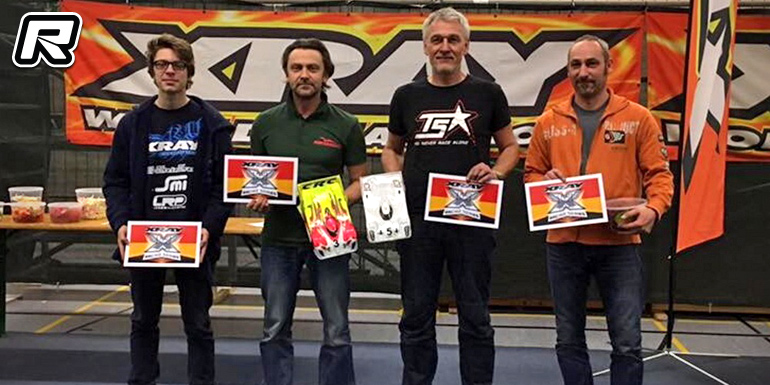 The second round of the XRS Germany was held in Augsburg and it saw a total of 58 drivers battle it out in the four classes of Touring Modified, Touring 13.5T Stock, Formula and 1/12th scale. The club laid out a nice 400 square metre track using ETS carpet that made for high traction and fun races. Racing-wise and in the 1/12th scale class it was young Antonio Theofilou to take TQ but after the final Bernd Wiesenberger held the upper hand to bring home the day's win from Antonio and Christian.
1/12th 10.5T final results:
1. Bernd Wiesenberger – CRC
2. Antonio Theofilou – Xray
3. Christian Drießle – Roche
4. Thomas Krause – Xray
5. Patrick Bodendorfer – Xray
6. Michael Holla – CRC
7. Hartmut Rose – Xray
8. Mark Malzahn – Xray
9. Alexander Seitter – Xray
10.Joachim Graul – Xray
The Formula class had veteran racer, Alexander Stocker taking the top spot from Thomas Kuttner and Daniel Schober.
Formula final results:
1. Alexander Stocker – Roche
2. Thomas Kuttner – Tamiya
3. Daniel Schober – Xray
4. Thomas Hermann – Xray
5. Christian Grenz – Shepherd
6. André Pichler – Xray
7. Oliver Wäckerle – VBC Racing
8. Andreas Ivo – Sheperd
9. Hilbert Schneider – Xray
10. Wolfgang Schnalzger – Xray
In the Touring Stock 13.5T blinky class it was Simon Lauter who came out fastest after the A-mains from Alexander Stocker in second and Dominik Reile third.
Touring Stock final results:
1. Simon Lauter – Tamiya
2. Alexander Stocker – Awesomatix
3. Dominik Reile – Tamiya
4. Stefan Weihmayr – Xray
5. Christian Drießle – Awesomatix
6. Marco Egger – Xray
7. Mirco Thalheimer – Serpent
8. Nobuhiro Kanabe – Awesomatix
9. Stephan Leiber – Xray
10.Dominik Schmid – Tamiya
Finally in Touring Modified Marco Kaufmann dominated the proceedings by taking the win from Florian Fink and Steffen Paul.
Touring Modified final results:
1. Marco Kaufmann – Xray
2. Florian Fink – Xray
3. Steffen Paul – Xray
4. Folker Fink – Xray
Source: Xray [teamxray.com]
---