February 7, 2017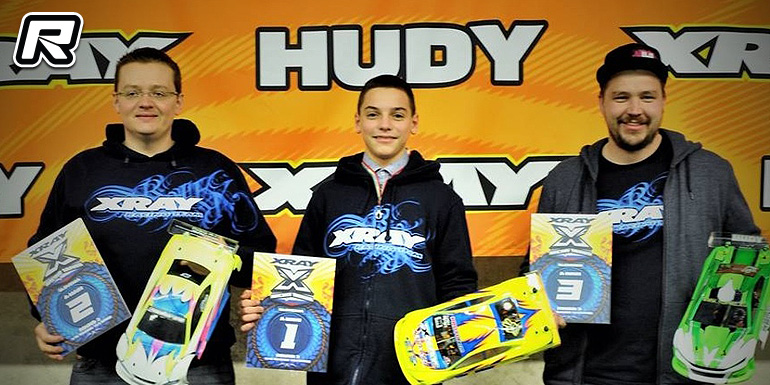 Round three of this year's Xray Racing Series Slovenia was held at the Genius Ring in Meduzza, Italy with driver from five countries attending an event that was pretty much booked out. The weekend kicked off with practice on Saturday and continued with one heat of controlled practice for re-seeding on Sunday. In the Touring Stock class it Andrea Ghilotti who took the TQ closely followed by BA Arnaldi and Rok Rudl. The Formula class saw Daniele Conte coming out fastest in the qualifiers from Matej Dobnikar, who only arrived on Sunday morning, while Luca Conte would start into the A-mains from P3. In the fastest class of the weekend, 1/12th Pan-car, it was Alojzij Osvald to take the TQ in front of Nejc Mihelič and Mattia Collavo.

The finals started right after the lunch break and in the Touring Stock A-mains it was a battle between TQ Andrea Ghilotti (Xray) and BA Arnaldi (Xray) who had about the same speed. Ultimately Andrea managed to hold off BA and took the win in all three finals while Rok Rudl had to settle for third.
Touring Stock final results:
1. Andrea Ghilotti
2. BA Arnaldi
3. Rok Rudl
4. Viktor Bolšec
5. Luca Giovannoni
6. Dario Veseli
7. Matej Miklavec
8. Patrik Požgaj
9. Jan Pernarčič
10.Rok Pongrac
In the Formula A-mains, Matej Dobnikar (Xray) who started from P2 came out fastest in all three legs to take a dominant win from Luca Conte (Shepherd) and TQ holder Daniele Conte (Shepherd).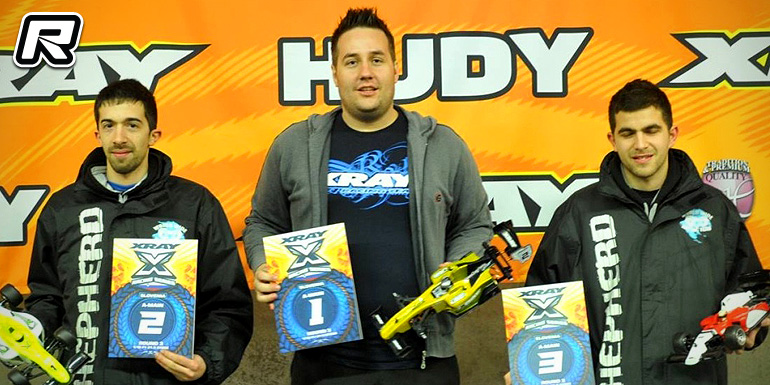 Formula final results:
1. Matej Dobnikar
2. Luca Conte
3. Daniele Conte
4. Mirco Bordin
5. Stefano Sinopoli
6. Luciano Bordin
7. Joshua Milanese
8. Marvin Aguilar
9. Robert Simčič
10.Luka Školaris
The 1/12th scale class was to be decided between pole sitter Alojzij Osvald and Nejc Mihelič. The first leg was won by Alojzij, but in the closing stages of the second leg, Nejc would make an all-or-nothing pass on Alojzij to take the win. So it was the last leg to be the decisive one and Alojzij took the lead while Nejc started to make some mistakes, allowing Alojzij to take the win with a comfortable margin. Mattia Collavo in third would round out the all-Xray podium result.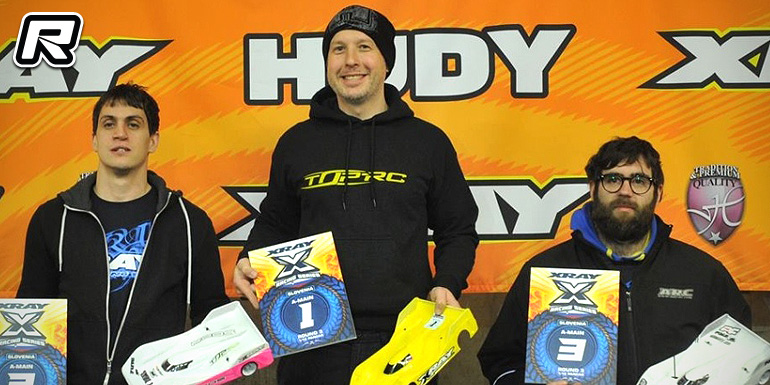 1/12th scale final results:
1. Alojzij Osvald
2. Nejc Mihelič
3. Mattia Collavo
4. Stefan Hois
5. Cristiano Sartor
6. Simone Bellin
7. Lorenzo Milanese
The fourth and final round of the XRS Slovenia will take place in Maribor, Slovenia on the 19th of February 2017, where also the XRS champions will be decided.
Source: Xray [teamxray.com]
---