March 27, 2017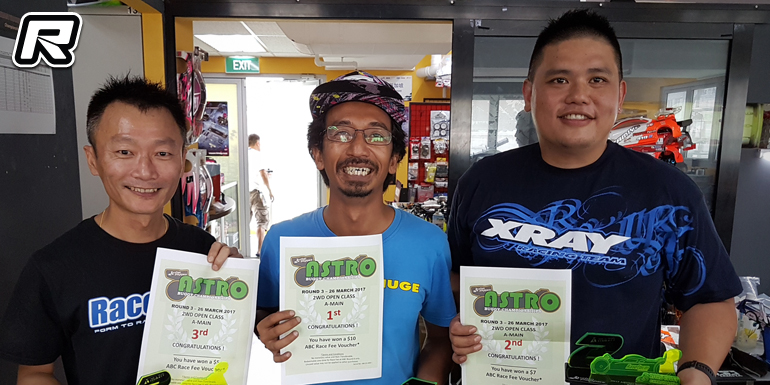 Singapore's Urban Astro Buggy Championship held its third event of the 2017 season this past weekend. The race was concurrently a Singapore national series points scoring event and in the 2WD Buggy class, the battle for TQ was on between Esmail Apandi, Dennis Chiang and Kum Yew and it would come down to the third qualifying round. Despite running in the earlier group, Esmail master the slightly wet conditions to secure the overall TQ with a scintillating run in Q3. In the finals, Esmail took A-main leg 1, but Dennis came back with a strong performance in leg 2 to take the win and force a decisive leg 3. In final main it was a close battle all the way, but Esmail eventually managed to maintain his advantage to seal the win while Dennis finished 2nd, with newcomer Andrew Tow coming in 3rd.
2WD Buggy final results:
1. Esmail Apandi – Xray
2. Dennis Chiang – Xray
3. Andrew Tow – SWorkz
4. Kum Yew – Yokomo
5. Kamen Koh – Serpent
6. Steven Ong – Hobao
7. Fazly – PR Racing
8. Bobby Chan – Yokomo
In the 4WD Buggy class it was another 3-way fight for TQ. Fadzil secured the top spot in Q1, while Dennis Chiang came out fastest in Q2. With track conditions improving in each round, the overall TQ would come down to the final qualifying run. Kamen Koh eventually secured TQ honours with his Q3 first place run, beating Dennis on a tie-break. In the opening A-main Dennis made an early pass to draw first blood, with newcomer Jody Long in 2nd, while TQ-holder Kamen had to settle for 3rd. In leg 2 Dennis once again jumped into an early lead, though he would be challenged by Dominic Quek. Dennis eventually took the win for the leg and overall, with Dominic in 2nd, while Kamen had to settle for 3rd once again. With Dennis sitting out leg 3, there was an intense battle for the remaining podium spots. Kamen managed to convert his pole position to a win, securing 2nd overall. Marc Seow was 2nd for the leg, while Fadzil took 3rd. Finishing 4th for the leg, Dominic secured 3rd overall on a tie-break with newcomer Jody Long.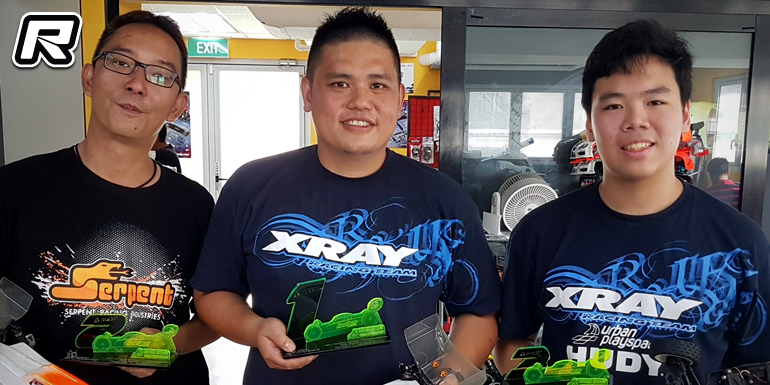 4WD Buggy final results:
1. Dennis Chiang – Xray
2. Kamen Koh – Serpent
3. Dominic Quek – Xray
4. Jody Long – Xray
5. Fadzil – HB Racing
6. Marc Seow – Xray
7. Terence Low – SWorkz
8. Tony Neo – Serpent
Thanks to HJ Quek for the report.
---