March 5, 2017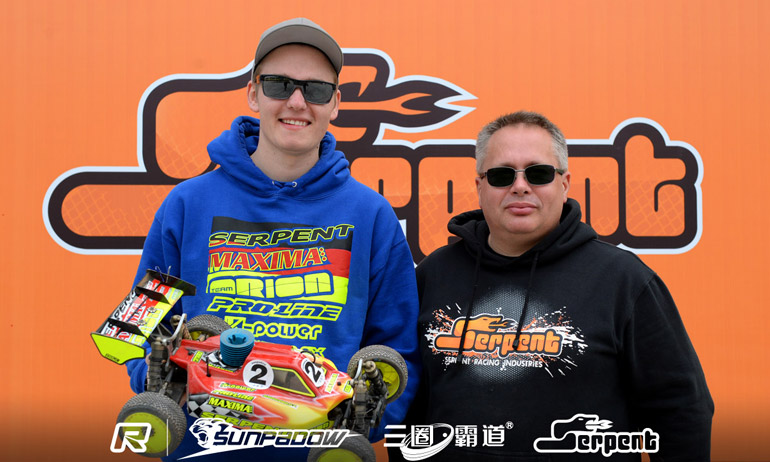 Qualifying is complete at the 2017 Guan Kou Sunpadow Offroad GP in Xiamen, China and it is Serpent driver Jorn Neumann who has taken the top spot in both the Nitro and EP classes. With overnight track maintenance not being so well received by drivers, who feel it is now more bumpy than before and lacks traction, it was a day that saw a lot of driving mistakes on what was already a difficult track to race on.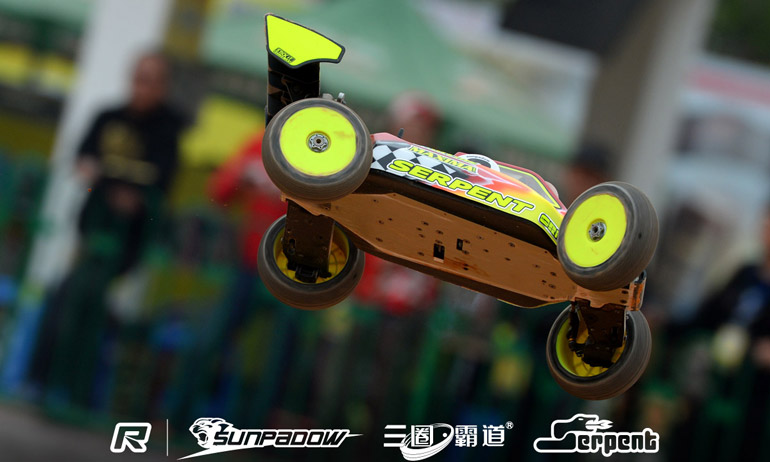 Q4 of nitro buggy would again see Neumann top the times, this time due to the slower track he was the only driver to get 11 laps. Hara would lead early on following a mistake by the German, but a number of late race crashes by Hara allowed the Serpent driver to get back to the front to take Q4 and wrap up the TQ, locking himself into the 1-hour long main final. Hara would end up in 2nd, just ahead of Korean ace Dani Choi with Shin Adachi and Hu Wei Ping completing the top 5 for the round.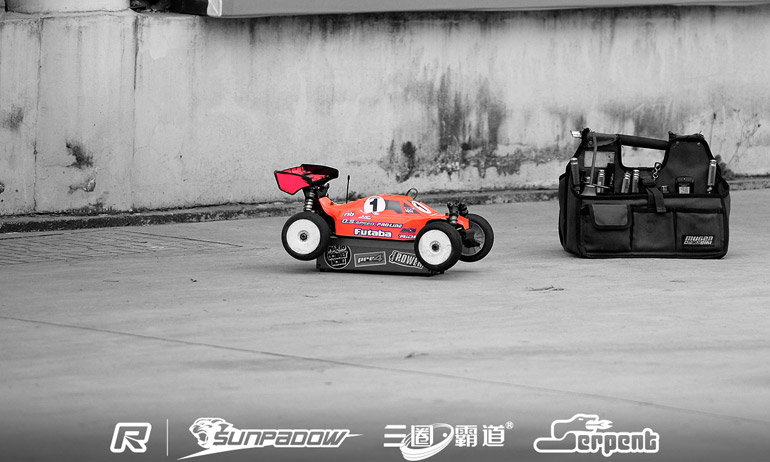 In Q5 it was the same 3 drivers at the top battling it out with Neumann again topping the times but this time it wasn't so straight forward due to a late crash that lost him 6 seconds and allowed Atsushi Hara to the front. However on the same lap the former World Champion also made a mistake and that was compounded by a disastrous last lap in which he lost nearly 10 seconds due to a slow marshal. All the while a 'steady but slow' Choi once again came through to take 2nd for the round, with Hara in 3rd, Taiwanese National Champion Chen Guanxian took 4th and Paphon Chanyasak from Thailand taking 5th.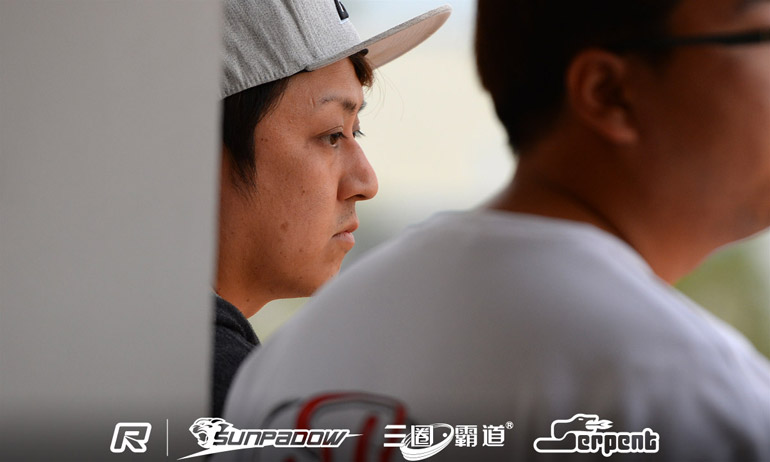 On to E-Buggy and Saturday's action comprised of the remaining 3 rounds of qualifying. In Q3 Atsushi Hara took the first as Neumann switched tires from Pro-Line Electrons to Holeshots which proved to be a bad choice as the German struggled with a lack of traction. In Q4 it was normal service resumed as Neumann once again topped the times, having switched back tires, wrapping up TQ with Dani Choi taking 2nd. The Kyosho driver switched to Sweep's Square Armor tire which he said gave less side bite and more forward traction and so the car was a lot easier to drive and he will leave it this way for the final.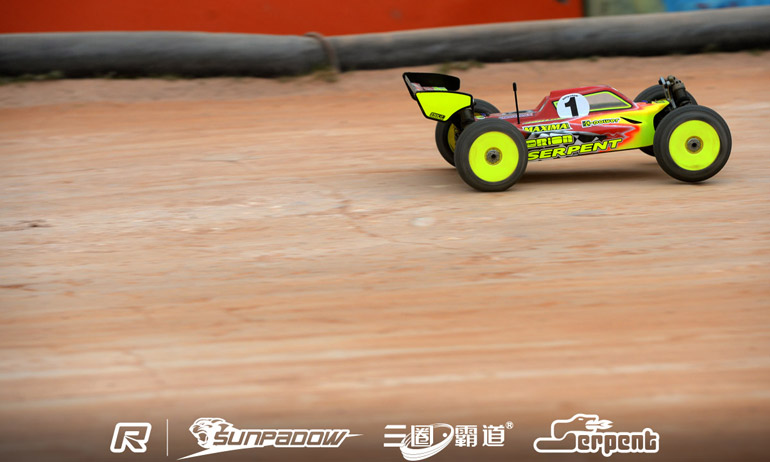 In Q5 Jorn was again set for a clear win but was taken out by a back marker, which allowed Serpent driver Shin Adachi to the front. The Japanese driver had a huge lead over his German team mate going onto the last lap but blew out on the tricky left side double and lost 13 seconds and fell out of contention for a top spot while Neumann recovered to once again take 1st. This allowed Thai driver Paphon up to 2nd, having changed from Pro-Line's Fugitive to Blockade, the result being a much easier car to drive. Due to the deteriorating track conditions Hara also felt that the Fugitive tire was no longer working and agreed with Paphon that the Blockade was the right choice going forward.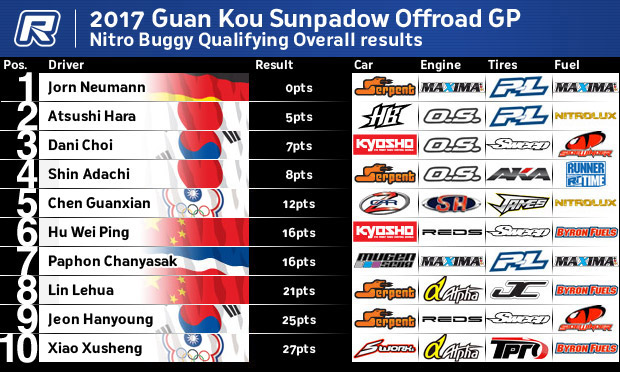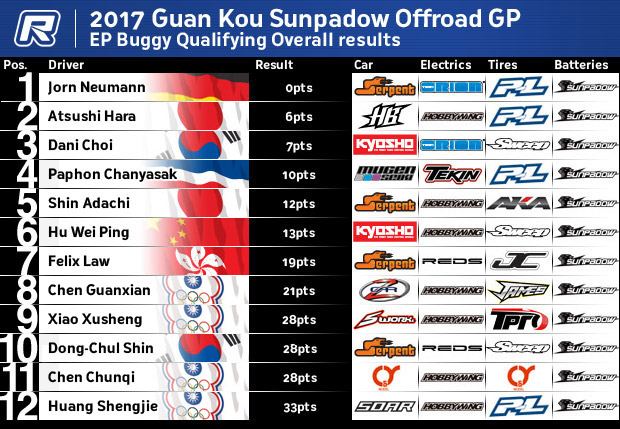 View our complete event coverage (in Chinese) here & event image gallery here.
---