March 22, 2017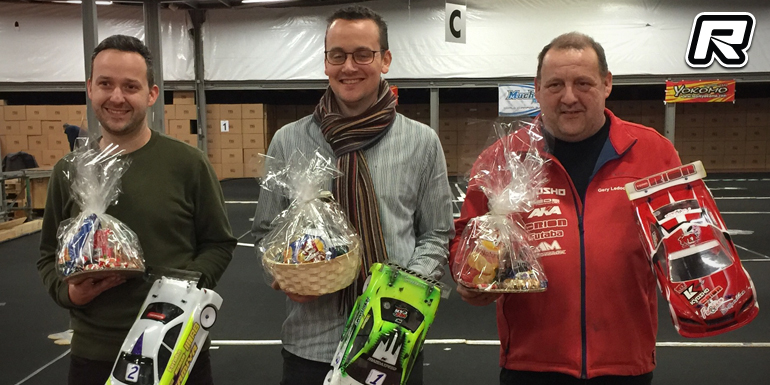 The second round of the EZ Racing indoor series was held last weekend in Wilrijk. The event was held using the Belgian national championship rules and it saw the running of three Touring and a Formula class. In the Touring Modified class, run with Volante 28 tyres, former Belgian champion Steve Lambrechts put his Xray on pole in front of the Tamiya of Gerrit Van Swijgenhoven and the Xray of Marc Knops. Steve also dominated the finals and easily all three of them with Gerrit taking a nice 2nd overall while Géry Ledocq (Kyosho) took a nice 3rd overall, beating Pascal Delferiere (VBC) and Marc Knops.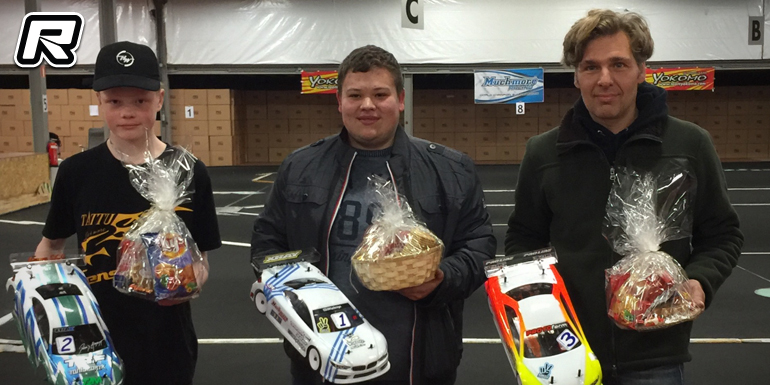 The Touring 13.5 class, which is run according to ETS rules with a Muchmore motor and controller as well as Volante 28 tyres, Vincent Van Gansen put his Xray on pole in front of the Tamiya of Florian Joos. The difference between both drivers was only 0.6 of a second. Michel Robijn put is Xray 3rd in front of the Team Magic of Pasquinel Neys and the ARC of Tokke Adams. The opening final was easily won by Vincent after Florian rolled his car on the third lap, while Michel Robijn claimed 3rd in the first final. The second final was more entertaining as Florian trailed Vincent for 20 laps. Coming off the straight, Vincent left a small gap and Florian took the opportunity to pass Vincent through the inside allowing him to take the win in front of Vincent, who was left a bit frustrated, and Michel Robijn. The third final was almost a blue print of the first one. Vincent took the holeshot with Florian in close pursuit. Florian had a fast but difficult car and it traction rolled again in lap 3. This time he could hold on to his second position and set off in pursuit of Vincent. The latter pulled nice and steady lap times, but Florian managed to reel him in and tried to pass on the last corner. The cars touched so Florian waited and Vincent took the overall victory in front of Florian and Michel Robijn who took 3 third places. Pasquinel and Tokke completed the top 5.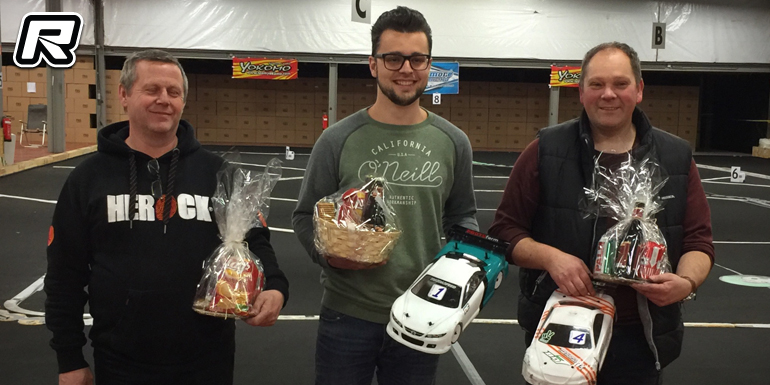 In 17.5T, Thomas Roosen claimed pole with his Yokomo. Young Alexander Van Gansen put his Yokomo in second position in front of his dad, Herman. Ultimately Thomas Roosen took the overall victory, in front of the Yokomo of Herman Van Gansen and the Xray of Luc Wauters.
In the Formula class Steve Deblaere put his Serpent on pole and was followed by the Xray of Bjorn Frederickx and the Roche of Olivier Swinnen. In the finals Steve continued his dominant form and took the overall victory in front of the Xray's of Bjorn and Frans Engelen.
Source: T2M [t2m-rc.fr]
---