March 3, 2017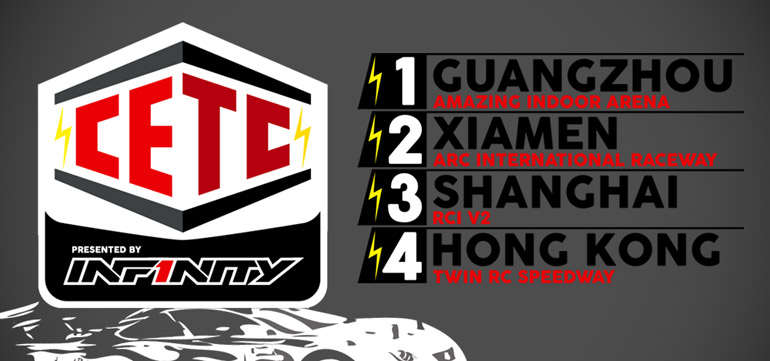 Red RC China are proud to introduce the CETC, Chinese Electric Touring Car Championships, a 4 round electric onroad racing series that travels along the South Eastern China seaboard. With major backing from EP newcomers Infinity, the CETC presented by Infinity will kick off in late March at the Amazing Indoor Arena in Guangzhou, before traveling to Xiamen, Shanghai and finally Hong Kong. With additional support from Serpent and Sunpadow batteries, the series will cater for Modified Touring, Pro Stock Touring and Formula, all classes to run on handout Sweep Racing tires, with Pro Stock and Formula also using handout spec motors from ORCA.
Not just offering a well organised and presented championship, the series aims to promote & grow the sport of RC in this emerging market as well as nurture and prepare up and coming talent for racing on the international stage. With commitments from our series sponsors, we will have a number of top name international racers at all rounds of the series, who will not only put on a display of driving but who will also answer questions on setup and give workshops to interested racers.
2017 CETC Race Calendar
Round 1 – Amazing Indoor Arena, Guangzhou (March 25-26)
Round 2 – ARC International Raceway, Xiamen (June 3-4)
Round 3 – RCI V2, Shanghai (July 15-16)
Round 4 – Twin RC Speedway, Hong Kong (Sept 23-24)
Racing at some of the country's premiere facilities, the 2017 CETC presented by Infinity is set to kick off on March 25-26 at the all-new Amazing Indoor Arena in Guangzhou in the south of the country. Round 2 will take place at the impressive outdoor ARC International Raceway in Xiamen, host of this year's IFMAR EP Offroad Worlds, on June 3-4 before heading east to Shanghai on July 15-16 for round 3 to the World famous RCI V2 indoor carpet venue. The season concludes September 23-24 with round 4 at another new track, Twin RC Speedway in Hong Kong where we will crown our first CETC season Champions.
For further information visit cetc.redrc.cn
---