March 30, 2017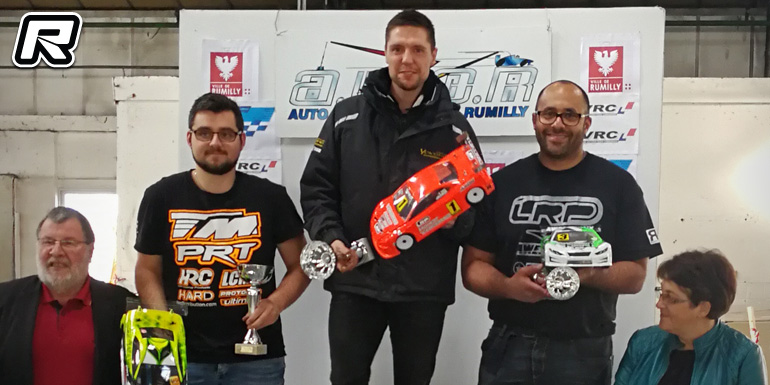 The opening round of the French 1/10th Electric On-road nationals was held in Rumilly in the eastern part of the country. The first of five rounds attracted about 75 drivers to compete in four classes on the famous indoor asphalt track that offered high traction and a challenging layout. The weekend started off with free practice on Friday and resumed with more practice and the first qualifiers on Saturday. In the Touring Modified class Loic Jasmin took the overall TQ after winning three of the five qualifiers to put his car on pole position in front of Alexandre Duchet and Cyril N'Diaye.
Touring Modified qualifying top 10:
1. Loic Jasmin
2. Alexandre Duchet
3. Cyril N'Diaye
4. Rémi Callens
5. Alexandre Laurent
6. Manuel Wagner
7. Jérémy Limoges
8. Walter Pollet-Villard
9. Thomas Vigneron
10.Hugo Ragaut
In the finals, run on Sunday afternoon, the track conditions changed a bit due to the sun shining outside which affected overall grip available. In the opening A-main TQ holder Loic made a mistake about four laps into the race which cost him about two seconds but he was able to regain the lead only to loose it again after being hit by a backmarker and touching a curb, but ultimately Loic was able to bring home the win in the last lap of the opening A-main. A2 then was a pretty straight forward affair for the pole position holder as behind him loads of carnage happened, allowing him to bring home the win and with it the overall victory from Remi Callens second and Cyril N'Diaye third.
Touring Modified top 10 results:
1. Loic Jasmin
2. Rémi Callens
3. Cyril N'Diaye
4. Alexandre Duchet
5. Manuel Wagner
6. Thomas Vigneron
7. Alexandre Laurent
8. Jérémy Limoges
9. Hugo Ragaut
10.Walter Pollet-Villard
In the 10.5 Stock class Arnaud Soulignac would bring home the win from Jeremy Delalondre in second and Cham Dassanayake third.
10.5T Stock Overall ranking:
1. Arnaud Soulignac
2. Jeremy Delalondre
3. Cham Dassanayake
4. Pierre Delorme
5. Richard Volta
6. Steve Favrelle
7. Alexandre Kunkler
8. Mathias Rascol
9. Julien Jost
10.Fabien Valantin
Source: Yokomo [teamyokomo.com]
---