March 6, 2017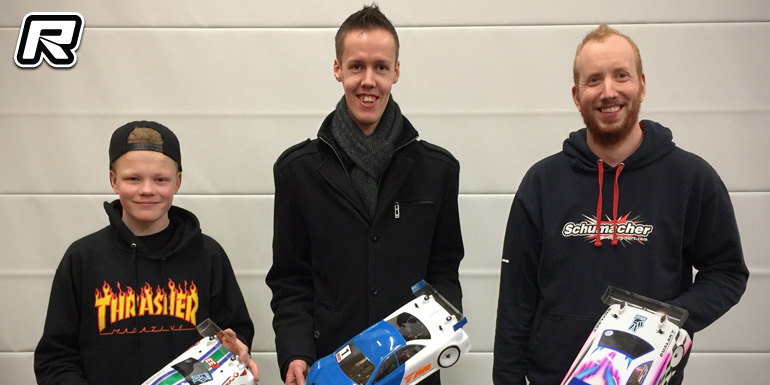 The fourth round of the 6-race MRC Vianen Cup was held this past Sunday in Vianen, The Netherlands. The purpose-built indoor carpet track was only built on Sunday morning but with the help of the drivers the task was carried out in only 30 minutes. Classes offered were Touring 17.5T blinky with Turnigy 17.5T motors and open tyres, a Tamiya TT category for TT-01 and TT-02 chassis, a Tamiya M-Chassis class as well as a Formula category run with Hobbywing 21.5T motors and Ride tyres. The race format would be double 6-minute qualifiers and triple 6-minute mains.

The small but flowing track layout was ideal for the 17.5T Touring class with a fixed 4.0 FDR that made for equal speeds for all drivers. Fastest man in the qualifiers was Rob Janssen with his Team Magic on pole position from Robert Krens (Schumacher) in second while Florian Joos completed the top 3 with this Tamiya. Ronald and Richard Arts put their Team Magic cars in P4 and P5 respectively. During the finals, Rob was the only one to break into sub 10-seconds lap times. Robert Krens drove competitive lap times, but couldn't really unsettle Rob while Florian took a fine third place overall with Richard Arts and the Xray of Michel Peterse completed the top 5. With this win, Rob also took the overall title early.
In the Formula class Jitse Miedema again excelled on one of his favourite tracks as so far, he remained undefeated in the championship and was the man to beat. A bit disappointed by his last ETS result, where he is a regular A-main finalist, Jitse wanted to made up and show his raw speed at this race. The challenge came from a strong Shepherd team, with Arie Manten, Wesley van Silfhout, the very fast Sander Borghoff and the young Florian Joos. Qualifying really went Jitse's way as he was the only driver to score a 33 lapper and sub 11-seconds lap times. Arie and Sander puth their Shepherds in P2 and P3 and were followed by Ruud Knoester in P4 and Florian Joos's Shepherd in P5.
During A1, Jitse laid down a blistering pace with his Infinity while the fight for the other positions was extremely hard. Because some drives still had the possibility to improve their overall championship position, they fought for every inch on the race track. The biggest victim of this fight was Sander who recorded a DNF while Arie took P2 in front of Ruud and Patrick Jongenelis's Serpent. Before A2, Florian increased the caster on his Shepherd and this made him much more competitive. He finished second, some 3 seconds behind Jitse who tried a different additive prepping on his Infinity. Arie took P3 in front of Ruud and Wesley while Sander was again unlucky and couldn't capitalise his P3 grid position. As Jitse already took the overall victory, a second place in A3 meant that Florian Joos claimed the runner-up spot in front of Arie. Patrick finished 4th in front of Ruud.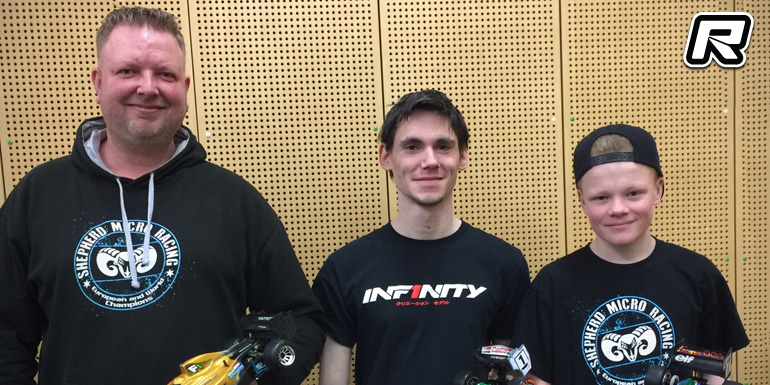 Source: T2M [t2m-rc.fr]
---