March 15, 2017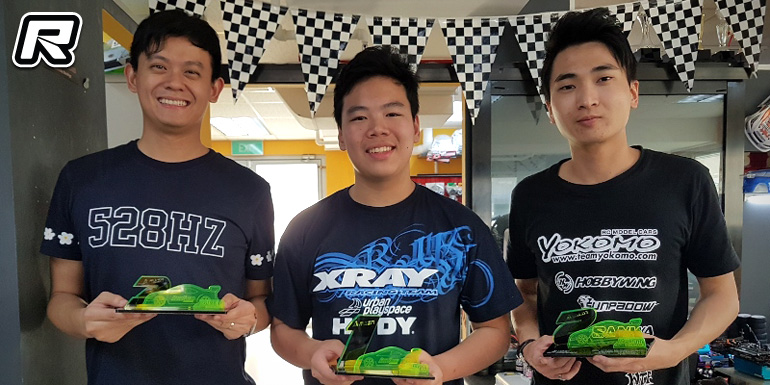 Singapore's Urban Touring Series ran its third round this past weekend. While some of the top names were missing this time, there remained plenty of fast drivers to make it another racing showpiece. Despite the grim start to the day with overnight rain, the hard work of the track crew, together with the help of racers, ensured that racing could get under way by late morning. Dominic Quek (Xray) took the TQ honours in qualifying round 1 by five seconds over Leonard Sim (Awesomatix). Despite a slightly damp track due to a slight drizzle in Q2, Dominic Quek improved on his Q1 result by two laps, securing overall TQ. In Q3, YS Heng (Yokomo) secured the TQ for the round to lock-down a P2 grid position for the finals. Leonard Sim would qualify 3rd overall.

In the finals, Dominic carried his momentum over to take an early overall win by taking the opening two A-mains by relatively comfortable margins. Leonard was 2nd in both the legs with early overtakes on YS Heng. With Dominic sitting out leg 3, YS put on a great display by withstanding the close attention of Leonard throughout the 5-minute final to take the win and secure 2nd overall. Unable to find a way past YS, Leonard would have to settle for 3rd place.
Touring 17.5T Blinky final results:
1. Dominic Quek – Xray
2. YS Heng – Yokomo
3. Leonard Sim – Awesomatix
4. Eugene Goh – Yokomo
5. Kamen Koh – Serpent
6. Marc Seow – Xray
7. Charles Lim – Xray
8. Colin Tong – Xray
Thanks to HJ Quek for the report.
---