March 16, 2017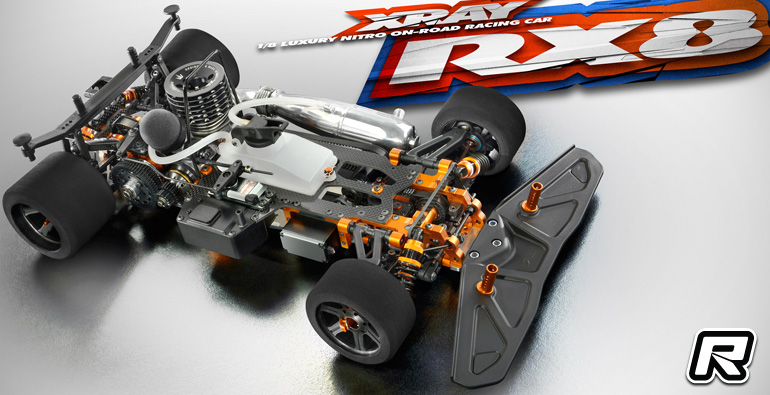 Xray have revealed the 2017 version of their RX8 1/8th nitro on-road kit. It features some subtle changes compared to last year's car, one of which is the updated aluminium chassis that sports repositioned engine mounting holes for easier gear mesh adjustment while also incorporating milled sections for additional carbon fibre stiffeners and add-on weights.

An area that was taken much care of was the gearbox with the 2017 car utilising new rear layshaft and 2-speed mounts for a lowered centre of gravity, reduced weight and fewer parts, as Xray did away with the composite bearing bushings. New is also a height adjustable fuel tank that can be lowered for low-profile receiver battery packs and raised using shims for thicker, higher capacity batteries. Next up are all-new alluvium front lower suspension mounts with composite inserts that increase the lifespan of the steel suspension pins and mounts while new front A-arm extensions made from steel make for improved overall durability.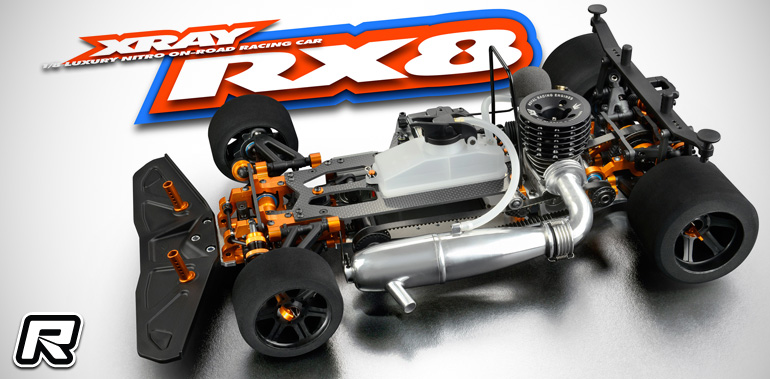 Another front section area that received some fine-tuning are the front upper arms that are moulded using a softer composite material for increased forward traction and steering. The front end updated are rounded out by a reinforced shock tower that is slightly larger in all dimensions for improved rigidity.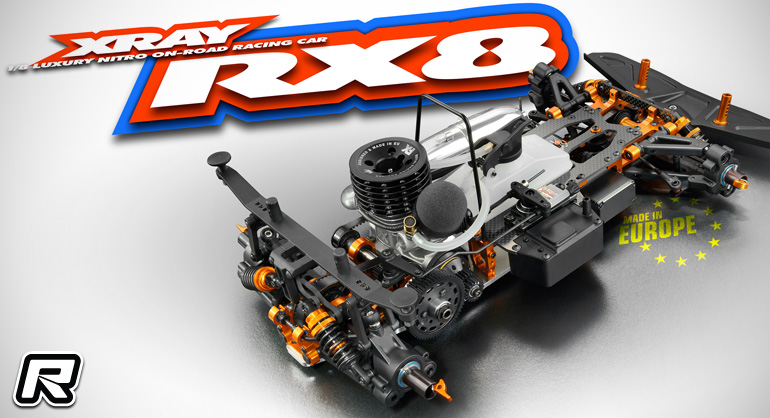 Other refinements of the 2017 kit include a smaller diameter flywheel for quicker engine spool-up and acceleration, a new, softer brake pad material is used and softer brake springs make for improve brake feel while new steel shims for the 2-speed shaft improve durability of the aluminium drive flange and the 1-way bearing. The kit is rounded out by an all-new softer material clutch housing for more consistent clutch engagement and new graphite composite 2-speed gears offer increased durability. The RX8'17 will hit stores very soon.
All-new 2017 features:
– All-new chassis  features repositioned holes for engine mounts to allow better gear mesh adjustment; front & rear machined openings for graphite stiffeners and additional weights
– All-new redesigned and lowered aluminium 2-speed bulkheads lower the CG of the rotation parts, as well as allowing quicker and easier adjustment of gear mesh
– All-new fuel tank & mounting system allows height adjustment of the fuel tank depending on the receiver battery size. If larger LiPo or LiFe batteries are used, the included shims and bushings allows vertical repositioning of the fuel tank
– All-new aluminium front lower suspension mounts allow mounting of composite bushings into the holders to increase the lifespan of suspension pins
– All-new front upper arms made from softer material give improved forward traction and steering
– All-new front steel extensions for shocks on lower suspension arms give improved durability
– All-new front shock tower has been improved for better durability
– All-new smaller flywheel improves engine bottom power performance and acceleration
– All-new improved brake material for smoother, more consistent and better brake feel
– All-new softer brake springs for higher-precision braking and improved brake feel
– All-new steel shim for 2-speed shaft gives improved durability and more consistent operation of the alu drive flange with 1-way bearing
– All-new clutch carrier machined from a softer material for improved and more consistent clutch engagement
– All-new graphite composite 2-speed gears give improved durability
Find the full presentation with more images here.
Source: Xray [teamxray.com]
---