April 26, 2017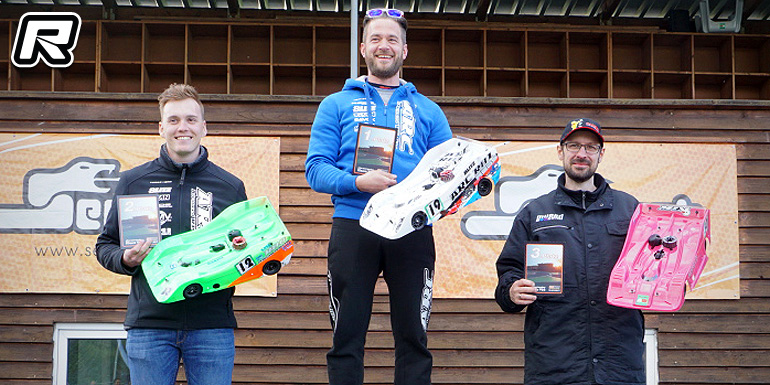 The opening round of the Nitro-West-Masters (NWM), a popular championship held in the western part of Germany, turned into a full-throttle party on the fast 310-meter Hamm track last weekend. With a total of 64 entries, practice on Saturday was intense and the event would start in full on Sunday morning with three heats of 7-minutes qualifying of which the three fastest laps would count. In the premier 1/8th Open class it was Tobias Hepp who snatched the pole position less than two hundredth of a second ahead of ARC teammate John Ermen. On the 3rd and 4th spot, Michael Salven (Serpent) and René Puepke (Shepherd) were the last direct qualifiers for the main.

In the 30-minutes final race Hepp was leading until lap 37 when he lost a minute, but he recovered and at lap 101 he was back in front. Ermen dropped back to 9th position in lap four, but pushed hard to recover and finally caught the victory when Hepp had to pit for refuelling with only three laps to go while Puepke and Daniel Toennessen (Mugen) were in the lead as well. While Puepke led for 44 laps before he was stopped with a broken gear, Toennessen was leading for 16 laps and completed 110 laps like Ermen and Hepp to finish a strong 3rd. Early in the race Salven lost about seven minutes with a broken one-way bearing.
1/8th Open final results:
1. John Ermen (NL) ARC – 110 laps
2. Tobias Hepp (D) ARC – 110
3. Daniel Toennessen (D) Mugen – 110
4. Uwe Baldes (D) Shepherd – 108
5. Karl-Heinz Meister (D) Serpent – 106
6. Ralf Vahrenkamp (D) Mugen – 01
7. René Puepke (D) Shepherd – 100
8. Michael Woeste (D) Capricorn – 96
9. Michael Salven (NL) Serpent – 81
10.Reinhard Zick (D) Mugen – 37
In the 1/10th scale Open class the main was an exciting race too as Melvin Diekmann (Shepherd) started from pole position and led the race for about ten laps before he lost one lap. Benjamin Lehmann (Shepherd) took over the top spot but only for a few laps before Bernd Rausch was the next competitor to enjoy the lead. Finally, Diekmann managed to spearhead again and capture the victory. Reigning champion Marco Nenner, Rausch and Faehd Labik made it a 1-2-3-4 victory for Shepherd.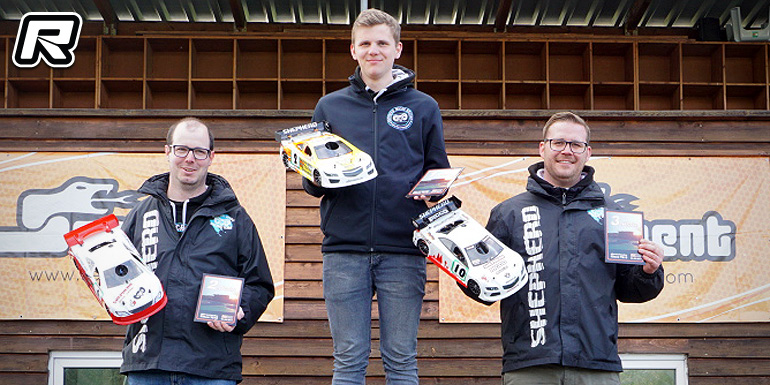 1/10th Open final results:
1. Melvin Diekmann (D) Shepherd – 98 laps
2. Marco Nenner (D) Shepherd – 98
3. Bernd Rausch (D) Shepherd – 98
4. Faehd Labik (D) Shepherd – 93
5. Joerg Kleineberg (D) Mugen – 90
6. Dirk Zschaebitz D) Serpent – 88
7. Georg Goehlich (D) KM – 78
8. Benjamin Lehmann (D) Shepherd – 46
9. Markus Lehr (D) Capricorn – 17
A distinctive feature of the Nitro-West-Masters are the 1/8 and 1/10 scale nitro Stock classes that are run with mandatory and cost-efficient unified engines with round one of the NWM attracting 35 racers in total. The 1/8th Stock class became the race of the day with two youth drivers to make it on the podium. In only his third 1/8th scale race, 15-years old David Kroeger was fifth in the qualifying ranking, he then won his semifinal easily and took over the lead at about halftime into the finale. Neither Ingo Braun (Serpent) nor Waldemar Liedke (Mugen), who both lost time early in the race, had been able to force Kroeger into a driving mishap – the coolness of the young talent was quite impressive. Finally, David Kroeger squeezed his Shepherd over the finish line just four tenth of a second ahead of Liedke. His victory was not the only remarkable performance of a young driver. 14-years old Ben Klaus was eighth in the ranking after the qualifying, he won his semifinal too and brought his ARC home on a strong 3rd spot and joined Kroeger on the podium. 17-years old Dutch Pieter Beekman was the third youth driver to make it to the finale race, the Shepherd racer finally ended on the 7th spot while pole-setter Gunnar Blumendahl crashed his Mugen already in lap two.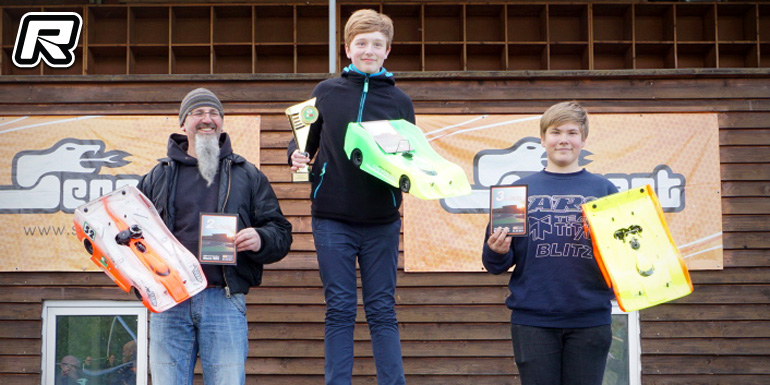 1/8th Stock final results:
1. David Kroeger (D) Shepherd – 102 laps
2. Waldemar Liedke (D) Mugen – 102
3. Ben Klaus (D) ARC – 95
4. Ingo Braun (D) Serpent – 9
5. André Boettcher (D) Mugen – 58
6. Markus Friedrich (D) Shepherd – 47
7. Pieter Beekman (NL) Shepherd – 42
8. Jens Kopetzki (D) Serpent – 30
9. Helmut Hoessler (D) Serpent – 26
10.Gunnar Blumendahl (D) Mugen – 2
In the 1/10th 200mm Stock class, that also meant the opening round of the Western German Championship, Marcus May and Frank Pock made it a 1-2 for Serpent not only in the main but also in qualifying. Shepherd racer Guido Burghartz captured the 3rd spot on the podium just ahead of 71-year old Werner Vogel.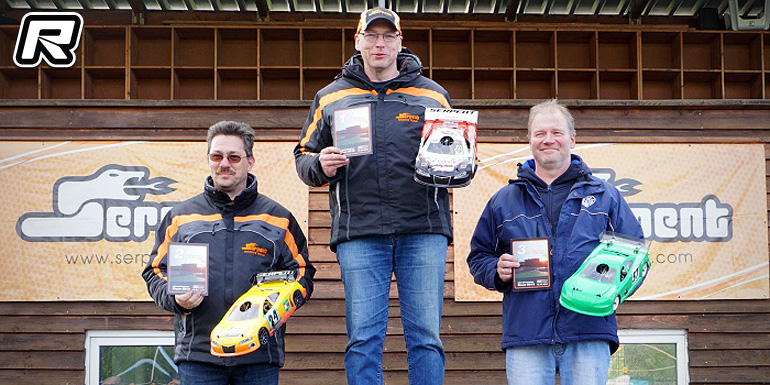 1/10th Stock final results:
1. Marcus May (D) Serpent – 92
2. Frank Pock (D) Serpent – 89
3. Guido Burghartz (D) Shepherd – 86
4. Werner Vogel (D) Kyosho – 84
5. Emil Kwasny (D) Mugen – 80
6. Marcel Beekman (NL) Shepherd – 77
7. Philipp Wisniewski (D) Mugen – 76
8. Roman Kwasny (D) Xray – 55
9. Florian Dueppe (D) Shepherd – 18
10.Hermann-Josef Fuchs (D) Shepherd – 0
Round 2 of the Nitro-West-Masters will be held on the weekend of the 4th of June at the ADAC-Ring in Haltern.
Source: Nitro-West [nitro-west.de]
---