April 1, 2017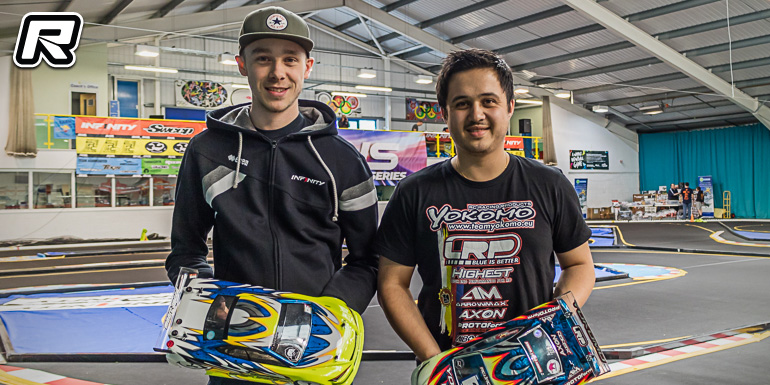 With controlled practice now completed, the overall results showed a tie on the official ranking list with both Yokomo's Ronald Völker and Infinity's Kyle Branson setting an identical time of 45.65 seconds over three laps.  Having no other way to separate the drivers, race announcer Oli Meggitt chose to use the second best time set, which means it will be the World Champion who carries the number one sticker on his car through the four rounds of qualifying.

Commenting on his run, the popular German simply said "improving" – referring to his speed increasing with each time out on the unique EWS circuit.  Making his first visit to race in the UK, he continued that he was "enjoying the race", but, referring to his comment of the warmth of the hall yesterday, added, "I still haven't found any shorts". As qualifying will get underway, he will try to improve his BD8 by going to a softer rear diff. Set to roll off second in the first qualifier, Branson said he was pleased with his prototype Infinity chassis and was also complimentary of the progress the entire team have made over the last few events. When asked about the circuit, he said that he "really likes it", noting the "mix of technical and fast sections" has proved a good layout so far, noting the close times.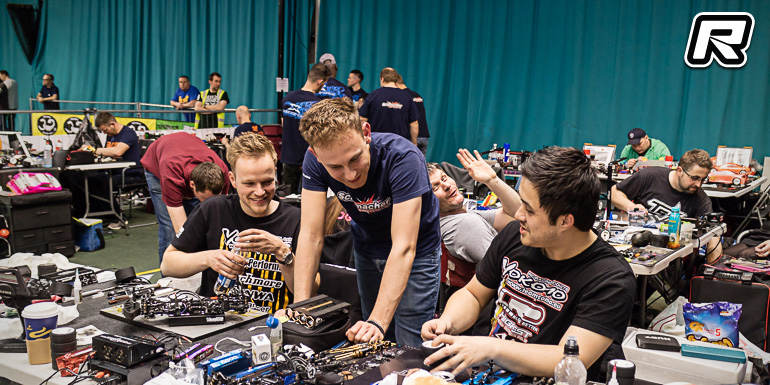 Third overall was Xray driver Olly Jefferies, just under 2 tenths slower than the leaders over the three laps.  Defending race winner Elliott Harper set the fourth best time with his Schumacher, and Völker's Yokomo team mate Christopher Krapp rounding out the top five.
In the Super Stock class, it was Xray driver Zak Finlay who set the best three lap time, the British driver setting a time of 47.20s, 0.16 seconds ahead of James Hart's Schumacher. Marvin Schneider was the top non-UK driver, taking his Awesomatix to third, ahead of Colin Jackson (Awesomatix) and Tony Broad (Xray).
On to Q1 and Xray driver Olly Jefferies took a narrow win in the opening qualifier at the 2017 EWS International. The British driver topped the timesheets by just two tenths of a second from top seed Ronald Völker. The race saw an incredibly close five minute battle between the top five drivers, with just a few tenths of a second separating them through the entire run. Commenting on his run, Olly joked that it was "fine" and he had "loads in hand", before being more serious and saying he couldn't remember a run where you have so many drivers so close. He noted that he had been cautious at the start oft he run, something he planned to change for Q2, but said that it was "always nice to TQ a round ahead of a World Champion". Third overall and just three tenths behind Jefferies, Kyle Branson took a big breath before saying "that was close". Admitting he made some mistakes and "hit too many kerbs", his plan for the next run was just to be more cautious and "drive neater". Finishing fourth, after all drivers had had a turn at leading the race, Elliott Harper said his Schumacher "went off a bit towards the end", planning to make a small change to his tyre preparation to try to fix this.  He said that from his view, it was "exciting to drive" and echoed compatriot Jefferies that it was "not normal to have everyone so close".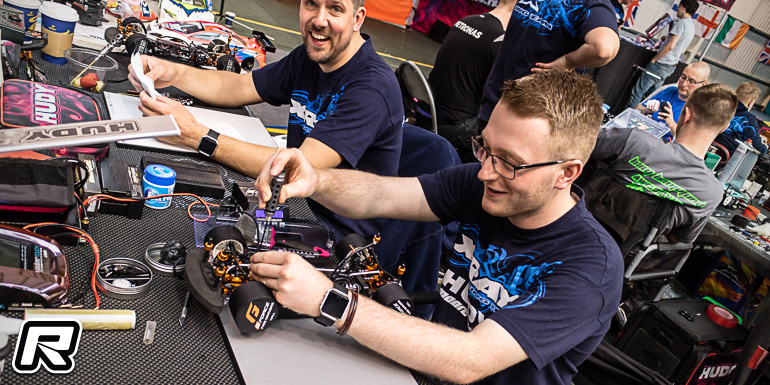 In the Super Stock class, Zak Finlay stamped his authority by taking the first round, ahead of Max Mächler, who showed a much improved pace after being disappointed to only sit eighth after practice.
---