April 3, 2017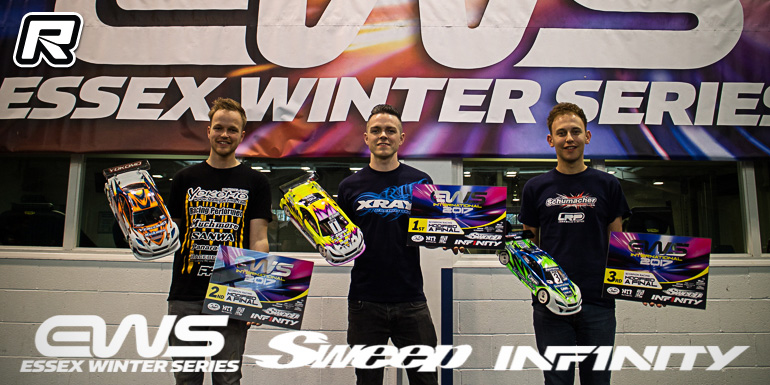 British Xray driver Olly Jefferies secured the overall victory at the 2017 EWS International after taking narrow victories in the first two A-finals, before stamping his authority by rounding out the weekend with a win in the third leg too. However, Olly had to work hard for the victory, coming under intense pressure from the number 2 starting Yokomo of Christopher Krapp in each of the three races. As practice and qualifying proved, the top five on the grid were a class above the rest, entertaining the spectators with three five-minute displays of amazing driving. The lap times remained close between the five drivers which, whilst it led to a lot of nose-to-tail racing, meant overtaking manoeuvres were few and far between. As each driver appeared to close to consider looking for a passing opportunity, they also had to be aware of the driver on their own tail, and risk losing a place rather than gaining. That said, Olly did not put a wheel wrong to allow his German challenger, or any other driver, any serious chance of even considering lining up a pass.

Describing it as "one of the hardest wins I've ever had", the former event winner was clearly pleased to top the field and noted the quality of drivers lining up behind him. Krapp, who took second place at the event which he was attending for the fourth successive year, said that he was "disappointed to not take the win," but "tried everything to close the gap to Olly but we were all just too evenly matched on speed". Matching his best result at the race, ironically when Olly Jefferies also took the win, the German driver thanked his Yokomo team for allowing him to attend and vowed to come back the following year and finally make it a non-British winner.
Elliott Harper finished third overall, the defending race winner saying that he did "all he could," but similarly to Krapp "just couldn't find the one or two tenths needed to take the win". Congratulating his regular UK rival, he was quick to add that "Olly was the only one to TQ two rounds, and didn't make a mistake in any final, so deserves to take the win today".
Finishing up fourth overall, after qualifying in the same position, World Champion Ronald Völker was clearly upset not to take the podium, but said that he had "enjoyed the event" and joked he had asked for the race to take place earlier next year in more "normal British winter weather". Impressed by both the organisation and the quality of driving, particularly from the top five drivers, he did add that this was "my first carpet race with Sweep tyres in a long time, maybe my tyres weren't so good or the UK guys know something more about them from their racing all winter" – referring to Olly, Elliott and Kyle having attended most of the EWS series races, held in the same venue on the same tyre construction.
Modified final results:
1. Olly Jefferies (GB) – Xray/Hobbywing
2. Christopher Krapp (DE) – Yokomo/Racing Performer
3. Elliott Harper (GB) – Schumacher/LRP
4. Ronald Völker (DE) – Yokomo/LRP
5. Kyle Branson (GB) – Infinity/ORCA
6. Alan Bickerstaff (NI) – Team Associated/Reedy
7. Matt White (GB) – Team Associated/Reedy
8. Phil Chambers (GB) – Capricorn/LRP
9. Harley Eldridge (GB) – Yokomo/LRP
10.Paul Pinkney (GB) – Schumacher/Hobbywing
In the Super Stock class, Zak Finlay completed his domination, taking the win in all three A-finals. The British Xray driver said he was "happy, of course" to take the win, also saying that whilst he "didn't get to travel to many European races," it was nice that "when quality drivers like Max come to the UK, I've got the speed to race them".
Max Mächler, to whom Zak was referring, finished runner up overall. Unable to match the pace of Zak, Max instead spent most of the A-finals defending second place from the UK Xray privateer Tony Broad. Complimenting Zak on the win, he said he had "no chance" to beat the muti-time UK Stock champion, saying he "found out stuff too late" to get the setup of his A800X dialled in. Joking at the prize ceremony that they should "print his name on the number one trophy next year already", he planned to be back and beat the UK drivers in their own yard.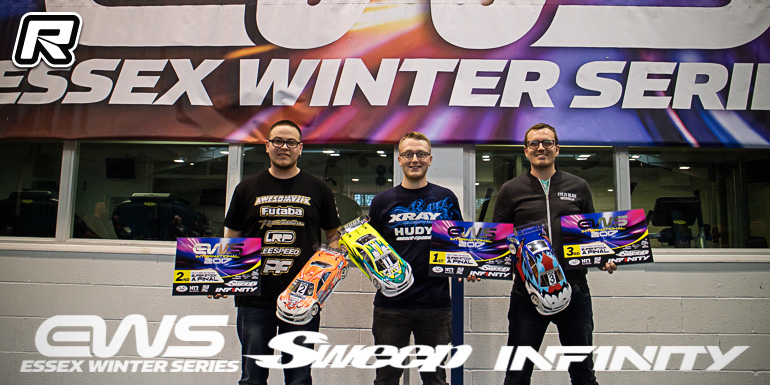 Super Stock final results:
1. Zak Finlay (GB) – Xray/Fantom
2. Max Mächler (DE) – Awesoamtix/LRP/Reedy
3. Tony Broad (GB) – Xray/Fantom
4. Colin Jackson (GB) – Awesomatix/Reedy
5. Marvin Schneider (DE) – Awesomatix/Trinity
6. Marcus Askell (GB) – Xray/Fantom
7. Jon Bowden (GB) – Schumacher/Fantom
8. Jimmy Maddison (GB) – Xray/R1 Wurks
9. Daniel Blake (GB) – Xray/Reedy
10.James Hart (GB) – Schumacher/Reedy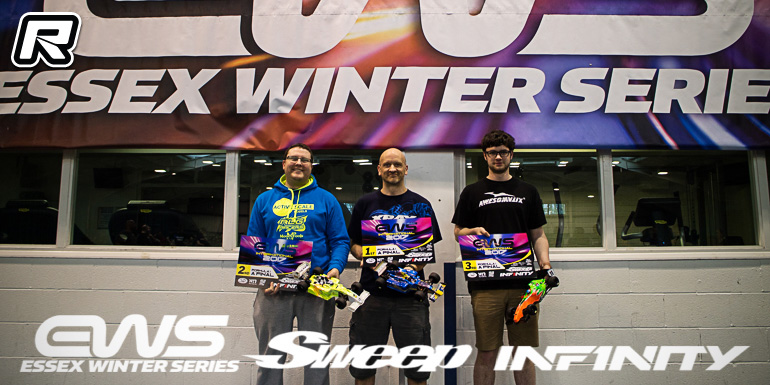 In Formula, Damian Giddins overcame a difficult first leg to take the win, with Martin Southall and Andrew Walters rounding out the podium.
Source: EWS [ewsevents.co.uk]
---