April 11, 2017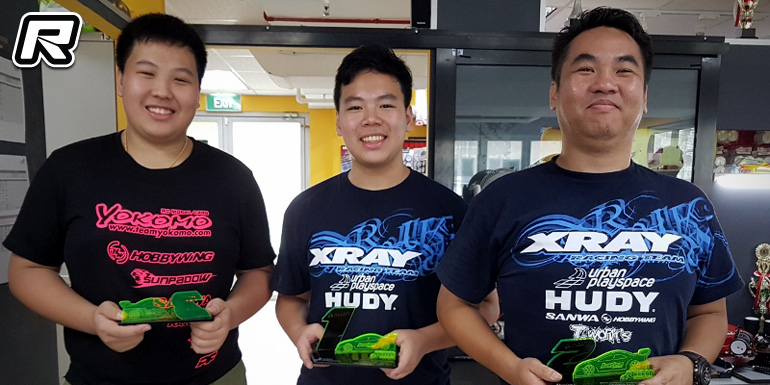 Round 4 of Singapore's Urban Touring Series was run this past weekend. A large turnout supported the event which features bump-up lower mains to provide all racers with a second chance to make the A-main. While rain washed out Saturday's practice day, Sunday started off bright and sunny.
Dominic Quek (Xray) took the overall TQ honours by going fastest in qualifying rounds 1 and 2. 2nd was a tough battle between Colin Tong (Xray) and Eugene Goh (Yokomo), with it finally being decided in Eugene's favour in Q3 when he TQ'd the round after Dominic sat out the final qualifier.

In leg 1 of the A-main, Dominic faced early pressure from Eugene but he was able to defend his lead. Unfortunately, Eugene suffered from a technical problem seven laps in, allowing Dominic to take the win by a 1-lap margin as Colin stepped up to take 2nd, with Leonard Sim (Awesomatix) finishing 3rd. In leg 2, Eugene's quick start once again forced Dominic to defend his position early on. With plenty of respect between the two youngsters, Dominic managed to pull a gap in the second half of the race to take the win by a 6-second margin. Eugene finished a strong 2nd, one lap up on 3rd placed Colin. With the early overall win going to Dominic, the stage was set for a leg 3 showdown between Colin and Eugene for 2nd and 3rd. Eugene once again started strong and was on course for a win when he rolled in the later stages, allowing Colin to close the gap. With 30 seconds to go, Colin executed an excellent side-by-side pass right at the line to go into the lead. While there was some contact between the pair, the move was deemed a fair one. A couple of turns later, the technical gremlins came back to Eugene, benefitting Chee Lip Keong (Yokomo) who moved up and finished 2nd.  Eugene hung on to finish 3rd and take his first podium for the season.
17.5T Blinky final results:
1. Dominic Quek – Xray
2. Colin Tong – Xray
3. Eugene Goh – Yokomo
4. Chee Lip Keong – Yokomo
5. Leonard Sim – Awesomatix
6. Allister Lim – Xray
7. Hasron Robana – Tamiya
8. Kamen Koh – Serpent
Source: Urban PlaySpace
---