April 25, 2017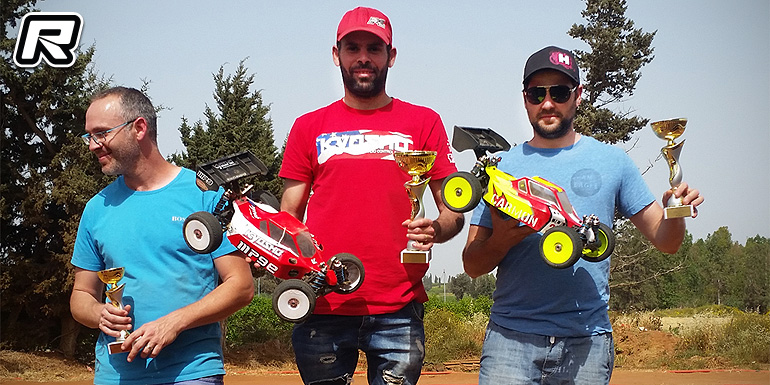 The fifth round of this year's Israeli League E-Buggy series was held at the Rishpon racing track near Tel Aviv. After three rounds of qualifying Yaniv Sivan took the TQ honours and thus the pole position for the triple A-mains. At the start of A1 Yaniv made a small mistake that saw him drop to 6th while Yaniv Levy, coming from the 2 spot on the grid, took over the lead followed by Amit Bublil. In the closing stages and after a big recovery, Yaniv Sivan was able to close the gap on Levy to take the lead and eventually coming in 1st in the opening A-main. A2 was pretty much a done deal for the TQ holder as Levy ran into tyre issues but was able to hold onto 2nd place while up front Yaniv Sivan would score another win and with it the overall victory.

With Yaniv Sivan having already taken the overall win the race in the final main was on for the runner-up spot on the podium. Both Yaniv Levy and Ido Carmon were in the mix but Carmon had to score a win in order to take the 2nd spot overall. Right from the start Yaniv Sivan was in the lead while Levy had a rough start and fall back to 6th. Meanwhile Ido Carmon made it to 2nd and when Yaniv Sivan has some smaller mishaps, Ido took over the lead and ultimately he was able to bring home the win, securing himself the overall runner-up spot in the progress.
Top 3 results:
1. Yaniv Sivan – Kyosho/Tekin/Pro-Line
2. Ido Carmon  – Kyosho/Tekin/Sweep
3. Yaniv Levy  – Team Associated/Team Orion/JConcepts
Thanks to Yaniv Sivan for the report.
---