May 1, 2017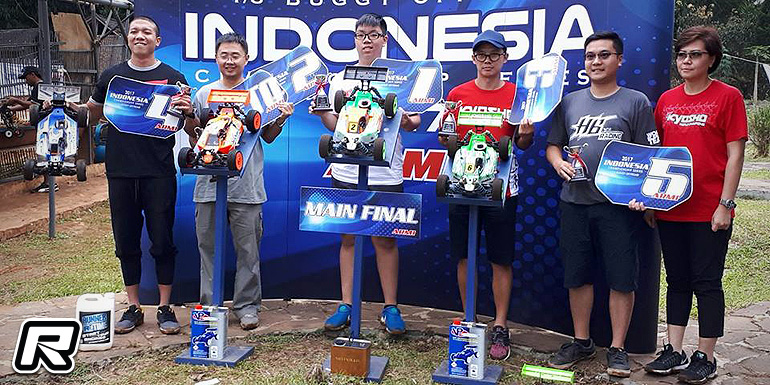 The second round of the Indonesia 1/8th Buggy National Championship was held this past weekend at the Maxspin track in Maribaya, West Java, Indonesia. A total of 74 drivers from Jakarta, Surabaya, Medan, Banjarmasin, Balikpapan, Bali, Kendari, Batam as well as local drivers attended the event whose schedule would see six rounds of 10-minutes qualifying although at the end only three rounds of 5-minutes qualifying would be held due to heavy rain. Ultimately Stanley Wangsanegara (HB Racing/O.S.) took the TQ honours and he would end the 45-minute main final on the runner-up spot while Adrian Sutanto (Kyosho/O.S.) came out successful. John Agus (Kyosho/O.S.) ended the day on the 3 spot.
Final results:
1. Adrian Sutanto – Kyosho/O.S.
2. Stanley Wangsanegara – HB Racing/O.S.
3. John Agus – Kyosho/O.S.
4. Rama Tribudiman – Team Associated/O.S.
5. Ivan Budiman – HB Racing/O.S.
6. Hariadi – Kyosho/O.S.
7. Darmadi – TLR/O.S.
8. Aswin – TLR/O.S.
9. Chopin – TLR/Maxima
10.Falla – Team Associated/O.S.
11.Indra Liono – Xray/SPower
12.Ery Setiawan – Kyosho/RC Concept
13.Arya BM – Mugen/Reds Racing
14.Adrian Wicaksono – HB Racing/Reds Racing
15.Kenji Liono – Kyosho/SPower
Thanks to Michael Nugroho for the report.
---