May 30, 2017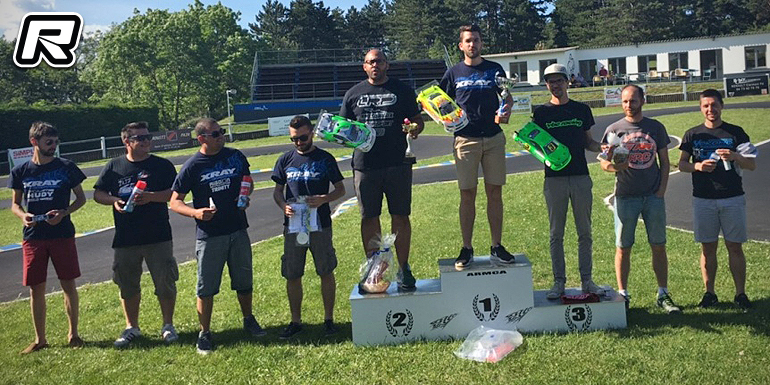 Round 3 of the French Electric On-road Nationals was held in Clermont Ferrand over the weekend. In the Touring Modified class Alexandre Duchet would walk away with the win after coming out on top in A1 and A2 and following mishaps of Loic Jasmin. Cyril N'diaye would end the day on the 2nd place, Lucas Urbain obtained the 3rd spot on the podium and Loic Jasmin had to settle for 4th overall.
Final results:
1. Alexandre Duchet
2. Cyril N'diaye
3. Lucas Urbain
4. Loic Jasmin
5. Thomas Vigneron
6. Alexandre Laurent
7. Jeremy Limoges
8. Mickaël Jasmin
9. Manu Wagner
10.Rémi Callens
In the 10.5T finals it was Pierre Delorme who came out on top after the triple A-mains. Coming from the 3 spot on the grid, Pierre would win A1 on new tyres while A2 was a more difficult affair for all as the whole field was on used tyres. Pierre would be able to challenge Michael Derderian in the opening stages and eventually got past only to come under the pressure of Antoine Brunet in the closing stages. A mishap by Antoine then gave Pierre the room he needed to bring home the win and with it the overall victory. Overall and behind Pierre, Michael Derderian would take the runner-up spot from Steeve Favrelle in 3rd.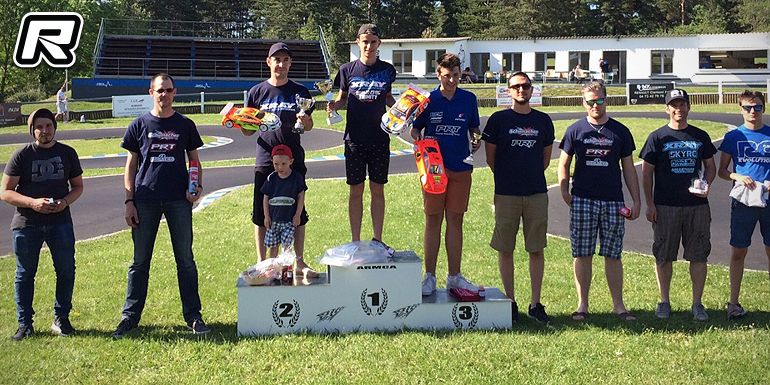 10.5T blinky final results:
1. Pierre Delorme – Xray
2. Michael Derderian – Xray
3. Steeve Favrelle – Xray
4. Antoine Brunet – Xray
5. Mathias Rascol – Xray
6. Aurélien Rivard – Xray
7.Jeremy Delalondre  – Xray
8. Basile Concialdi  – Xray
9. Yohan Bukowski  – Xray
10.Mickael Tequi  – Xray
In the 13.5T class, Renaud Brusselles drove an impressive A1 and A3 starting from the 4th spot. Steeve Favrelle would come in 2nd from Cedric Gebert 3rd.
13.5T final results:
1.  Renaud Brusselles  – Xray
2. Steeve Favrelle – Xray
3. Cédric Gerbert – Xray
4. Briac Berthoud – Xray
5. Nicolas Cardoso – Xray
6. Laurent Desperies – Xray
7. Julien Jost – Yokomo
8. Gregory Esteve – HB Racing
9. Sébastien Gibert – n/a
10.Eugene Orer – Xray
The Formula class saw some major mix ups up front as 1 was won by Willy Voisangrin while A2 had Jean Michel Varinard coming out on top. Jeremy Limoges, who suffered DNFs in the opening A-mains, came out fastest in A3, however it was Jean Michel Varinard who took the day's win from Willy Voisangrin 2nd and Denis Lambert 3rd.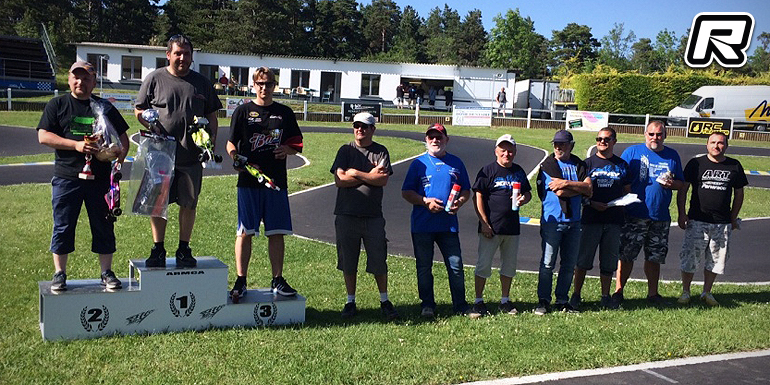 Formula final results:
1. Jean Michel Varinard – Xray
2. Willy Voisangrin – Xray
3. Denis Lambert – Xray
4. Ghislain Mantrand – Xray
5. Frederic Favier  – Xray
6. Jeremy Limoges  – Xray
7. Philippe Pauvert  – Xray
8. Laurent Nigou  – Xray
9. Jean Paul Boissonade  – Xray
10.Philippe Roy – Roche
Source: Xray [teamxray.com]
---