May 29, 2017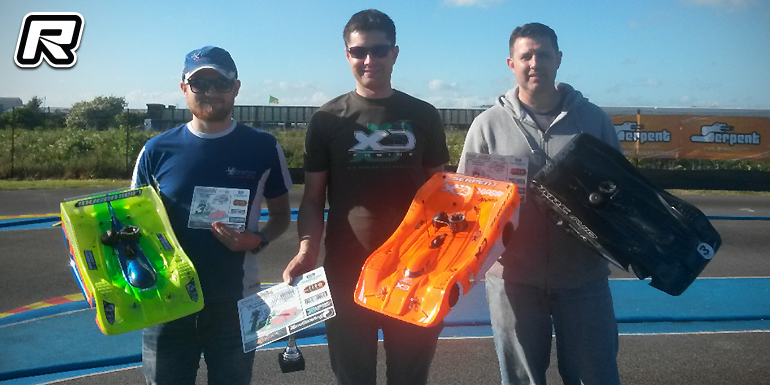 Adur Model Car Club was to host the third round of the BRCA 1/8 Circuit National Championship recently. This small tight and technical circuit comes with mixed feelings, some love the challenge of hustling a high powered 1/8 circuit car around this small tight technical track, where as others simply state it is too small. One thing is for certain, a horsepower track this is not. It's a track where beautifully accurate lines and tentative throttle control translate to lap time. With two classes running in the national series, electric and IC, the section is seeing some of the highest numbers in many years, and drivers from other disciplines are dipping their toes into the full throttle excitement of 1/8 circuit.
In IC for the first three rounds of qualifying Mark Green was to set the pace, shaving tenths of a second off his average lap time each run, it was looking ominous for yet another weekend of Mark Green domination, in the final qualifying run Neal King was the take the one spot, but unfortunately running around 2 tenths of a second off the average lap time of Mark Green's TQ time, this would only land Neal King in second position for the final.
In the electric class Alex Thurston was the man to beat as per usual with a huge advantage of 0.6 second per lap over his nearest rival, Alex was to qualify a whole lap in front of the rest of the field.
The IC A-final was not to be the walk in the park some had expected for Mark Green as on lap 26 Mark drove his car into the barrier heading onto the straight and retired from the race, it was then up to Tim Wood and David Spashett to fight it out for the win, with them swapping places throughout the final on different fuelling strategies, it would be Tim Wood who took the chequered flag by three seconds after David ran into trouble flaming out during one of his pit stops.
Nitro final results:
1. Tim Wood – Serpent/XRD
2. David Spashett – ARC/ Picco
3. Sam Snell – Mugen/O.S.
4. Neil Diver – ARC/Reds Racing
5. Jack Garrett-Lines – Capricorn/Capricorn
6. Chris Snell – Shepherd/VS Racing
7. Karl Dransfield – Shepherd/Orcan
8. Clive Connolly – Mugen/IDM
9. Mark Green – Serpent/XRD
10.Neal King – Shepherd/XRD
In the electric class Alex Thurston was to dominate the A-final winning by over two laps, lapping the field 0.3 seconds per lap faster than his competitors it looks like it will be a tall order to deny Alex his championship defence this year.
Electric final results:
1. Alex Thurston – Serpent/Hobbywing
2. Gavin Clinch – ARC/Reds Racing
3. Craig Woods – Serpent/Hobbywing
4. Jamie Paton – Serpent/Hobbywing
5. Ian Billett – Serpent/Hobbywing
6. Franck Dambrine – ARC/Corally
7. David Gerard – Serpent/Hobbywing
8. Geraint Williams – ARC/-
9. Paul Bellinger – Serpent/Absima
10.James Ellice – Serpent/Hobbywing
Source: BRCA [brca.org]
---