May 23, 2017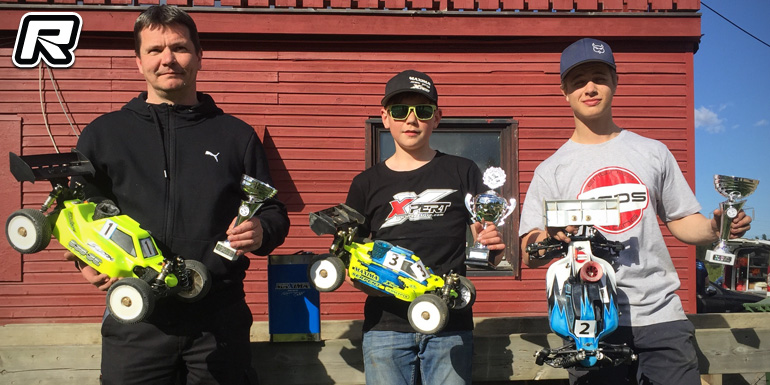 The first round of the Norwegian 1/8th Off-road Championship was hosted by the Honefoss RC Club this past weekend with the weather forecast promising very mixed weather. Unfortunately the forecast was right and so the event started off with rain followed by pretty heavy rain but later the sun would come out, making for good racing conditions although it was pretty tough on the track as setup and tyre choice was a real challenge for the drivers. Racing wise the opening two rounds were won by Serpent driver Daniel Kobbevik while Rune Karlsen (Kyosho) snatched round 3 and SWorkz driver Björn Ivar Haug came out fastest in Q4. Ultimately it was Daniel who took the overall TQ with two wins and a 2nd place finish.
The final qualifier on Sunday morning saw Daniel putting in the only 9-laps run, cementing his pretty dominant performance and putting him on pole position for the semifinal A. Due to some unfortunate setup changes and some mishaps at the start of the race Daniel would only take the 3 spot on the main final grid while Bjorn Ivar Haug and Yngve Brekke Ulfseth had a much smoother semifinal B, meaning the two would lock the front row of the grid. Behind Daniel, Rune would round out the top 4 result so far.
The tight and technical track promised some close racing in the main final and as it also got bumpy, an entertaining race was ahead. Right from the start the top 3 would separate a bit from the field while Rune made a mistake and tried to recover. Unfortunately he suffered from a front arm breakage some 28 laps into the race while trying to make up ground. Meanwhile up front Bjorn was in the lead with a slightly faster pace than Yngve and Daniel. But in the opening stages Yngve made a mistake, promoting Daniel into 2nd place. Daniel was in the hunt for Bjorn and both drivers were on a 9-minute fuel strategy. Shortly before his pit stop Bjorn suffered a flameout which cost him valuable time. This gave Daniel the gap he needed and from that moment on he was able to control the race and to bring home the win by two laps in front of Yngve and Bjorn.
Final results:
1. Daniel Kobbevik – Serpent/Maxima/Maxima
2. Yngve Ulfseth – Mugen/Reds Racing/Racing Experience
3. Bjorn Ivar Haug – SWorkz/O.S./Racing Experience
4. Danny Kwiatkowski – Kyosho/Reds Racing/Byron
5. Hans Magne Berg – Mugen/Reds Racing/Racing Experience
6. Morten Olaussen – Kyosho/O.S./Byron
7. Lars Ivar Ronning – TLR/Reds Racing/Racing Experience
8. Kenneth Bjorge – Mugen/Reds Racing/Racing Experience
9. Egil Amtedal– Serpent/O.S./Runnertime
10. Rune Karlsen – Kyosho/O.S./Byron
Thanks to Way to Win for the report.
---