May 19, 2017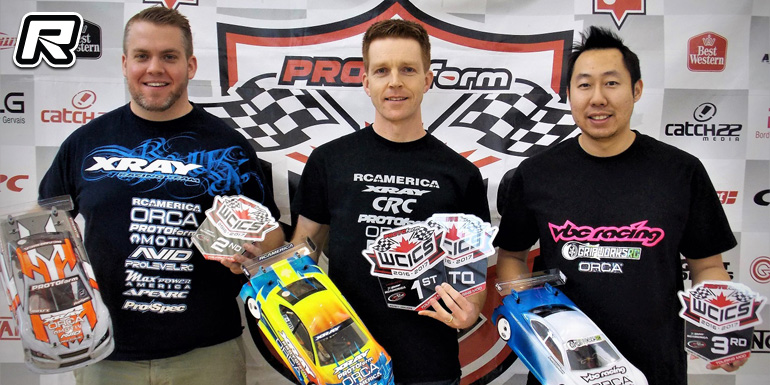 The Protoform Western Canadian Indoor Championship Seriesflew into the beautiful Northern BC mountain town of Kamloops, British Columbia for round 7. As expected, Touring Mod was fast and full of action. Blake Bell would be the driver to beat opening up with a 36 lap run. Round 2 proved to be a shaky heat for all drivers with no impressive pace. But all the stops came out for round 3 when the top 5 heard the tone. Blake settled it with a 37 lap run, the only one of the weekend.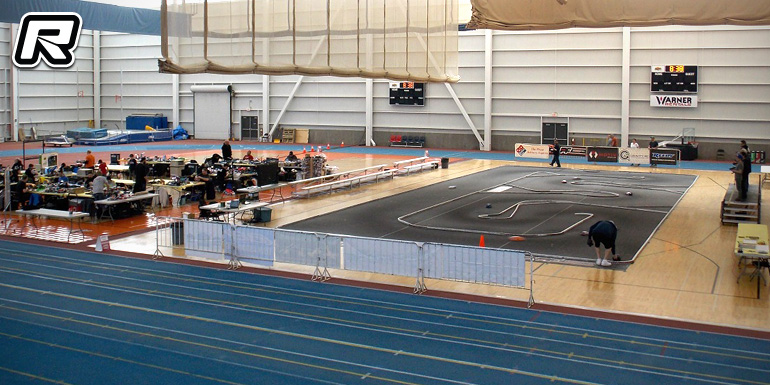 Sunday morning would start with Blake Bell at pole, followed by Korgae Scales and John Tsang. A1 would see an intense battle between the pole setter and Luke Pittman (4th), finishing just 2.4s apart at the buzzer. Luke was the only driver to breach the 8.0s lap time with a 7.9s while Korgae was 3rd. A2 would see another intense battle at the front with now the top 4 dicing for the 5-minute run. Blake was able to put some rug between them and take another win. Meanwhile Luke had to fend off charging John and Korgae right to the last lap finishing with just 1s covering the 3 cars. Blake would sit A3 and let Luke, John and Korgae strive for the win deciding their final triple A points standing. Luke seemed to be destined to be the number 2 Man this weekend, John Tsang would win the main, followed by Luke and Korgae. 2nd overall came to a tie break between Luke and John. The combined best two Runs would see Luke edge out John by just 0.3s.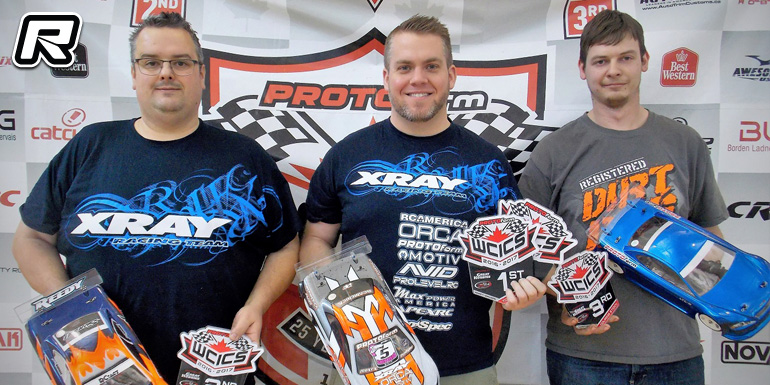 In Touring Stock TQ setter Luke Pittman had a perfect start to the mains Sunday morning with a 2 and out result. This was after a challenging round one, round 2 and 3 proved better and allowed Luke to put in an insane 36 lap run in Stock. The battle behind him for second was just heating up. Jarrod Heap, Gary Lanzer and Frank Bortolazzo qualified just seconds apart and would prove to be the group to watch Sunday. A1, Gary snuck into 2nd, with Jarrod, Tiny (6th) and Frank in tow. Lap 5 would change that; Gary slid down to 4th and battled intently with Tiny for 3rd finishing just 0.22s behind at the buzzer. Frank had an awful start in A2 letting Jarrod and Gary, and the rest of the field charge away by the end of lap 1. Bad luck caught up to Gary on lap 4 this time letting Tiny settle into 3rd. Frank meanwhile used just enough track to make up time and positions through the field. Finishing 2s back of Jarrod. The 7-car A3 main was primed for an tense run as the final 1 point win could decide the fate of four drivers for the 2nd overall. Lap 1 spread the drivers across the track with Jarrod and Frank leading them. With 2s between them it seemed decided and uneventful run until final two laps. Jarrod had back to back incidents setting up for a full on drag race down the main straight to the line with Frank. Contact between the drivers in the final turn led to a body tuck for Jarrod. After video review, the contact deemed a "racing incident", and Frank was awarded the win, with Jarrod 2nd. This set the two drivers up for a tie break, with Frank taking it by 1s.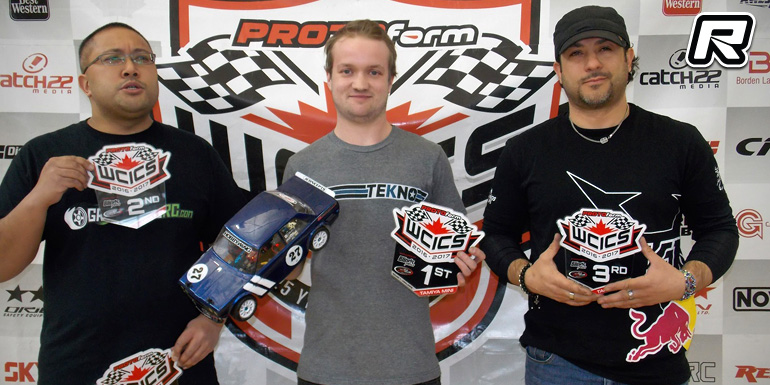 In Tamiya Mini and with another first for WCICS this season, the TQ was decided by 0.007s – setting another record event for Mini with it. Chuck de Belan and Tyrell Wilkinson were sure to put on a show Sunday for the main events. Chuck started Sunday with the TQ jitters, allowing Tyrell and Raz Minutoli (5th) best him. A2 was more like qualifying with Tyrell and Chuck wheel to wheel for the entire main, Tyrell chasing for most of it until the final minute when a crash between them gave Tyrell the lead. He would make a solo mistake allowing Chuck by for the win, Raz in 3rd. With both having a win, the A3 would start with all 8 cars, after lap 1, Chuck had all but one of those seven cars in front of him. Lee Edmond (3rd) found himself running in the lead ahead of Tyrell and TVRCRC local Thomas Reynolds (4th). The three would step clear of the field. Tyrell and Lee exchanged several times with Tyrell securing it with 1min to go. Chuck climbed to 4th by the buzzer. Overall win Tyrell, Chuck 2nd and Raz 3rd.
In Scale Spec Vancouver's John Tsang had another speed weekend of results, TQ and 2 and out mains. Dennis Beck and Gary Lanzer from Saskatchewan would qualify 2nd and 3rd for Sunday. Dennis has bad luck in A1, giving Earl Towson (4th) a surprising 2nd with Gary behind. Dennis after repairs was ready for A2 and to make up for the woes of A1 taking 2nd by over a lap. Earl 3rd after fending off TVRCRC Prez Brent Wende. Dennis would win A3. Earl and Gary would battle for the entire run. Dennis would secure 2nd overall, with Earl third after a tie break.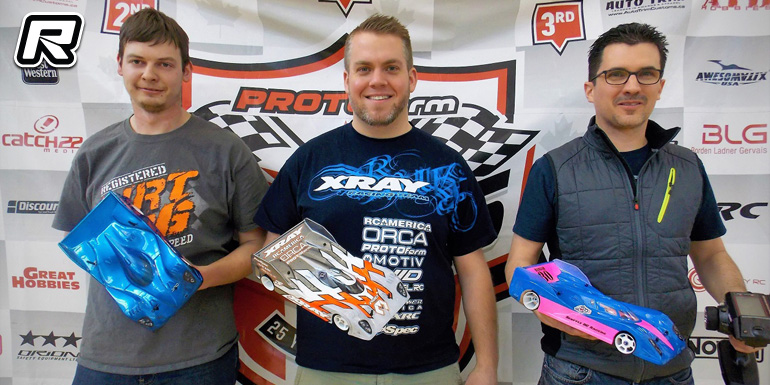 In 1/12th Stock the single heat had a good spread of skill and talent making it one to watch. Luke Pittman again putting on a perfect weekend, TQ and 1-2 wins kept it simple. Jarrod Heap, Earl Towson, Brent Wende and Todd Mason would spend Sunday fighting for the other podium spots. A1 saw Jarrod and Todd traded 2nd for the first half of the main, but took over midway and held thru to the tone. Earl in 4th was 3.8s back. A2 would see Luke be not so clear of Todd and Earl; all three finishing with 57 laps, Jarrod 4th with 56. Jarrod spent the first minute of A3 making up for poor lap 1 to gain on Earl and Todd. Brent Wende drove a steady first three minutes and mixed into the lead before a race incident put him out. The final minutes saw Jarrod stretch into the lead, with Todd and Earl behind. Final order then was Luke, Jarrod, and Todd.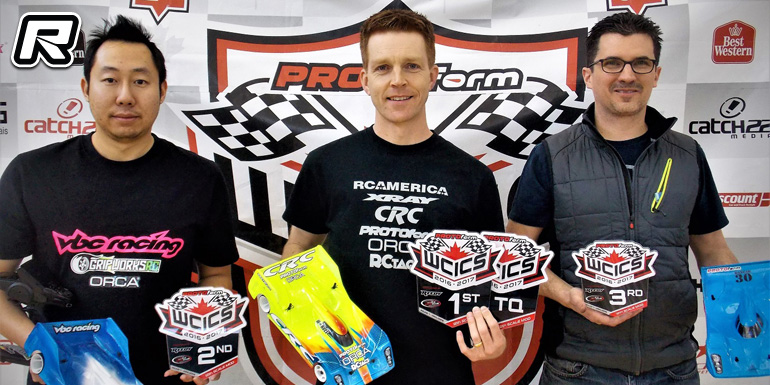 The 1/12th Modified class saw the car of Blake Bell being on point this weekend setting TQ pace and dipping to the 7.1s to circle the track in qualifying. John Tsang and Jason Melnyk would start just behind in the mains. John would pull off after a racing incident left his car broken. Jason Melnyk would settle into second and young Stuart "Mini" Mason (6th) taking 3rd after just edging ahead Jason Mardon (4th). Blake would take the win in A2 as well. With repairs completed, John would have better run finishing 3rd behind Melnyk and just ahead of Todd Mason (5th). A3 saw two cars sit out (Blake and another DNS), leaving just six cars. John with the open spot in front would lead wire to wire with Melnyk handily in 2nd while Todd and Mardon battling closely for 3rd. Melnyk would pull of twice in the latter half of the running giving Todd and Mardon 2nd and 3rd, just 3.3s apart. Ultimately it was Blake with TQ and win, followed by John Tsang and Jason Melnyk.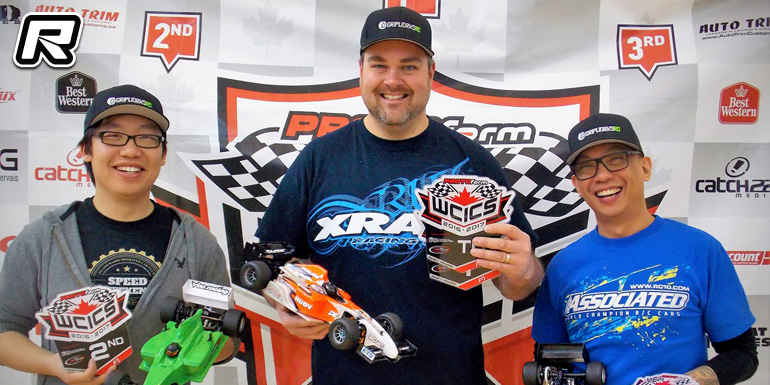 As at the other events, the Formula class proved to have close racing and true wheel to wheel action. The small field allowed the cars to really open up and show some pace without worry of contact. The usual battle of Korgae Scales and class sponsor Alex Pate was not as heated and both drivers were concentrating on other classes. Korgae secured the P1 position, while Lee Edmond P2 ahead of team mate Alex, Mark Nielson of Penticton completing the field. Korgae took A1 and A2. Lee drove 3 excellent mains, finishing 2nd, 2nd and taking the Win in A3. Alex would find some pace for A2 and A3, but not enough, finishing 3rd overall.
With only two cars registered, World GT did not run this year. It is usually a local favourite for the event, and was a great class to watch.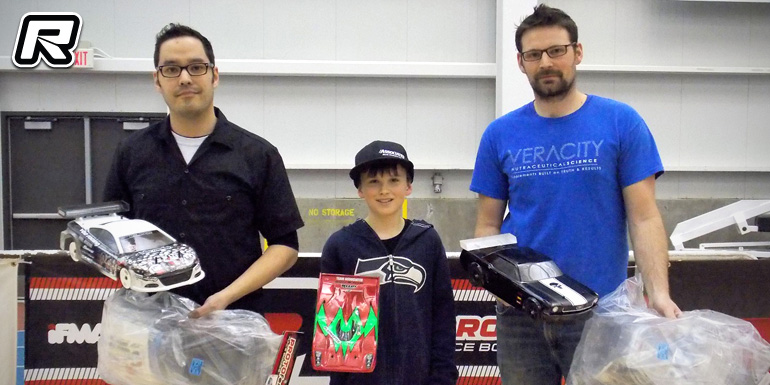 Concourse was awarded three different drivers based on the class. Dennis Beck would win for TC, Stuart Mason for his 12th scale shell and Thomas Reynolds with his Punisher themed CTA Mustang. All 3 top picks received a Protoform body with which to create their next masterpiece, personally presented by Eric Epp himself.
Source: WCICS [wcics.ca]
---