May 3, 2017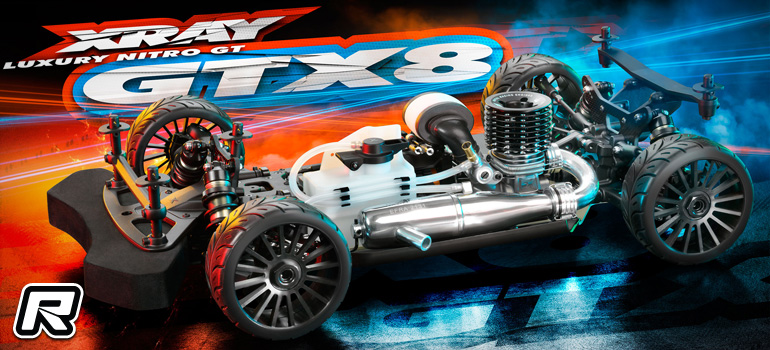 Following a couple of teaser images Xray have finally unveiled their all-new GTX8 1/8th nitro GT car kit. Developed for the ever-growing 1/8th GT class the car is based off of the European Championship winning XB8 off-road buggy and it sports several on-road specific features to adapt the car to the requirements of competition on-road racing. The kit is based on a hard-coated 7075-T6 aluminium chassis that features strategically machined sections for a reduced weight and lower centre of gravity of the components such as the engine, fuel tank and differentials. The composite side guards can be equipped with optional carbon fibre braces to adjust the overall chassis stiffness.

The car uses composite front and rear chassis braces with the rear one accepting an optional carbon fibre stiffener to further adjust the overall chassis flex and stiffness. On the suspension side of things the GTX8 utilises a front pivot ball suspension with horizontal lower and vertical upper pivot balls. The suspension is highly adjustable in terms of toe, wheelbase, anti-squat, anti-dive, caster, camber, track width, roll centre as well as kinkpin angle to ensure the car can be adapted to a variety of track conditions. Composite inserts for the upper and lower inner suspension mounts ensure quick, easy and reliable setup changes. Part of the suspension package are also aluminium suspension mounts, carbon fibre shock towers and short aluminium shock absorbers. The latter are of an oversized 18.5mm diameter for improved damping characteristics, they feature aluminium upper and lower caps and are utilise optional 6, 8 and 10-hole shock pistons. The front steering blocks and rear uprights are of a hybrid design with composite main bodies and upper alloy plates that built a solid base for the pivot balls.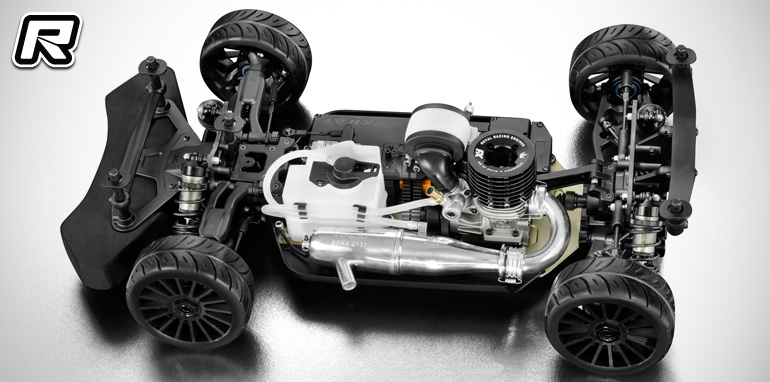 On the drivetrain side of things the GTX8 utilises front and rear gear differentials with a 46T/14T gear combination as well as a 2-speed gearbox. Power is supplied to the wheels using CV-style spring steel front, rear and centre driveshafts. The clutch is of a 3-shoe type with all-aluminium clutch shoes although optional graphite and high-torque alloy shoes are available separately for set-up purposes. The 2-speed transmission was adapted from Xray's on-road gearbox and features changeable main gears to adjust the overall gear ratio to suit different track layouts from tight and twitchy to open and fast flowing.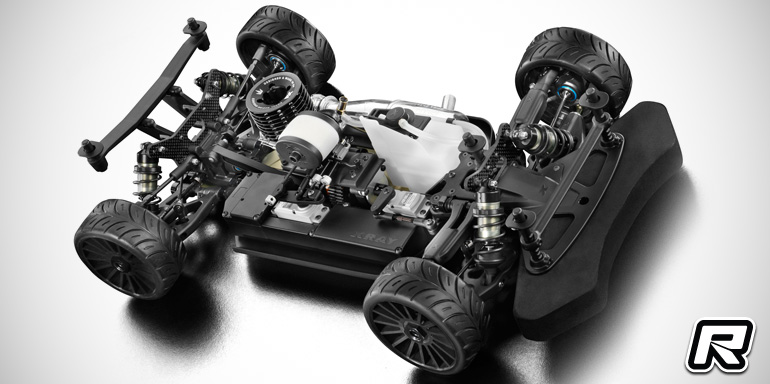 The car's radio box is a 1-piece assembly that is easily detachable from the chassis for cleaning and maintenance. The steering and throttle/brake servos are mounted in an upright position while the receiver battery and receiver boxes are of an enclosed design to keep dust, dirt and moisture away from the delicate electronics. A connecting servo brace compensates the softer, more flexible radio box that ensures natural chassis flex while also eliminating throttle servo vibrations from the chassis. The feature will help to ensure more precise throttle and brake control.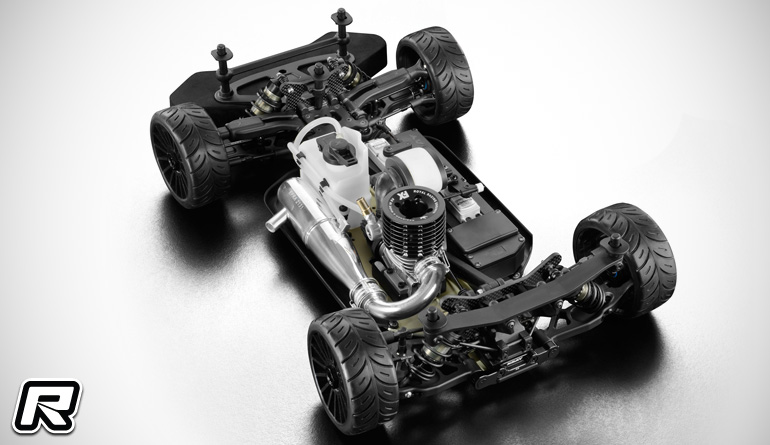 The kit is rounded out by a 150cc fuel tank, with a 125cc variant being available separately, front and rear anti-roll bars keep the chassis roll at a controlled level and a composite bumper mount with foam bumper protects the chassis and body during severe crashes. Not included in the kit is Xray's all-new GT body shell you can see in the images below.
Features:
– Hard-anodised 7075-T6 aluminium chassis
– 1-piece radio tray
– Front & rear composite chassis braces
– Super stiff bulkheads & gearbox housings
– Extra thick carbon fibre shock towers
– Throttle servo/radio plate connecting link
– Lightweight foam bumper
– Sturdy bumper mount
– High-torque 3-shoe clutch
– Machined aluminium engine mounts
– Large capacity 150cc fuel tank
– Precision-ground brake discs
– High-grip brake pads
– Shaft-driven 4WD drivetrain
– Front and rear 46T diffs
– 2-speed gearbox
– CV-style spring steel driveshafts
– Spring steel diff outdrives
– 27 oiled ball races
– Hardened steel 2-speed gear adapter
– XPBS pivot ball front suspension
– I.S.S. alloy suspension mounts with inserts
– Hudy spring steel turnbuckles
– Front & rear anti-roll bars
– Dual bellcrank steering with integrated servo saver
– 7075-T6 alloy steering plate
– 18.5mm diameter alloy shocks
– Delrin shock pistons
– Xray GTX8 GT body shell available separately

Specifications:
– Length: 510mm
– Width: 300mm
– Wheelbase: 318-326mm
– Weight: 3320g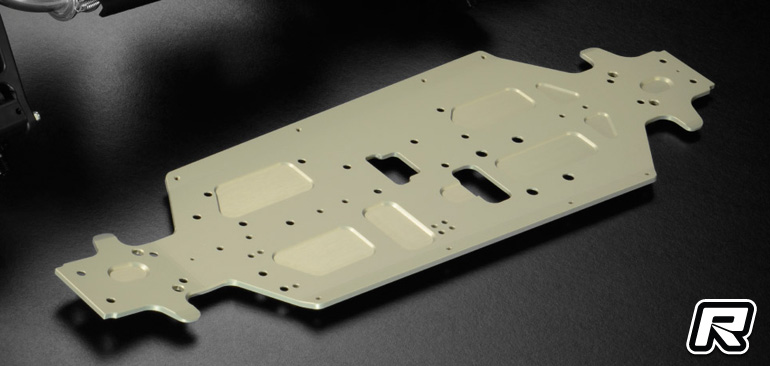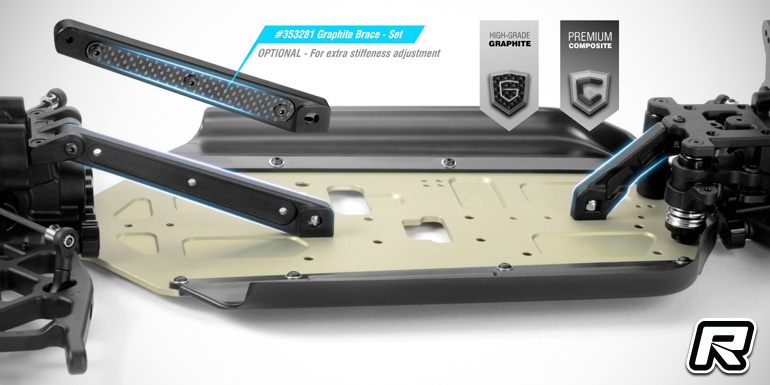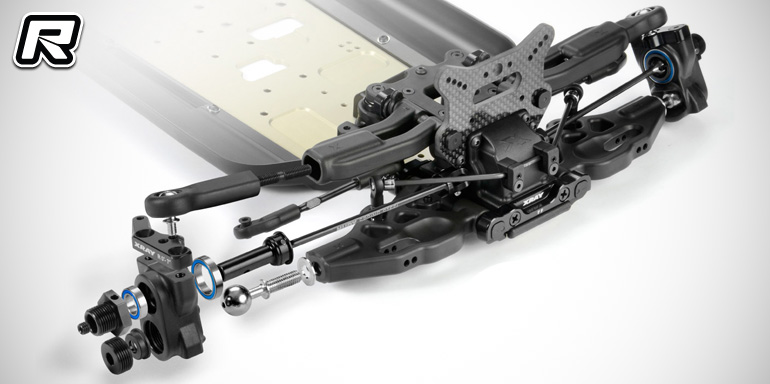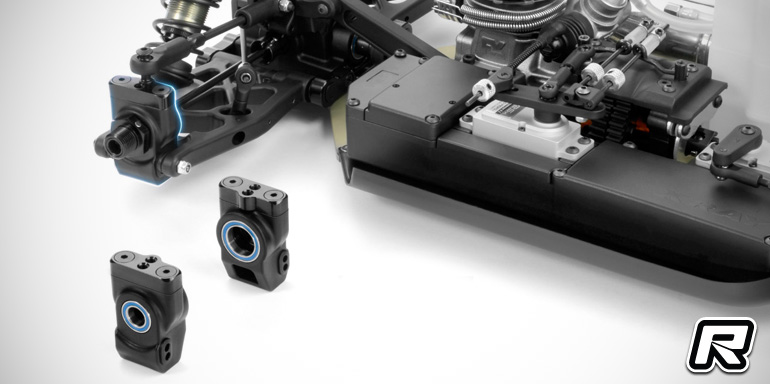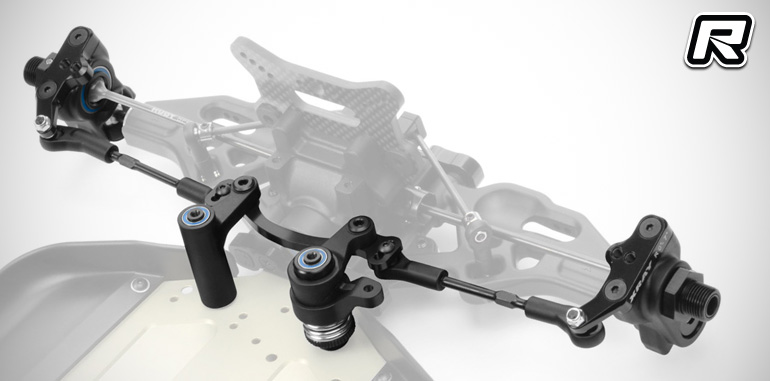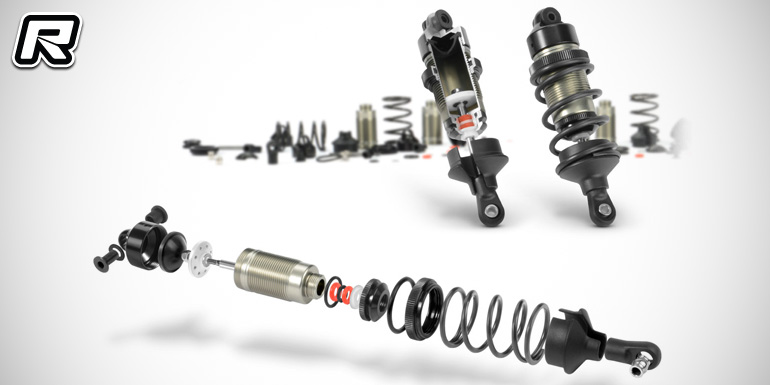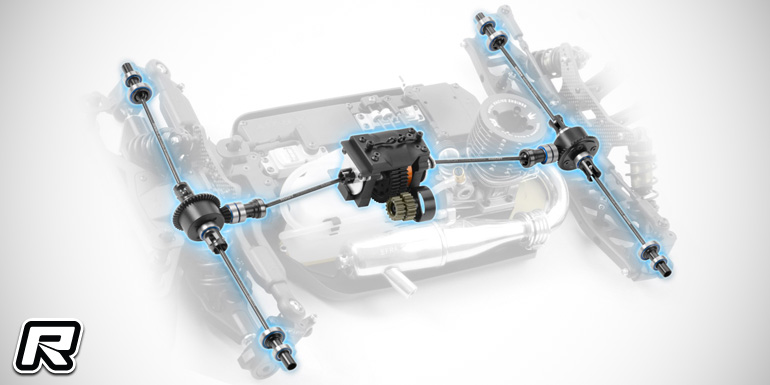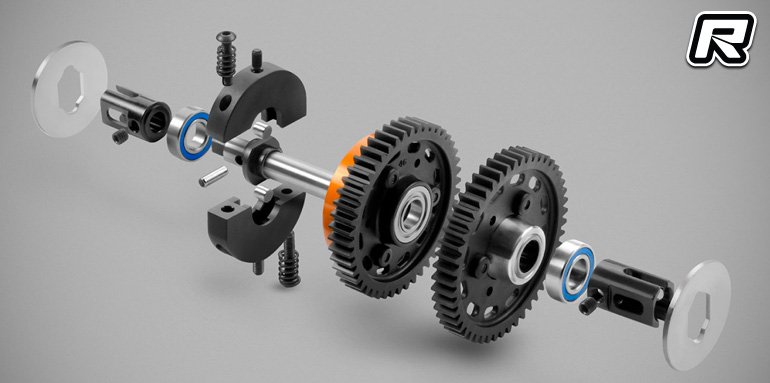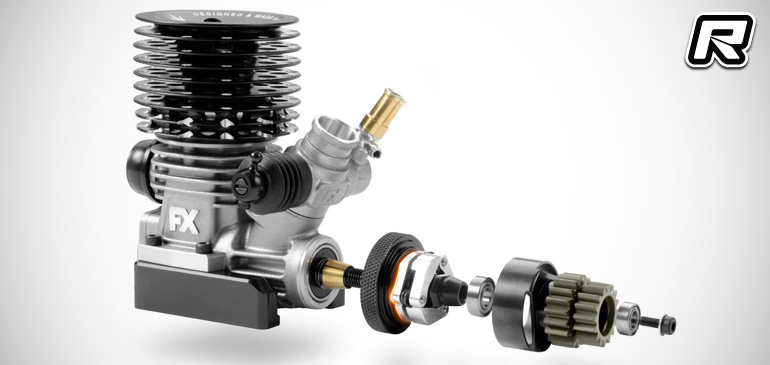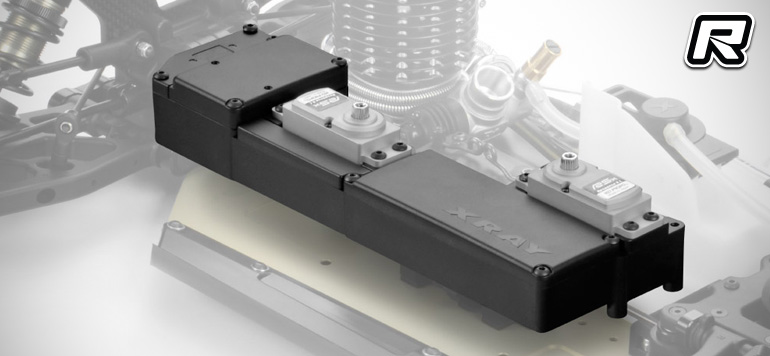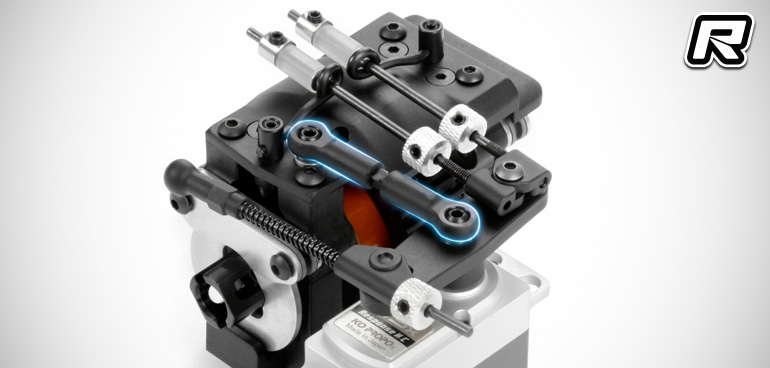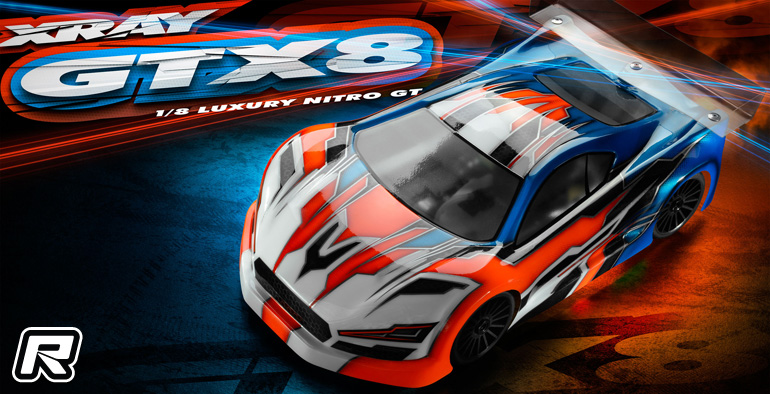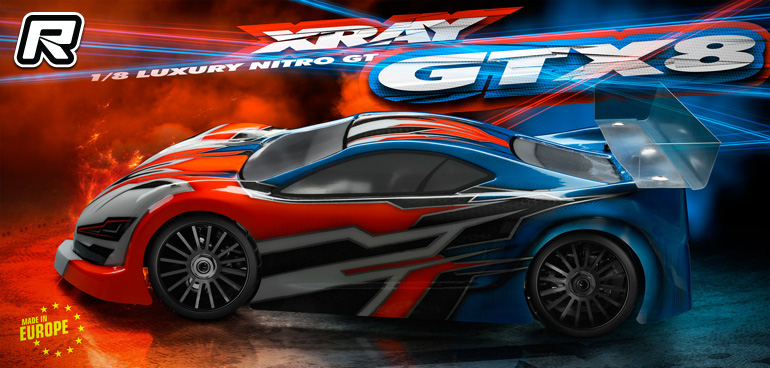 You can find the full presentation with more images here.
Source: Xray [teamxray.com]
---