June 14, 2017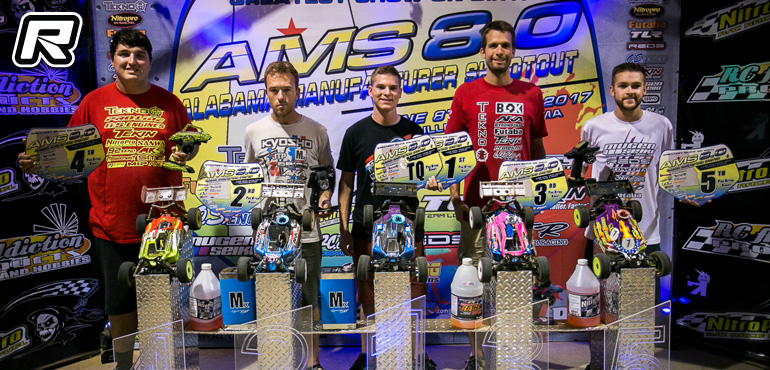 Last year, the Alabama Manufacturer Shootout made headlines with the news of the AMS having new ownership. As much as there was excitement, there was a bit of skepticism, but after the recent AMS 8.0, all doubts were laid to rest as the event was well planned, amazingly fun, and still has the AMS magic. Fortunately the drivers were blessed with perfect weather that added to the atmosphere and making the event more enjoyable overall. The track layout this year was fun and had a terrific flow that reminded of a toned down Psycho Nitro Blast in a smaller arena with dirt jumps instead of wood ramps. Many commented that the track looked "awesome", "rad", and "wished I was there", claiming high praise from racers and internet viewers.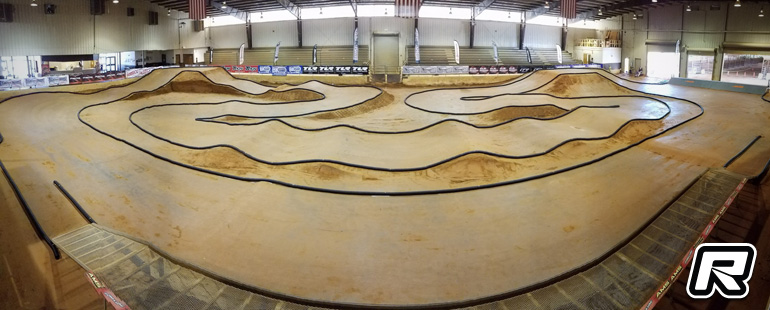 The qualifying format consisted of three five minute qualifiers taking the best two of three using qual points to sort the order. One of the nice features was the bump up system that allowed the top 3 cars from the lower mains a chance to move up to the next main until the A-Main, which took a total of 13 cars. All electric A-mains would be given 10-minute triple A-mains to decide the champions while the nitro classes got a single A that was 30-minutes long.
In the premier class of Pro Nitro Buggy, Team Associated's Spencer Rivkin set the pace in qualifying followed closely by Kyosho's Jared Tebo and Tekno's Ryan Lutz. During the 30-minute A-Main event, the top 3 order was the same as in qualifying showing that these three had a bit more than the rest of the field. Early in the race, it was a 2-car battle between Rivkin and Tebo with Tebo looking to have a little more pace than his AE rival by really putting the pressure on early. After the 1st pitstop, the racing was still nose to tail, but Rivkin was slowly settling in and clicked off consistent, fast laps making it harder for Tebo to pursue. As the race went on, Rivkin progressively got stronger and delivered one of his best drives in 2017 to take the win by 10.5 seconds over Tebo. Tebo finished 2nd and Ryan Lutz 3rd. Completing the top 5 was Tekno's Joe Bornhorst 4th and Mugen's Cole Ogden finished 5th.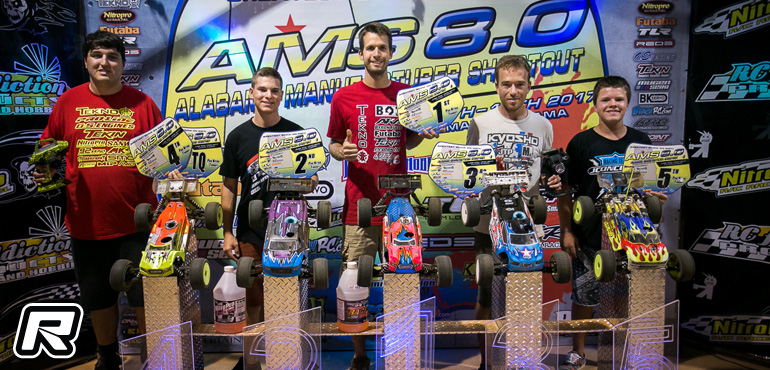 Tekno's Ryan Lutz stepped up his game when it came time for the final showdown in the battle for Pro Nitro Truggy supremacy. Once Lutz jumped to the lead on the 5th lap, the 3rd place qualifier drove with precision and perfection only losing the lead momentarily during pit stop exchanges. Team Associated's Spencer Rivkin kept it close and gave it his best effort but took home 2nd after the 30-minute battle. Kyosho's Jared Tebo was also in the hunt and momentarily 2nd over Rivkin, but finished 3rd overall after 30 minutes. Tekno's Joe Bornhorst finished 4th and Mugen's Chandler Elliott finished in the 5th spot to round out the top 5.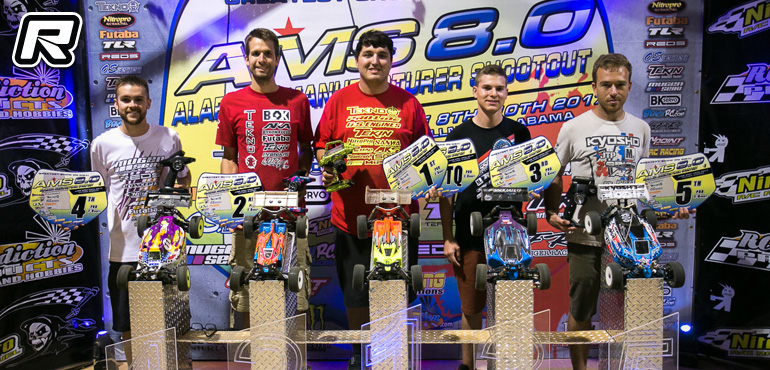 A1 of Pro E-Buggy came down to a teammate battle between class TQ Joe Bornhorst and Ryan Lutz. As Bornhorst was leading, with less than a minute left in A1, he got tangled with lapped traffic that allowed Lutz to take the lead and the win the first of three mains. A2 was just as action packed as A1 with Bornhorst making an error on lap 2 and dropped back to 3rd. However, Bornhorst would regain the lead after a mistake by Rivkin in the triple section. From there, Bornhorst cruised himself to a crucial A2 victory. A3 was a different story as Bornhorst come out firing and took the win from tone to tone to give himself the overall in Pro E-Buggy. Tekno teammate Ryan Lutz would finish 2nd and Team Associated's Spencer Rivkin 3rd. Also making the top 5 was Mugen's Cole Ogden and Kyosho's Jared Tebo.
The Open Nitro Buggy class was led early on by Tater Sontag after class TQ, James Calhoun, made a fatal mistake on the right side table-top dropping himself down to 9th. Tater looked strong until lap 36, where his run would finish from a mechanical. From there, Grayson Thompson took over the lead and held on for the win. Jackson Brunson charged back from mid-pack and finished 2nd. Also making things happen was Hunter Cupp, who started 11th on the grid and finished 3rd on the podium. Cody McClenahan finished 4th with Kevin Bullock 5th.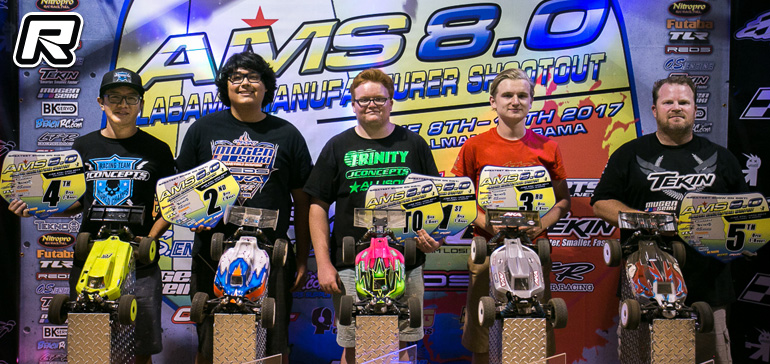 In Open E-Buggy, it was Jackson Brunson who took the convincing win in A1 and A2 to solidify his dominance in the class with great driving and consistency. James Calhoun started 5th, but with a 2nd in A2 and a win A1, Calhoun finished 2nd overall showcasing his speed. Grayson Thompson finished 3rd with photo wizard Thomas Tran, bumping from 20th in the B-Main and finished 4th overall. Randy Pike delivered excellent drives to get himself into the top 5.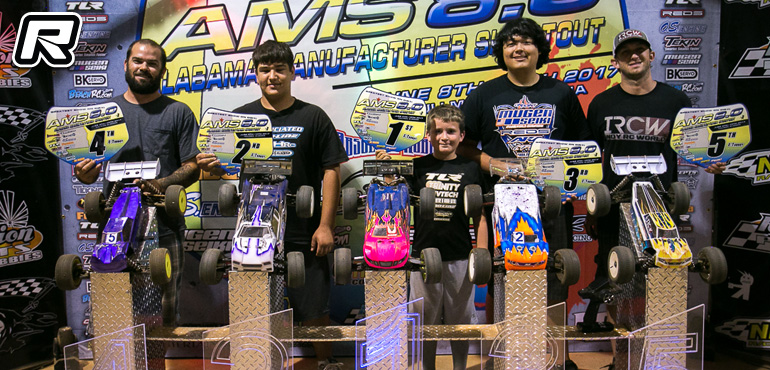 In Open E-Truggy talented 10-year-old Tater Sontag shined mightily with clutch driving and he took the win in A1 and A3 to net him the overall win in the class. Julien Oliveras challenged Sontag, but fell just 1 point short with 1st and 2nd place results. James Calhoun made the top 3 with a good effort to finish 3rd overall. John Carrio finished 4th and Peter Husser 5th, who also had to bump from the 16th in the B.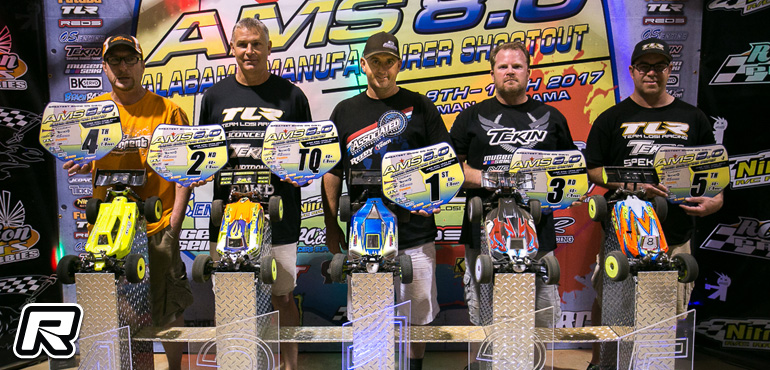 Mark Moon was only able to qualify 4th in 40+ E-Buggy but turned up the speed by earning wins in A1 and A2 to give him the overall over a very competitive field of Gentlemen drivers. Moon would lead the way with Martin Harrison finishing 2nd with a 1st and 3rd place finishes. Randy Pike delivered some fine driving to finish 2nd in all three mains to net him 3rd by way of tie-breaker. Jody Johnson qualified 15th and bumped up to the A a d finished 4th overall. Seth Rippee would close out the top 5 podium finishers with a 3rd and 5th place results.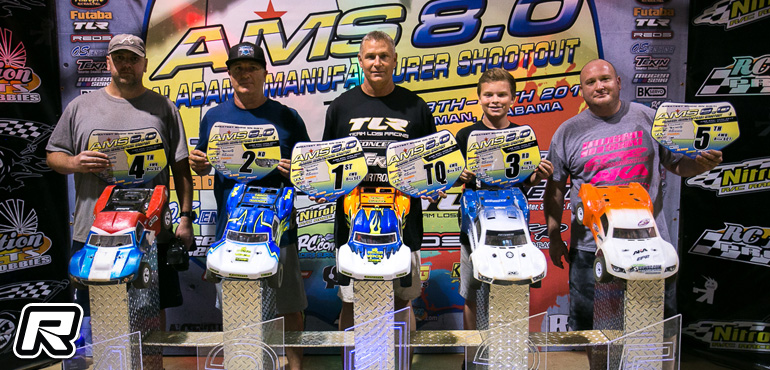 Martin Harrison took a convincing win with stellar performances and only 2 mains to get it done in 4×4 Short Course. With a win in A1 and A2, Harrison claimed the overall with his brother and teammate, Nathan Harrison finishing 2nd with a crucial win in A3 moving him up to 2nd. Young Ben Pinover also jumped up two spots from his qualifying position to finish 3rd with Britt Roshon taking 4th and Randy Carte 5th.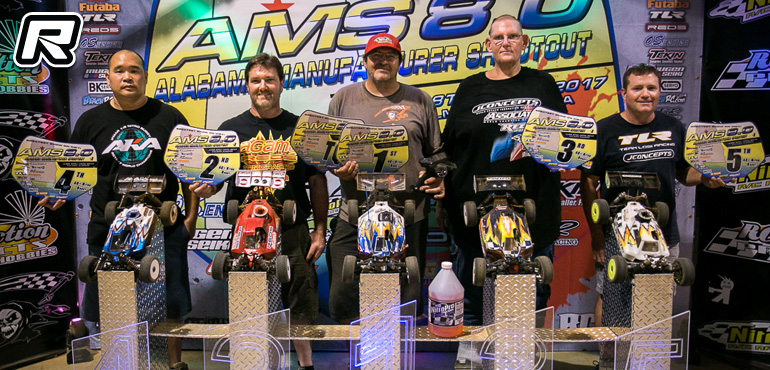 The 40+ Nitro Buggy class saw Jimbo Kvidera take the win from tone to tone. Jimbo was on rails and delivered solid performances in qualifying earning TQ as well as the 30-minute A-Main win. Greg Gatewood was runner-up and Jeff Keeton, who made a remarkable comeback after a poor start to finish 3rd. Pres Ilog finished where he qualified to take 4th overall. Kevin Bullock took the 5th spot on the podium.
Source: JConcepts [jconcepts.net]
---