June 7, 2017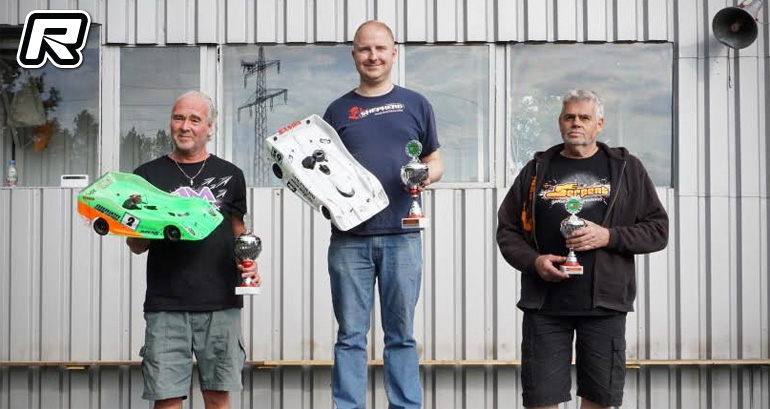 The ADAC-Ring at Haltern in the north of the Ruhr region in Western Germany was the venue for round two of the Nitro-West-Masters (NWM) on the Pentecost weekend. 55 participants meant a new record entry since the comeback of this old outdoor circuit in 2012 which is located inside a driver safety training centre and well known for its unique atmosphere with tents in the non-covered paddock. The Nitro-West family enjoyed a great weekend as rain didn't hit the track as forecasted, only a shower during practice on late Saturday afternoon and some drops during a sub-final.
In the 1/8 scale open class old-hand Karl-Heinz Meister pushed his Serpent to pole-position, furthermore Daniel Toennessen (Mugen), Ralf Vahrenkamp (Mugen) and Belgian Daan Haling (Motonica) were directly qualified for the finale. In the 30 minutes main, Karl-Heinz Meister was passed in a strong manoeuvre by Daniel Toennessen already in the first corner. Toennessen could open a cap and his victory was already in sight when he lost it all because of a broken pulley. While Meister lost some time running out of fuel because of a too rich engine, Benjamin Lehmann in a one-off race with his father´s Shepherd took his chance to win the race with a huge five-lap advantage over Vahrenkamp. The podium was completed by Meister with Haling missing the podium because of some engine troubles.
Result 1/8 scale open (VG8)
1. Benjamin Lehmann, Shepherd – 124 laps
2. Ralf Vahrenkamp, Mugen – 119
3. Karl-Heinz Meister, Serpent – 119
4. Daan Haling, Motonica – 118
5. Martin Figge, ARC – 115
6. Martin Baumann, Mugen – 114
7. Rainer Rosskothen, Mugen – 114
8. Heiko Kube, Mugen – 108
9. Daniel Toennessen, Mugen – 101
10.Uwe Baldes, Shepherd – 15
In the 1/10 scale open class young Melvin Diekmann was once again fastest in qualifying and repeated his victory from NWM round 1 at Hamm in April. In qualifying Bernd Rausch and Marco Nenner captured position two and three but swapped positions during the finale to make the podium look the same as at Hamm. Thorsten Lewandowski enjoyed an excellent comeback on fourth completing an extraordinary 1-2-3-4 for Shepherd.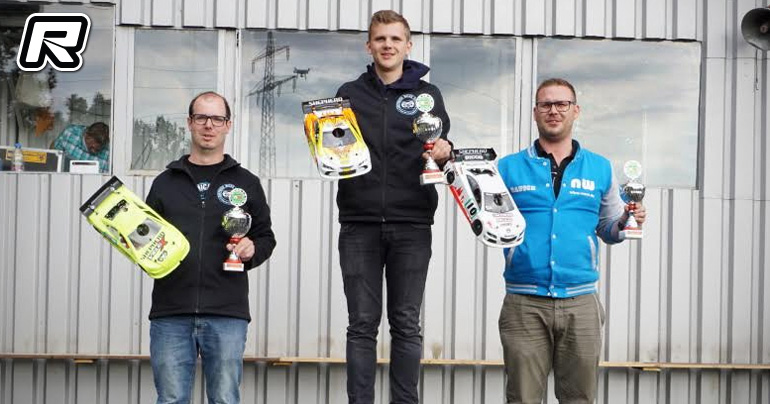 Result 1/10 scale open (VG10)
1. Melvin Diekmann, Shepherd – 117 laps
2. Marco Nenner, Shepherd – 114
3. Bernd Rausch, Shepherd – 113
4. Thorsten Lewandowski, Shepherd – 109
5. Georg Goehlich, KM – 104
6. Julien Cevani, Shepherd – 83
7. Joerg Kleineberg, Mugen – 66
8. Faehd Labik, Shepherd – 7
9. Majuran Tharmalingam, Serpent – 5
With a total of 32 competitors the two 1/8 and 1/10 scale nitro stock classes with cost-efficient unified engines had a 58 percent part of the entries. The 1/8 scale stock class turned to be the 'father's race' as Ruediger Hepp crapped first spot after qualifying with the ARC of his son Tobias. But while Hepp had to retire from the finale with a broken belt it was Arno Puepke, you brought the Shepherd of his son René home on first spot to capture the highest stage on the podium. 16 years old David Kroeger was a tough challenger for victory and once again he drove a brilliant race but finally lost his chance to win in the pits. With second position David Kroeger made it for the fourth time to the podium in four races in Western Germany. The podium was completed by Dutch racer Roy Visser (Shepherd).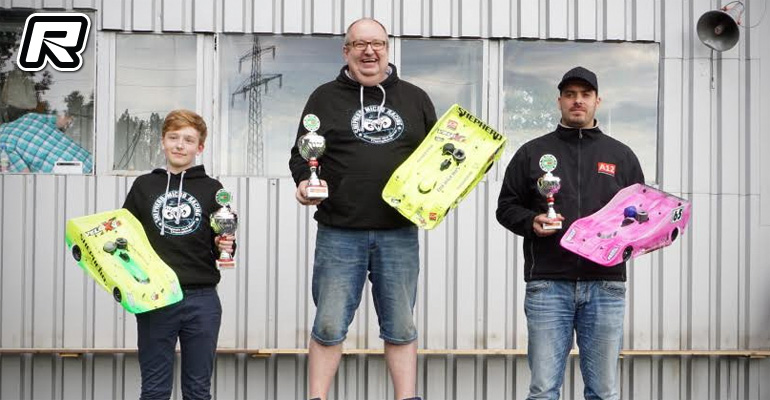 Result 1/8 stock class (HC8)
1. Arno Puepke, Shepherd – 108 laps
2. David Kroeger, Shepherd – 107
3. Roy Visser, Shepherd – 105
4. André Boettcher, Mugen – 102
5. Ralf Wacker, Mugen – 102
6. Holger Hinnendahl, ARC – 59
7. Ruediger Hepp, ARC – 56
8. Matthias Guenther, Shepherd – 42
9. Helmut Hoessler, Serpent – 18
10.Ben Klaus, ARC – 12
The 1/10 scale stock class meant also round two of the Western German Championship of the new basic class to promote 1/10 scale nitro racing. The class was dominated by Arndt Bernhardt. The regular 1/10 open class racer made a successful comeback following a "baby break" in this basic class taking TQ and victory. Only a very few seconds behind Roland Karduck brought his Capricorn home on second to take his first ever podium. In an exciting race Florian Dueppe was only another two seconds behind to complete the podium.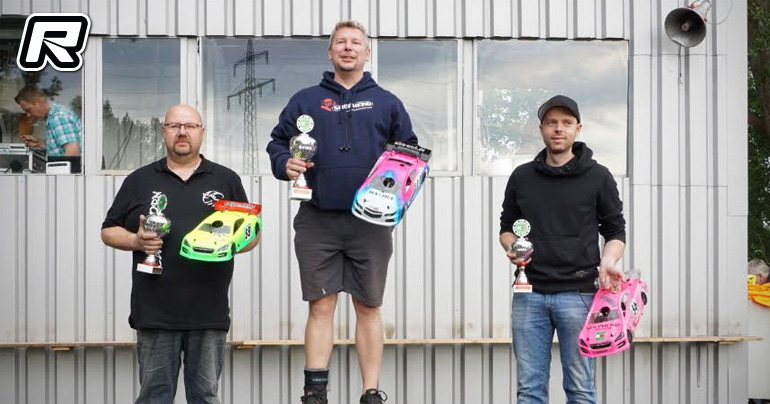 Result 1/10 stock class (HC10)
1. Arndt Bernhardt, Shepherd – 105
2. Roland Karduck, Capricorn – 104
3. Florian Dueppe, Shepherd – 104
4. Guido Burghartz, Shepherd – 100
5. Werner Vogel, Kyosho – 90
6. Hans-Werner Dietz, Xray – 82
7. Hermann-Josef Fuchs, Shepherd – 76
8. Matthias de Keyser, Shepherd – 71
9. Roman Kwasny, Xray – 40
10.Stefan Schumann, Shepherd – 9
Haltern was not only a great weekend of the Nitro-West family but especially for Team Shepherd. The German chassis brand took all four victories, celebrated one 1-2-3-4 and another 1-2-3 win and captured nine of twelve podium positions.
The Nitro-West racers are facing an intensive June. Only one week after Haltern the third round of the Western German Championship will be held at the fast track of Hamm (10th/11th June) and round three of the popular Nitro-West-Masters will follow on 24th/25th of June at Dueren near Aachen.
Source: Nitro-West [nitro-west.de]
---