June 30, 2017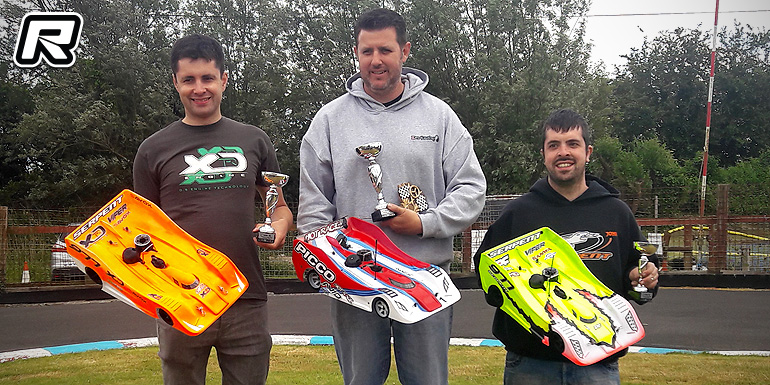 Round four of the BRCA 1/8th Circuit National Series was held at the famous Mendip circuit near Weston Super Mare. It is a circuit famous for its Diggers dip before the main straight and it has seen many big names in the RC world race here down the years, including some of Europe's Elite in the 90s. Race day was sunny and tyre wear was extremely high with the track surface very abrasive. Top international racer Mark Green was one noticeable absentee from the top heat and meant it would be a closer affair between the top nitro guys. In total, around fifty drivers were competing across the two classes with the electric class now not far off being as popular as nitro.
Come qualifying and in Nitro, the top three places were tightly contested with Spashett taking pole from Hastings and Wood. Elsewhere, Neil Diver put his new Infinity car in the A-final and Sam Snell just pipped his brother and Jack Garrett-lines to 10th in the main final with a last round run. In Electric again, Alex Thurston was in dominant form seven seconds clear of the field and Pete Hastings and Gavin Clinch were battling within a second of each other. Further down the order, Dan Jones qualified 5th on his return to the series and David Gerard made it into the A-final by a whisker over Simon Parish who is back racing now in the electric class with a Shepherd.
The Nitro A-final turned out to be one of the best in recent times for the spectators, with tyre strategy playing a big part. Unfortunately, Tim Wood's final started in the worst possible way with an incident that dropped him to the back of pack and nearly a lap behind. The ARC of David Spashett led out front from Andy Hastings and Neal King. Eventually, Hastings managed to pull a tremendous pass at the end of the main straight past David who, it was quite evident, was trying to keep tyre wear down and driving a lot smoother than the others. Neal then took the lead as Andy hit problems with David running closely behind. With five minutes to go, David regained the lead as his rivals pitted for new tyres meanwhile he continued on the same set and managed to hold on to take the win from Neal and Tim, who made a great recovery drive. Unfortunately, Neal was later disqualified because of an infringement with his car in scrutineering therefore promoting Tim Wood to 2nd and John Carr up to 3rd position.
Nitro final results:
1. David Spashett – ARC/Picco/Maxima/Hot Race
2. Tim Wood – Serpent/XRD/Elite/Contact
3. John Carr – Serpent/O.S./Elite/Contact
4. Jason Frost – Capricorn/Tesla/Runnertime/Capricorn
5. Clive Connolly – ARC/Novarossi/Maxima/Matrix
6. Neil Diver – Infinity/Novarossi/Maxima/Hot Race
7. Sam Snell – Mugen/Murnan O.S./Mecca/Contact
8. Andrew Hastings – Shepherd/VS Racing/Mecca/Matrix
9. Richard Hicklin – Serpent/O.S./Elite/Contact
10.Neal King – Shepherd/Murnan O.S./Runnertime/Ulti
In the Electric class it would end an all Serpent podium. Unfortunately, Pete Hastings with his Shepherd and Gavin Clinch driving an ARC had problems in one of the finals and had to retire. So again, Alex dominated over the two legs this time from Dan Jones, who was in the UK for a rare appearance back to his racing roots. A newcomer this year to the 1/8 circuit class, Craig Woods took a fantastic 3rd place overall. Serpent remains the most popular chassis in the electric class but it's good to see ARC and Shepherd now in the mix.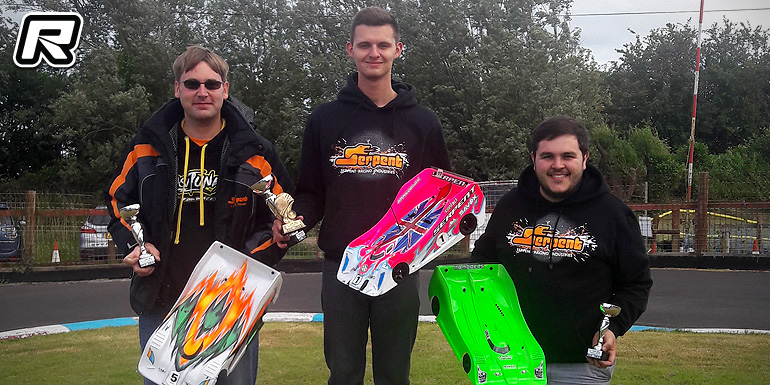 Electric final results:
1. A. Thurston – Serpent/Hobbywing/R18/Contact
2. D. Jones – Serpent/Hobbywing/R18/Matrix
3. C. Woods – SerpentHobbywing/P909/Contact
4. J. Paton – Serpent/Hobbywing/P909/Contact
5. D. Gerard – Serpent/LRP/R18/Contact
6. J. Hawnt – Serpent/Hobbywing/R18/Contact
7. I. Billett – Serpent/Hobbywing/R18/Ulti
8. G. Clinch – ARC/Team Orion/TSO35/Hot Race
9. P. Bellinger – Serpent/Absima/P909/Contact
10.P. Hastings – Shepherd/Hobbywing/Matrix/Matrix
Thanks to Michael Walton for the report.
---