June 9, 2017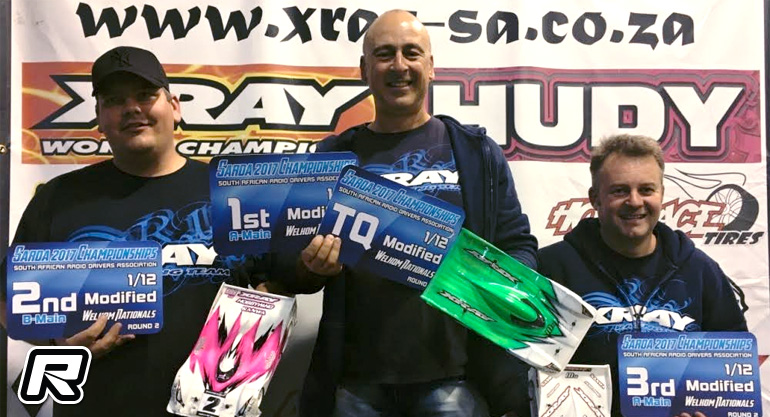 The second round of the 2017 South-African ORE 1/12th national championship series was held at the Welkom RC Arena on Saturday 03 June 2017, host of the WC in 2018. Most of the drivers arrived Friday for some practise and setup and from the practise times set it was clear that the local man Antonio Caroli was the driver to beat in Modified and Francois Laubscher in the 13.5T blinky stock class.
1/12th Scale Modified
Antonio Caroli showed good pace during practise but the new youngsters Ashley Hurley, Hein Kotze and Marius van Niekerk also showed good pace during the Friday practise sessions. Antonio managed to secure TQ with great runs and Hein Kotze showed his pace to secure the number 2 spot on the grid in his first 1/12th event with the 'old man' André Greeff starting from third. In the mains it was Antonio who set the pace with Hein Kotze securing second showing that he will be a force to be reckoned with in the future. André Greeff had bad starts in all three mains crashing out early and Willie du Plooy to full advantage of this and drove well to secured the remaining spot on the podium.
1/12th Scale Modified A-Main results:
1. Antonio Caroli (TQ) – Xray X12
2. Hein Kotze – Xray X12
3. Willie du Plooy – Xray X12
4. Marius van Niekerk – Xray X12
5. André Greeff – Xray X12
6. Shaun Schutte – Xray X12
7. Francois Laubscher (Serpent)
8. Ashley Hurley – Xray X12
9. Wayne Joelson (Yokomo)
10.Wade Solomon – Xray X12
11.Colin Amis (Yokomo)
1/12th Stock (13.5 Blinky)
The stock class is growing slowly and there are more interest from new drivers to participate in the WC 2018 event. The qualification rounds saw the current championship leader Francois Laubscher securing a good TQ with his Xray X12 with team mate Wayde Solomon starting second on the grid after some good consistent runs. Jonathan Wilken showed good pace to secure 3rd on the grid with the lady driver Bianka Landman starting from 4th position. During the main races Francois Laubscher was pushed hard by team mates Jonathan Wilken and Wayde Solomon but eventually managed to take the overall win. All three mains had good battles between Jonathan, Wayde, Gerry Esterhuizen and Bianka Landman. It was Jonathan who eventually managed to secure second overall with Bianka Landman taking the remaining podium position.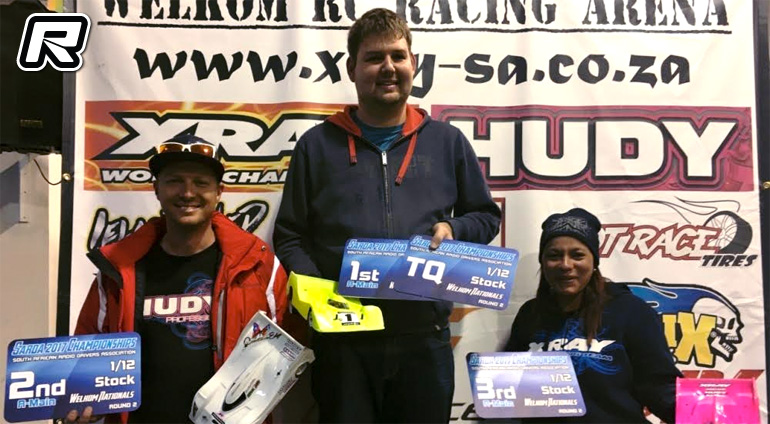 1/12th Scale Stock A-Main results:
1. Francois Laubscher (TQ) – Xray X12
2. Jonathan Wilken – Xray X12
3. Bianka Landman – Xray X12
4. Wayde Solomon – Xray X12
5. Gerry Esterhuizen – Xray X12
6. Patrick Lester (Yokomo)
7. John Fitzsimmons (Schumacher)
Source: Xray [teamxray.com]
---