June 9, 2017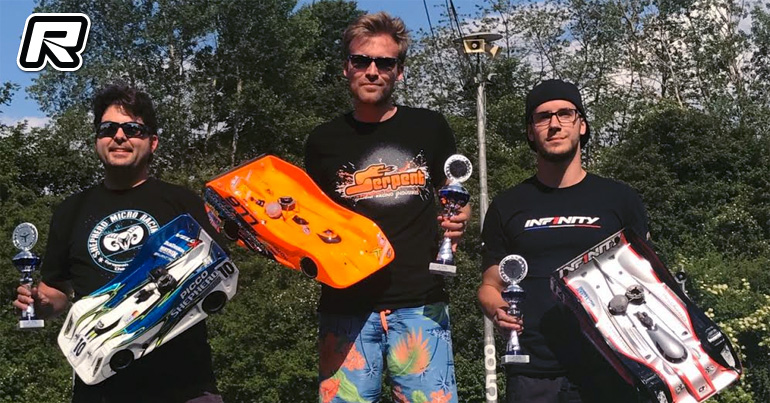 The second round of the Mid-German onroad regionals took place in Kirchhain last weekend with 46 drivers in attendance with sunny weather on Saturday. Rain on Sunday however meant that for the third and fourth rounds of qualification most of the drivers decided not to drive. In 1/8th the only drivers who were able to make the 25 laps in qualifying were pole man Oliver Mack and Merlin Depta, with Patrick Schäfer lining up on the grid in 3rd position.
Starting in the A-main Oliver and Merlin broke away from the rest of the field with Patrick still not far away behind the duo. Merlin and Oli hard a hard but clean fight switching positions in the infield and during pitting. A thrilling fight with two different strategies, Oli running on a one-stop tire change strategy while Merlin calculated to not change at all during the 30min final run. The tire wear was on the edge and the fight was super close just before the third pit stop where Oli flamed out just one corner in front of Merlin. The reason was a broken piston pin retainer ring of Oli's engine. With Merlin Depta out in the lead, Patrick Schäfer was promoted to second with Dennis Weihert in third spot and that is how they finished.
1. Merlin Depta – 144 laps 30:10.378 (Serpent)
2. Patrick Schäfer – 136 laps 30:07.011 (Shepherd)
3. Dennis Weihert – 135 laps 30:02.139 (Infinity)
In 1/10 it was Dirk Wischnewski who was the man to beat the whole Weekend. With a start to finish win, nobody was able to challenge him. A little bit back in the field it was Dennis Sting who had a superb pace with only a little bit bad luck in qualification starting from P7 and Marcus May, who qualified 4th in the grid. In the final Dennis Sting suffered a flame out but he knew he had the pace to make it to the front again. With Dirk Wischnewski far away in the lead, Marcus May in second spot and Dennis back in third position, Dennis pushed hard with just a few minutes to go. Being well known for his tire saving skills with only three minutes to go Dennis pushed his car into second position with May demoted to 3rd, with his tires down to the rims.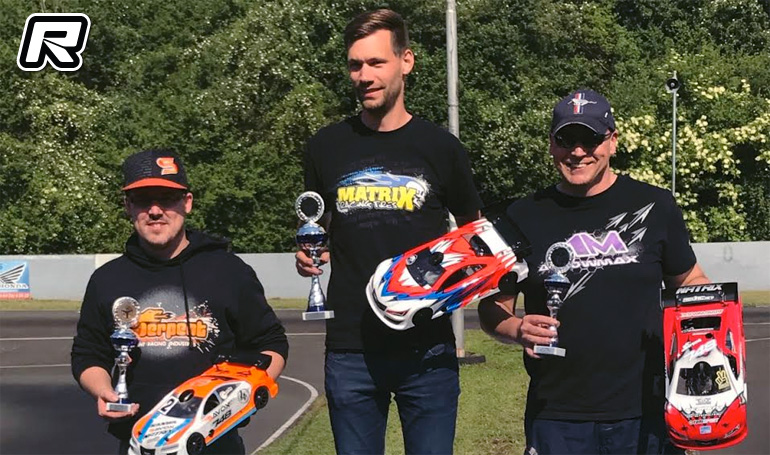 1. Dirk Wischnewski – 129 laps 30:04.110 (Mugen)
2. Dennis Sting – 123 laps 30:08.790 (Serpent)
3. Marcus May – 122 laps 30:00.200 (Serpent)
Source: Serpent [serpent.com]
---