June 12, 2017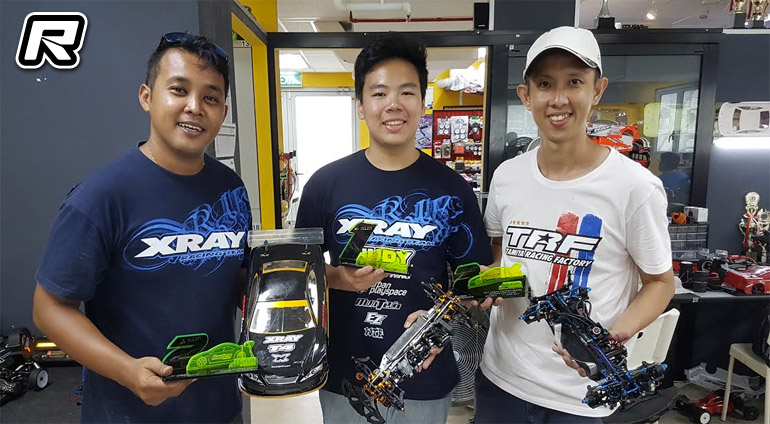 Round 6 of Singapore's Urban Touring Series saw a bigger than normal turnout this past weekend. With most of the top Singapore drivers participating, Dominic Quek (Xray) was made to work for his 5th win of the season. The morning's seeding practice saw Leonard Sim (Awesomatix), who finished 2nd in Round 5, state his intentions when he put in the quickest 3-lap run. PY Tang (ARC), making his first appearance of the year in the series, would be seeded 2nd just 0.062 secs behind, while series leader Dominic was seeded 3rd.
In qualifying however, Dominic upped his game and managed to win the first 2 of the 3 scheduled rounds of qualifying by about 3 secs each time to secure an early TQ. Leonard would start P2 in the A-main, with Alvin Koh (Tamiya) in P3. With the very technical and tight layout, starting in pole position worked to Dominic's advantage in the finals. In A-main Leg 1, racing incidents in the chasing pack left him to take a comfortable 1-lap win. Alvin finished 2nd while Hasron Robana (Xray), who started in P5 took a surprise 3 rd . In Leg 2, Dominic and Leonard started well and pulled away from the pack. Dominic however lost the lead to Leonard when he had to swerve to avoid another car that had hit a pipe and suddenly landed in front of him. A robust overtaking move however saw Dominic regain the lead. Alvin put in some pretty impressive racing to overtake Leonard a few laps later to take 2nd.
Hasron benefitted from contact between PY and Leonard a few laps later to inherit 3rd. With Dominic sitting out leg 3, it would be a slug-fest to see who would secure the remaining podium spots. When the dust had settled, it was Hasron who took the win, showing that it was sometimes an advantage to be racing just behind the leaders. With that Hasron finished overall 2nd, while Alvin secured 3rd.
A-Main Overall Results
1. Dominic Quek (Xray)
2. Hasron Robana (Xray)
3. Alvin Koh (Tamiya)
4. PY Tang (ARC)
5. Eugene Goh (Yokomo)
6. Leonard Sim (Awesomatix)
7. Joe Hwee (Schumacher)
8. Sean Lee (Tamiya)
B-Main Overall Results
1. Chhua Joo Kiah (Tamiya)
2. Alan Cher (Tamiya)
3. Gary Soon (Tamiya)
4. Joe Lam (Yokomo)
5. Smith Kek (Xray)
6. Charles Lim (Xray)
7. Bernard Cheok (Tamiya)
C-Main Overall Results
1. Adrian Quek (Tamiya)
2. Sebastian Lee (Tamiya)
3. Stephen Tsao (ARC)
4. Jairus Loo (VBC)
5. Andrew Law (Tamiya)
6. Kenneth Yuen (Yokomo)
Source: Urban PlaySpace
---