June 20, 2017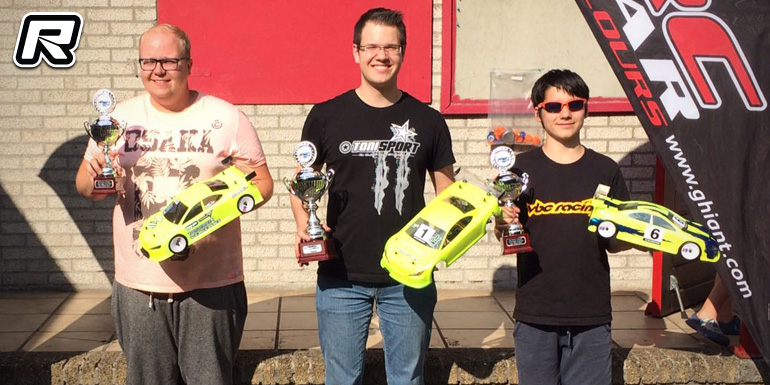 The fast track of Rucphen in the south of the Netherlands played host to the third round of the Dutch Electric 1/10 nationals. A total of three categories were run with Formula, Touring Modified and Touring Stock. The touring classes were limited to one set of Volante tyres with the modified drivers being a bit concerned about tyre wear, because of the high strains that are being put on the tyres due to the high speed and high temperature. The race format was three qualifiers with the best two to count. In the Touring Modified class local driver Mitchell Van Es was the pre-event favourite as since switching to an Awesomatix he had proved to be extremely fast and consistent. And so he took pole with a 21-lapper and a fastest single lap time close to Olivier Buyltinck's newly set track record. Athan De Witte put his car on a fine P2. He also improved his personal best to a 14.3, so he was quite happy with his achievement. Behind the two Sidney Blokker took 3rd spot in front of Rick Van den Akker and Govert Verbeke.
Given his speed in the qualifiers, Mitchell was the favourite for the overall win. In A1, he took the holeshot and was running very strongly. Disaster struck however on lap 18 when his left rear tyre exploded. This sent his car off the track at high speed, but fortunately it wasn't damaged beyond repair. Athan De Witte, who had been running a bit slower to preserve his tyres took the victory in front of Rick and Dave. In A2 Mitchell replaced his shredded tyre and took the victory in front of Sidney Blokker, who had a mishap in A1. Rick Van den Akker again finished in P3 as it was Athan's time to have a DNF. A3 was again won by Mitchell in front of Sidney and Athan giving the overall top 3 of Mitchell Van Es (Awesomatix), Athan De Witte (VBC Racing), and Sidney Blokker (Yokomo) with Rick van Den Akker and Govert Verbeke rounding out the top 5.
In Touring Stock everyone expected the Team Magic of Rob Janssen to be dominating this race, but Sybrand de Boer had different plans. He put his Yokomo on pole, followed by the Team Magic armada of Rob, Richard Arts, Ronald Arts and fast Belgian driver Stefan Rommens. Sybrand already bagged pole after two rounds of qualifying, so he elected not to run in the third qualifier in order to save his tyres.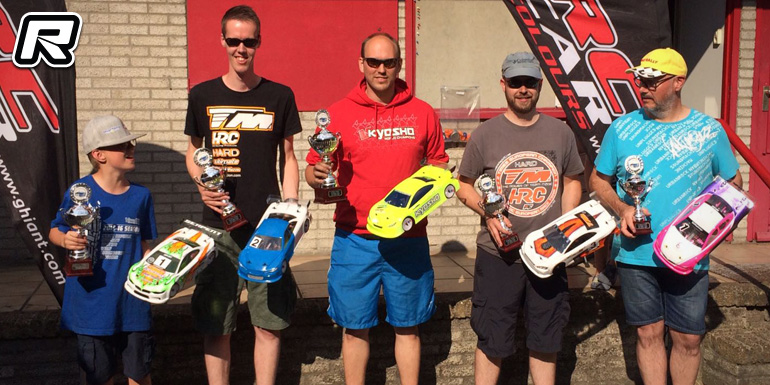 A1 was then won by Sybrand, in front of Rob, Richard and Stefan Rommens. In A2 Sybrand led the way, but he clipped a curb and found himself back in P8. In the meantime Rob was able to pull a gap on Richard while Sybrand recovered with a great drive. After six minutes, Sybrand was back in Rob's slipstream and he made a daring pass on the penultimate lap. Rob wasn't too impressed and dully took the lead back on the last lap and claimed victory in A2, in front of Sybrand, Richard, Stefan Rommens and Thijs van Mourik. A3 would decide the overall victory. This is where Sybrand's tyre gamble of Q3 played a major role. Rob tried everything he could, but Sybrand's fresher tyres gave him the edge. Rob drove super consistent lap times, his best and average only separated by 0.2 of a second, but there was nothing he could do to deny Sybrands overall victory. The final order was Sybrand de Boer (Kyosho), Rob Janssen (Team Magic), Richard Arts (Team Magic), Ronald Arts (Team Magic) and Stefan Rommns (Team Magic).
While Formula class double winner Jitse Miedema was participating at the ETS in Trencin, the fight for pole would go between the Fenix of Martijn Van der Heijden and the Serpent of local racer Patrick Jongenelis. Martijn put a lot of pressure on himself by dropping out of Q1 with a stripped spur gear. Ron Van Bergen (Xray), took a great P1 in Q1 and he was followed by Patrick and the Xray of Nick Snieder. Martijn set things straight in Q2 and Q3 however as he was the only driver to record 23 laps. By doing so, he took pole in front of Patrick Jongenelis (Serpent), Ron Van Bergen (Xray), Nick Snieder (Xray) and Belgian driver Bjorn Frederickx (Xray) who concluded the top 5.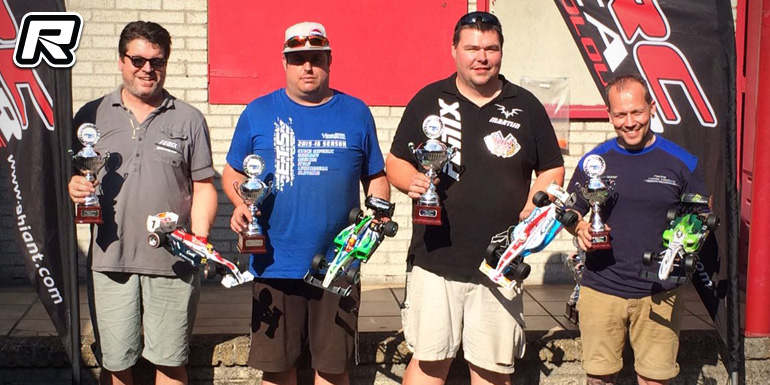 In the finals, Martijn took his Fenix to a commanding victory by claiming A1 and A2. In these finals, Patrick took two 2nd place finishes and Ron two 3rd places results. Things were going to change in A3 however. Ron had a family obligation and couldn't run the final main. Martijn took a gamble by mounting a set of Ride XR tyres to the back of his car. Martijn took the holeshot, but instead of disappearing into the distance, he had a spin due to the lower grip of these tyres. This promoted Patrick Jongenelis into the lead, but he too made an error in lap six. Bjorn Frederickx saw himself leading his first F1 race and he was keen to hang onto it. Patrick thought differently and tried all the tricks he had in his book to pass the Belgian driver. Both drivers were the only ones to run 23 laps and the fight for P1 was decided on the last corner before the main straight. Patrick tried a daring pass, but Bjorn held the inside. Both cars passed the line and it was Bjorn who took P1 in A3. This meant the top 5 finishers were:
Martijn Van der Heijden (Fenix), Patrick Jongenelis (Serpent), Bjorn Frederickx (Xray), Ron Van Bergen (Xray) and Nick Snieder (Xray).
Thanks to David Joos for the report.
---